Put the scare in scarecrow costumes with this collection of awesome homemade scarecrow costume ideas. But, don't worry, the costumes here aren't all terrifying. Some of them are just frighteningly cute!
Take a look at the personalized scarecrow costumes below. For instance, you will see feminine versions of this costume as well as a half tin man half scarecrow costume. For a less scary look, you will see adorable children in homemade costumes here. Even though they won't scare the crows away, they are the cutest DIY costumes for Halloween.
Also, find out the DIY costume secrets beyond just stuffing yourself with hay. Check out the truly creative and unique ideas to bring your homemade costume to the next level.
In addition, many of the costumes here were made quickly and cheaply.
So, browse through these DIY costumes and get inspired to create your own homemade costume this Halloween.
Latest Scarecrow Costume Ideas
---
---

---
Featured Costumes
Scarecrow costume by Tracey W., Barnhart, MO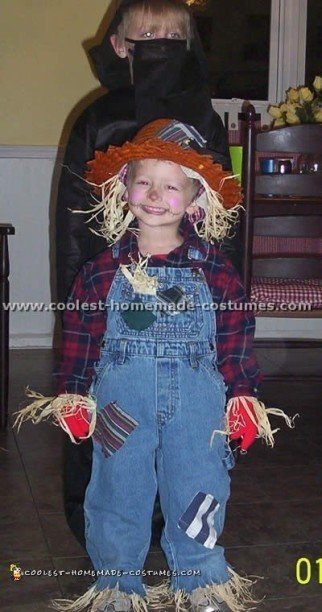 This is the scarecrow costume I made for my three year old son last year. I was a little short on cash with having four children. So, I decided to make this for him costing me $0. I took a pair of my older son's bibs and shortened the legs to fit my three year old. I cut off bits and pieces of old t-shirts to make the patches on the bibs and hat. You can sew or hot glue them on.
I found an old flannel shirt of my older son and my daughter had the hat that I cut the brim to make it jagged. I made a crow to put on the hat using an old black sock and pipe cleaner and I had a scare crow decoration that you stake in the yard and I cut some of the corn husk off to sew around the wrist and bottom of the legs.
This took me maybe three hours total working off and on to complete. On Halloween put a little make up on his face and he was ready. Every house he went to thought he was the cutest thing.
Total Spent: $0
Hay! Hay!
Scarecrow costume by Heather P., Richmond, RI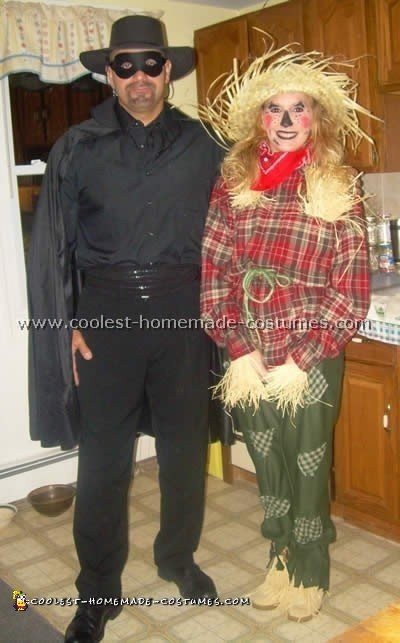 I purchased the pants and shirt at a store called the Umbrella Factory in Charlestown, RI for this scarecrow costume. I bought fake hay at Wal-Mart and sewed it on the shirt and pants. Luckily, I had work boots already. I bought the hat and I used a bandana around my neck.
I used some Halloween make up. The red birds, I purchased at Wal-Mart and spray painted them black and stuck them in my hat like a crow and I bought plaid material and sewed patches on the pants. It took me a couple of hours. Everybody loved it. PS my husband is zero.
Total Spent: $20
Scarecrow Costume Winner
Scarecrow costume by Shannon B., Blythewood, SC
I decided to make my son a scarecrow costume for Halloween because my infant daughter was going to be a pumpkin. I figured he could be the scarecrow for her pumpkin patch.
At a thrift store I purchased a button-up denim long sleeved shirt. Also, I purchased a pair of navy blue sweat pants.
I took raffia and cut it to the length that I desired to hang out of his shirt sleeves and hot glued it around the inside of the sleeve. Then, I took some scrap material and hot glued it on top of the raffia so that it didn't itch his arms.
I took some raffia and hot glued it in between the button holes of his shirt always putting material over it so as not to be itchy. I also hot glued some bits of raffia around the bottom of his shirt tails just for some extra "hay" coming out of his clothes. Finally, I hot glued raffia around the bottom of his pants legs. I made sure when he tried it on to put socks on him so that he couldn't feel the raffia even though I had put material over it.
I took some scrap material and cut some squares and hot glued them like patches on his pants and his shirt. At Party City, I bought an inexpensive straw hat and put a bandana around it for him to wear.
The scarecrow costume was complete and he looked adorable. He even won the most original costume at our church Halloween party.
Total Spent: $10
Pumpkin Head Scarecrow
Scarecrow costume by Starla M., Oviedo, FL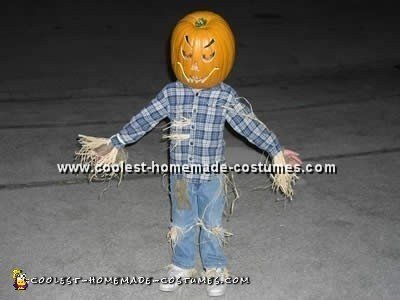 My son got the idea for the scary scarecrow costume from his Millsberry character, who wore this costume for Halloween. At Michael's, I bought the pumpkin head. I had an artistic friend draw the scary face.
I used raffia to sew in the hay look on the shirt and jeans. The jeans had holes in them from my son's normal life. I actually sewed snaps and raffia to a strip of burlap. In addition, I sewed snaps to the cuffs of the pants and the sleeves of the shirt. I used the snaps to attach the burlap and raffia strips onto the sleeves and cuffs. That way I could use the shirt and pants later for regular clothes and still have the costume stay intact.
It was a fun scarecrow costume to make. And it was a huge hit on Halloween night.
Total Spent: $9
Low-Cost and Super Cute
Scarecrow costume by Diana D., Ferris, MI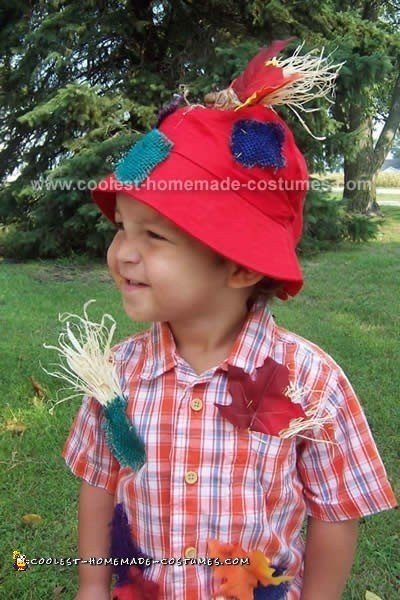 This is my son LeeVi dressed up in a Scarecrow costume. He is a little guy and it was hard to find him a costume that fit. So I figured why not put some old clothes to use. I had a red hat lying around the house, gray corduroy pants and a plaid orange and white shirt.
I went to the craft store and I bought a Paper scarecrow that had a little bit of straw on it. This cost me $1. Then I spent $2 on a bush of leaves. Then I went and I picked up two acorns off of the ground. Next I took the paper scarecrow apart and got the straw off of it. Then I took scissors and I cut the fabric into different sized squares. Next I cut the leaves off the bush and separated them. After that, I took safety pins the little sized ones and I pinned on the squares to the hat shirt and pants.
I stuck the straw where I wanted behind the squares and I safety pinned it on as well. Next I safety pinned on the leaves over the straw. Then I took a hot glue gun and I glued on the acorns on top of the hat.
It probably took about two hours to make this costume. That's because it took a while to figure out the placement of everything and have it all tie together!
This scarecrow costume won a Halloween party costume contest at my sisters work place. My little Scarecrow made $15!!! So I guess the costume was free!
Total Spent: $3
Crafty and Fun Scarecrow Costume
Scarecrow costume by Michelle K., Rosenberg, TX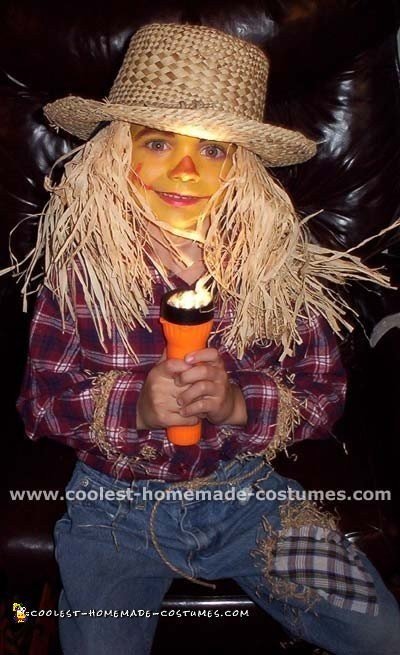 This could easily work as one of the Scarecrow costumes.
I took an old ski cap and hot glued the straw to the outside of it so it wouldn't be itchy and then glued it into the inside of the hat. I went to the thrift store and got an old pair of jeans that were faded and worn. In order to make sure they would be baggy enough, I got the jeans 3 sizes too big.
I cut the bottoms off and frayed the ends of the jeans to fit his height. In addition, I also got two flannel shirts. I cut one up and sewed some patches on the jeans. I used straw for the stuffing and I sewed it into the patches so it looked like it was coming out of the pants.
Then, I glued straw into the pockets and cuffs of the shirt. I bought the shirt in a larger size also so I could roll up the sleeves to glue in the straw (straw is itchy!). I used some old rope for the belt and a pair of argyle socks and black shoes.
We painted his face yellow (which he really enjoyed!). My son got to help with all the glue and straw, which made him feel like he had made it all by himself!
Altogether this costume cost me about 10 dollars. It was a lot cheaper than anything they had in the stores and looked a lot better too! More than that, I had a great time with my son making it!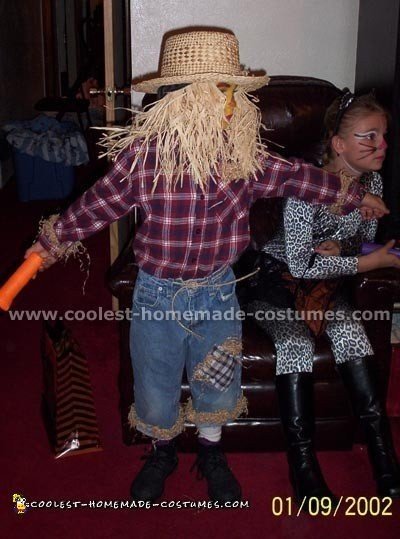 Patches Galore
Scarecrow costume by Joan L., Erath, LA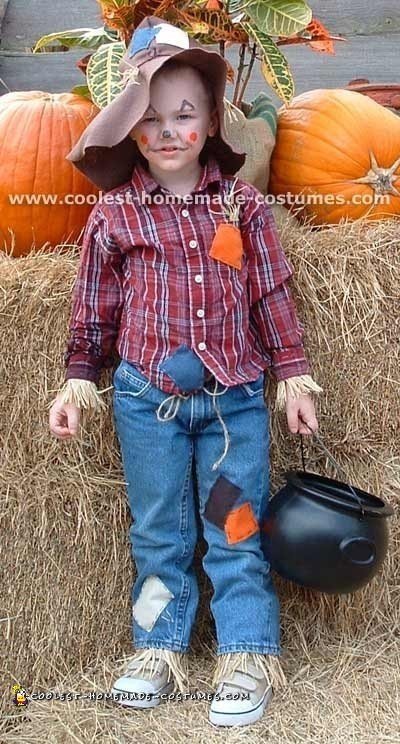 This scarecrow costume received lots of ooohs and aaahs. It is very easy to make and it's a fairly simple design. All that is needed is old jeans and a shirt, some felt squares, 1/2 yard felt material, clear packing tape, needle, thread and raffia. Oh, I almost forgot imagination!!
Start with the hat. Cut yard in half. Wrap half the material around your child's head and mark the measurement. Stitch the fabric seam straight for about four inches then begin to slant as you get further up to make a cone shaped hat. For the brim just cut a circle out of remaining fabric using the cone as a size guide. You want to have about three inches of brim for it to flop. Uneven is the best. Then cut a hole in the center that is the same size as the opening of the cone. You can now sew different color felt patches on the hat. I also sewed in a few sprigs of raffia where the cone and brim meet.
For the pants, I stitched raffia coming out of the legs and stitched some felt patches on front and back. To attach the raffia I used the large clear packing tape to start. Tear off a 4 to 5-inch piece of tape and place it stick side up on your workspace.
Cut a handful of raffia about 3-4 inches long. Spread it out on the tape with top about half way up on tape so you can fold over tape to secure together. Then stitch this into bottom of leg and repeat until both legs have raffia all around. This is also the procedure for arm cuffs.
After the cuffs are completed add felt patches. I also put some raffia hanging out of a shirt pocket. Another suggestion would be to tie some jute or rope around the waist. It is not necessary to paint faces but it is a cute touch.
This costume looks best with unevenness; uneven stitches, uneven patches etc.
Recycled Cutie
Scarecrow costume by Ashley W., Donalsonville, GA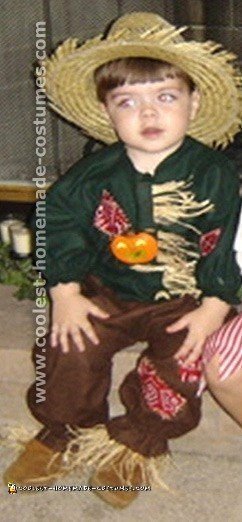 My 2 year old wore a scarecrow costume for Halloween. I used a pattern from last years Peter Pan costume to keep it inexpensive. I like to recycle stuff for costumes, craft projects, etc. In the end, I only spent around $8 for making his scarecrow costume!
For his scarecrow costume, I used green and brown cotton fabric. It was a simple pant and shirt pattern, I added elastic around the pant leg and cuff of the shirt. I also made a scrunchie with raffia attached for the straw around his legs. His buttons on his shirt were left over from some pillows that I had made. I also attached raffia coming out of the button spaces for a stuffed look.
His scarecrow costume belt was left over rope from another project (I bought it at Home Depot). His straw hat was left over from a cowboy birthday party– I just cut some straw out of the weave to make it look worn (I work at a horse tack store; that's where I got the straw hats from).
His patches were wonder-undered on and then I used embroidery thread to make it look hand stitched on. The patches as well were left over fabric. On his feet he wore moccasins that his brother used last year in his Indian costume.
As you can see I used several leftover things for this scarecrow costume. That is how I made a quick and inexpensive scarecrow. Total Spent: $8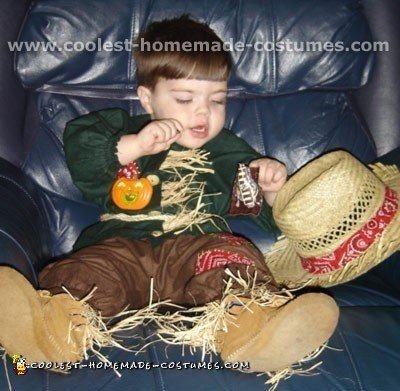 Sweet DIY Scarecrow Costume
Scarecrow costume by Lisa K., Bonne Terre, MO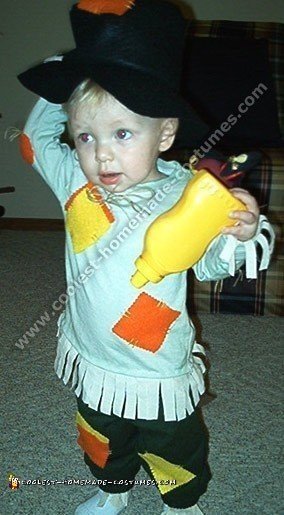 Here we have Brendan his scarecrow costume. It isn't Halloween without one. It took me aprox. one weekend to create this scarecrow costume. For the outfit I bought a pair of dark green sweat pants, a white top I had to dye green (couldn't find a solid green shirt), two piece of orange and yellow felt and 1/2 yard of black felt for the hat.
Scarecrow Costume Shirt and Pants
I dyed the white shirt green, cut six 3×3″ patches out of the yellow and orange felt with pinking shears. I stitched the patches on the shirt and pants with three ply dark brown embroidery thread. Then, I cut out two orange pumpkins for elbows. I tied a bow using twine and stitched to front of neckline on t-shirt and made fringed cuffs from a pillow case I had tea dyed.
Sewing the Cuffs
For wrist and leg cuffs of the scarecrow costume, cut four 4-1/2 X 8-1/2″ rectangles from dyed fabric. Fold and sew a 1/2″ hem on long side of each rectangle using matching thread. Stitch fabric cuffs inside wrist on t-shirt and on both legs of pants and then cut 1/2″ strips around each cuff to create a fringe. For the fringed apron measure child's waist. Cut 4-1/2 X 12″ rectangles from fabric and then fold and sew a 1/2″ hem on long side of each rectangle. Stitch fabric rectangles inside bottom of t-shirt front and back. Cut 1/2″ strips to create fringe.
Hat
Measure child's head for the scarecrow costume hat. His hat was made from 1/2 yard of black felt I cut an 11″ diameter circle. Next cut a 5-1/2″ circle from center of 11″ circle to create brim of the scarecrow costume hat. Cut a 6″ diameter circle for top of hat and cut a 4-1/2 x20″ rectangle to make hat-band. Assemble the scarecrow costume hat by sewing the hat-band to the inside of the brim, and the 6″ top of hat to the top of the hatband. Finish it off with another 3×3″ felt patch.
Accessories
I also hand sewed a small crow to the left side of the shirt shoulder. For the Hay wagon I covered the outside with brown craft paper and made fringes. I copied off a print artist program to make four pieces of indian corn and two pumpkins. Then, I outlined and colored these to make them stand out better and added some twine to them. I bought some fake leaves, scattered them in the wagon, made a hay bail from a box, glued raffia and added a few small pumpkins and real indian corn.
Total Spent: $10.