I was searching for NASCAR costume ideas and this is what I came up with. My dad is a big Jeff Gordon fan so when my son was born he dressed up one of those little tyke cars with the NASCAR decals. Jack was nine months at Halloween and not quite walking. I thought using the car to take him to a few neighbors would be ideal thus the idea of Jeff Gordon was born!
I shopped second hand and got a pair of fleece pants and a fleece jacket. I turned the jacket inside out to better use fabric paints. Using the real Jeff Gordon race suit from other Halloween costume pictures I copied the different logos. My father loved it!
Total Spent: $24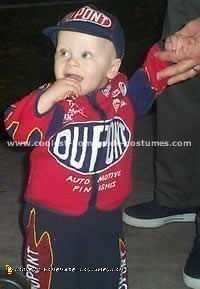 NASCAR Costume by Nicole B., Rochester, NY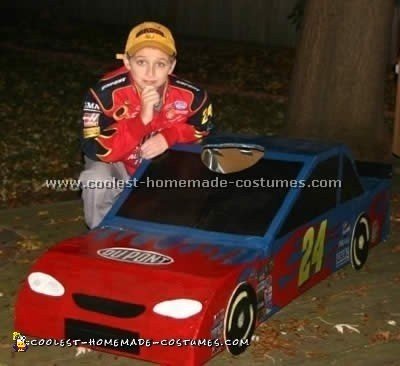 We are always looking to do something different. In past years he was a fridge and a washing machine. This Jeff Gordon car lasted us two seasons and he got oodles of candy. We even had people we didn't know grabbing their cameras and taking Halloween costume pictures.
This was our TV box. My husband cut it and duct taped it to get the car shape. The wheels are also cardboard that we attached with bolts. He sprayed them black and painted the yellow blurs to make it look like wheels were moving. He used black, red and blue spray paint and made a paper template to do the flames.
The #24 and sponsor decals were printed from the internet, cut out and then glued on one by one. For the finishing touch my son dressed up in his Gordon jacket and hat and I bought him a Gordon helmet candy bucket for $5 at Wal-Mart.
We cut the top out for his head but we didn't think about arm holes. I resolved that by being his "pit crew" and holding the candy bucket. We also had issues with the size. It was about 5-6 feet long. That made it awkward to get up porches and steps. My husband was his "spotter" and told him when he was about to hit things!
Not only did people enjoy it, we had a lot of fun going around and seeing everyone's reactions. We even had people honking at us!
Total Spent: $20