Take a look at these cool homemade Monkey costumes shared with us by costume enthusiasts from around the world. Along with the costumes here, you'll also find loads of homemade costume ideas and DIY Halloween costume inspiration for your next costume project. Enjoy!
Latest Monkey Costumes
---
---

---
Featured Costumes
Monkey costume submitted by Latecia D., Juneau, AK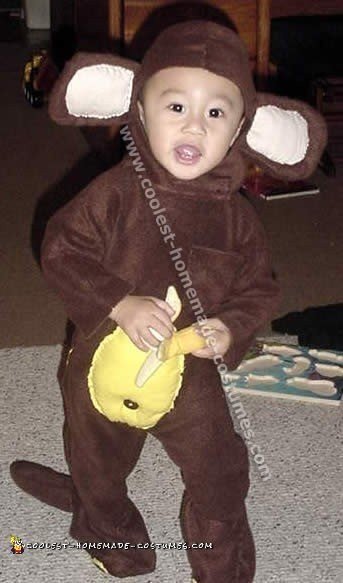 Last Halloween I had rush ordered a toddler monkey costume from a website; the problem was it never came on time. I had one day left. I have never made a costume before but I had sewn somewhat and I had a very good idea of what I wanted.
I grabbed a pair of my toddler's pants and shirt and went to Joanne's fabric store. I grabbed fleece-like material in brown so that it would be comfortable for my son to wear as well as a similar type fabric for the belly ears and feet. I wanted to keep the costume simple so I just kept it to 2 colors – brown and yellow.
Everything was done by eye. Nothing was measured except for my son's height. The head and feat of the costume were sewn on after the body was finished, all was hand stitched which I wouldn't recommend. It's very hard for me to explain how I created the monkey costume because everything was trial and error.
The best thing to do is to have a clear picture in your head of what you want, write it down, grab fabric and begin with stenciling out your child's shirt and pants keeping them together, cut that out and sew all around making it a little bigger so that your child has room to run around and be silly. Cut a line down the back, make buttons to close up the back when needed and then start on feet, eventually sewing the feet to the body by the ankles.
I worked on the head last and stenciled a beanie to get an idea. I looked up how to make hoods and just applied that to my monkey hat making a monkey hood instead and then just added ears and attached only the back of the hood to the body of the costume.
The detailing, your eye will pick up but I must admit, you must have patience and a natural and somewhat artistic eye to be able to just hack something out without a sewing pattern. I think for me I just work better with my eye. Good luck, just remember to keep looking at the pictures they really help the most.
Total Spent: $20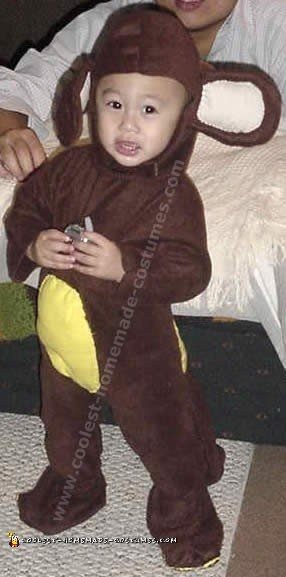 ---
Monkey costume submitted by: Joanna T., Chandler, AZ
From the time she was born, it seems, Morgan has been curious about everything around her. She was also very hairy when she came out, hair on her shoulders and back. We just started calling her our little "monkey girl".
We decorated her room in baby safari animals, so she has animals everywhere. It just seemed fitting to have her keep in the theme of her room on her first Halloween.
I came across the pattern while looking for a costume pattern. I instantly fell in love with it and knew that she had to have it.
My mom helped me make the costume (I made a matching one for her cousin Sam who is 6 months older) in 2 afternoons. It seemed like with every seam we sewed we laughed a little harder.
---
Monkey costumes submitted by: Stephanie J., Milton, DE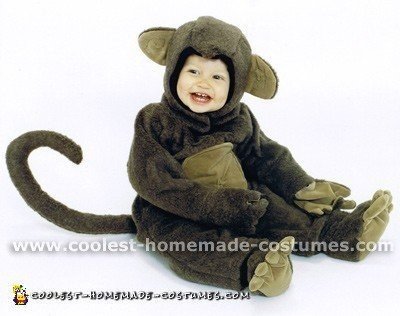 I was shopping online for a monkey costume for my 11 month old. I fell in love with the Tom Arma Monkey and bought it on Ebay for almost $80.00. When I got it in the mail and opened it, it was nothing like the picture on the package and made so cheap.
I decided to sew on my own and it came out great. It was my first attempt making a costume so it was a little time consuming. I will do better this year.
The monkey came out amazing. It was comfortable and my son loved to wear it. It was a Simplicity pattern #4256. It cost less than the designer costume and looked 100 times better.
Total Spent: $50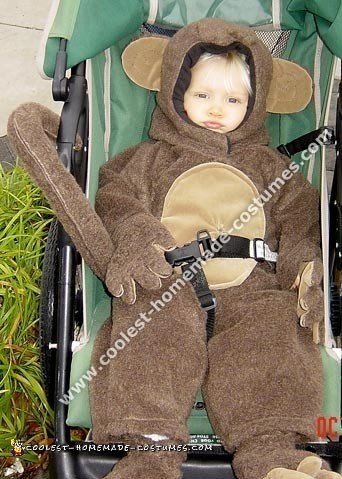 ---
Monkey costumes submitted by: Jackie R., Laflin, PA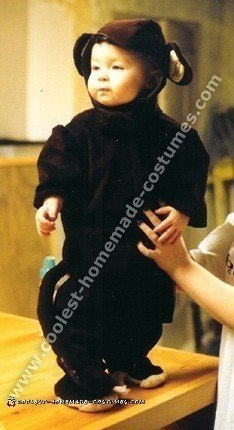 We always teased that my son was a little monkey. So, for Halloween my mother made him a little monkey with a long curly tail and all.
She went to the fabric store and got some brown corduroy and batting. And with the help of a $2.00 pattern we had the perfect costume. She even used adhesive Velcro patches to keep the back closed (it made diaper changing very easy). The monkey's big ears and feet were a big hit!
Total Spent: $20