My daughter immediately wanted a homemade Maleficent costume after seeing the Maleficent movie at the drive-in this year. Done deal. You'll also find loads of homemade costume ideas and DIY Halloween costume inspiration.
Maleficent Costume by Susan from Cumberland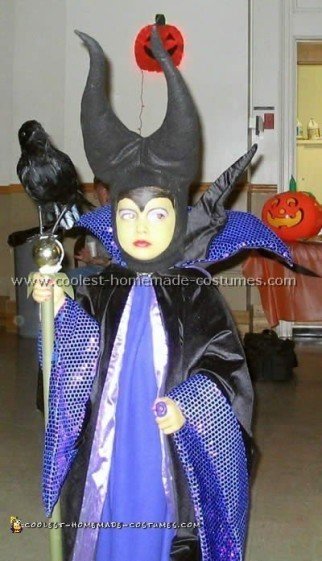 My son is a villain fan and he wanted to have a Maleficent costume from Sleeping Beauty.
We used a cape my sister had made for a Harry Potter costume. We used purple felt and made a dress. Then we took a black snow face mask and sewed horns onto it for her horns and added some extra spiky collars to the back of the mask.
We took a large dowel rod and painted it green and topped it with a gold ball from my bakers rack for her staff. I bought the Raven at Michael's. He wore a plastic purple ring and I painted his face with green and black makeup to make her spooky.
Total Spent: $35