This is the easiest kids halloween costume I have ever made.
I borrowed this jumper from my cousin. We both got into it and painted each others faces. A two headed monster.
Total Spent: $0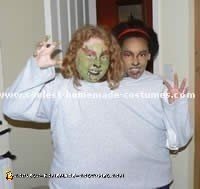 Costume by Sandie D., Eustis, FL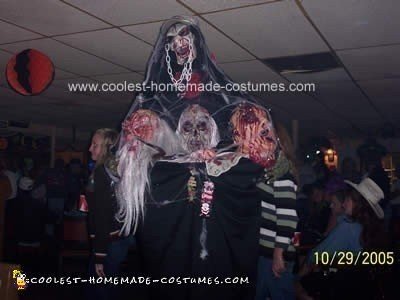 I thought up this kids Halloween costume while lying in bed one night. I knew I wanted a tall monster behind me but I couldn't figure out how to do it. Then it dawned on me.
I have a fish holding belt and a piece of PVC pipe. I mounted a Styrofoam head on it along with a mask and flashing eyes inside. Then I put a Harley Davidson shirt on it and stuffed it with plastic grocery bags so it would be light even down both arms. I put artificial monster hands on him. My head went through a piece of Styrofoam board along with two artificial heads. They were mounted one on either side of mine. I put rats, Roaches, flies, centipedes etc. all over it. I adorned it with battery operated lights and covered it with artificial web. Along the outside of the tray I hot glued black lightweight material to look like the monsters gown.
Total spent: $20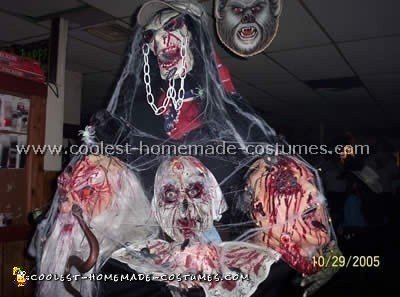 Costume by Jennifer L., Parma, OH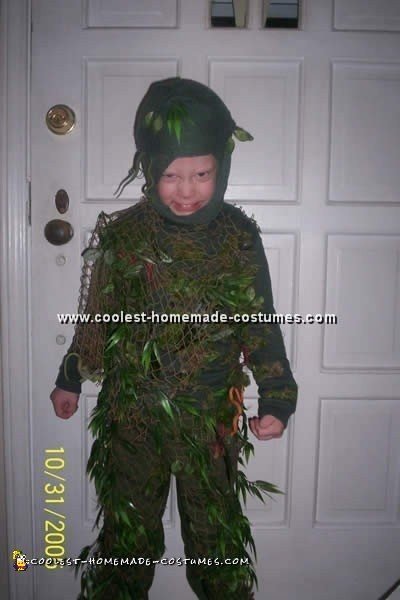 This kids Halloween costume project began with my son wanting to be a monster. My first thought was how boring is that going to be for a four year old. So with some creativity we came up with a swamp monster.
I began this project by dying the clothing (turtle neck sweat pants and gauze) all a dark green. We purchased little snakes and lizards to attach to the costume. I also hot glued moss and different types of leaves to the clothes. Finally I purchased (decorative) net. (Boy did it stink–it was real fishing net!) I attached the net with some thread to the clothing and then wrapped my sons head with gauze and stuck leaves and a few snakes on top.
This was a pretty easy kids Halloween costume to make but it was messy! The moss was EVERYWHERE!! He even lost some of it at school! But his costume was by far the best in his little pre-school class! He looked AWESOME and had gotten a ton of compliments even from his little friends!
Total Spent: $20
Costume by Heidi C., Kitchener, Ontario
My seven year old son had all the ideas for this kids Halloween costume. The costume was easy to make, inexpensive and lots of fun!
The idea started with an inexpensive mask purchased at our local grocery store. We bought a green long sleeve T-Shirt, some green mittens and made green pants. My son wanted his space monster costume to have two sets of arms and two sets of legs. We achieved this by sewing tubes from green fabric, stuffing them and attaching them to the green T-Shirt and the pants. We bought a pair of mitts from the dollar store and added to the T-shirt cuffs.
To make the feet we attached a pair of my son's old slippers to the bottom of the leg tubes. We wanted the 2nd set of arms and legs to move while my son was wearing the costume so we attached the "fake" arms with thread to the sleeves of the green shirt (fishing line would work well too but we didn't have any).
We used small pieces of toweling to attach the slippers to the monster feet. We made the monster feet by sewing two foot shaped pieces of fabric together. We then stuffed them and sewed elastics on the bottoms to fit over his running shoes.
The finishing touch for my son's kids Halloween costumes was to attach several eyes. This was the easiest and most effective part of the costume. We purchased large googly-eyes and Styrofoam balls from our local dollar store. We cut the Styrofoam balls in half and used a glue gun to affix the googly eyes to the Styrofoam balls. My son decided where all of the eyes should be placed on his costume and the glue gun did the trick to keep them stuck – I was surprised that all of the "eyes" lasted through a full day at a school party and several blocks of trick-or-treating.
This costume was extremely easy and fun to make.
Total Spent: $15