Take a look at these homemade Jack Frost costume ideas submitted to our annual Halloween Costume Contest. You'll also find loads of homemade costume ideas and DIY Halloween costume inspiration.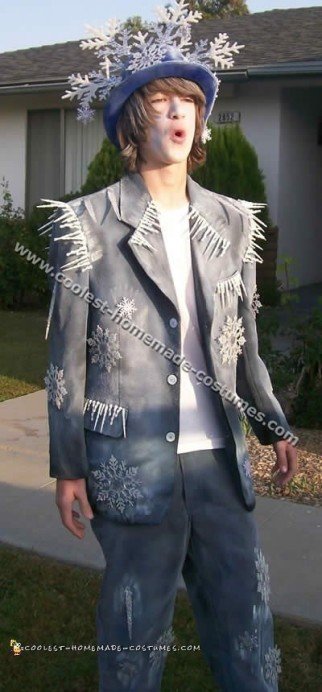 My son had to dress up as a book character for school. This Jack Frost costume came from some items we saw at a dollar store. Jack Frost sounded like a fun costume. He had pair of old black pants and we found an old black jacket for $3.00 at a thrift store. We bought the blue hat at a costume store for $5.00. The snowflakes and icicles were found at the $1 store. All we did was spray paint the pants and jacket with some white and blue spray paint.
I hot glued all the icicles and snowflakes all over the pants and the jacket. We used some white paint and a paint brush to add more snow. We decorated the hat with a big snow flake on top and little snowflakes hanging off of it. We painted his hair with white hair paint and his face with white and blue make-up to make him look cold. He looked very cool!
Total Spent: $15