Take a look at these cool homemade Dog the Bounty Hunter costume ideas shared with us by costume enthusiasts from around the world. Along with the Halloween costume ideas here, you'll also find loads of homemade costume ideas and DIY Halloween costume inspiration for your next costume project. Enjoy!
Latest Dog the Bounty Hunter Costumes
---
---

---
Featured Halloween Costume Ideas
Costume by Sheri W., Grande Prairie, Alberta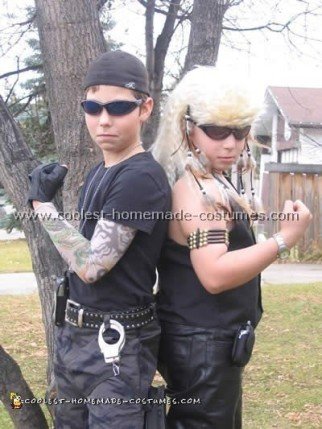 We chose this Halloween costume because we are huge fans of Dog the bounty hunter. We scoured thrift shops and managed to find leather pants and all of the other clothes we needed. The cowboy boots we had didn't have the silver tips so we made them with foil. For the mace cans we took empty spray bottles and spray painted them. The wig was a long blonde wig purchased in the Halloween aisle which we trimmed into a mullet.
We got dream catchers from the dollar store and cut the dream catcher part off. We then hot glued them to the wig. We purchased most of the other items at the dollar store or thrift store such as handcuffs, sunglasses, temporary tattoos, tattoo sleeves and all types of wallet type cases to attach to the pants.
The badges we assembled by buying sheriff badges at the dollar store and cutting a vinyl case for glasses.
We then hot glued the badge to the square of vinyl, punching two holes to run the chain through.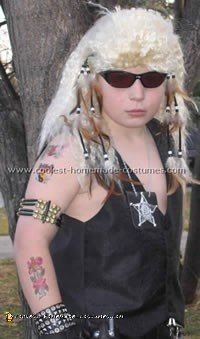 My boys got tons of compliments for these costumes. I'm not sure how we'll top this Halloween costume next year!
Total Spent: $40
Costume by Raquel G., Crownsville, MD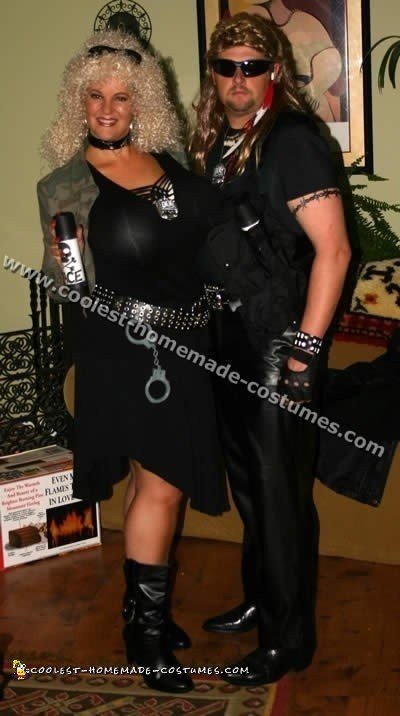 A friend of ours has a themed Halloween party every year; one year everyone comes as horror movie monsters or household appliances etc. This year your Halloween costume had to be a TV character! I always try to do a couples costume and so when thinking of what would work as a couple, Dog the Bounty Hunter came on and that was it; I knew it would be awesome!
For Beth I already had the black skirt and black top; I just picked up a couple of police kits from the dollar store that had plastic hand cuffs, police badges, guns with holsters etc. I printed the "Dog" logo from his website and glued it onto the police badges and I spray painted two cans of air freshener (also from the dollar store) black and made white labels with a skull and crossbones that said "mace" and taped it on. I also picked up long screaming pink fake nails, two vinyl volleyballs for Beth's enormous chest and his 'blade' sunglasses at the dollar store. Cheap belts and a short camouflage jacket from a local discount store on sale were less than $5 each and both wigs were from the Halloween store. The wigs were the most expensive parts of the costumes. Some bright-colored makeup finished it all off.
My husband already had the leather pants from a past Halloween as a rock star and he just wore a black under armor t-shirt underneath with a hiking flak-vest over it (the kind with lots of straps and pockets). I bought the spiky bracelet and temporary tattoos at the Halloween store. At the craft store I bought a leather lace beads and feathers and made the crazy Indian braid that Dog wears in his hair; we attached it to the sunglasses. We both already had black boots and he had his old motorcycle gloves that he wore too. We yelled and screamed "We're taking you all downtown – the party's over!" as we busted through the front door of the party and sprayed everyone with 'mace' (which smelled like apple cinnamon). We were the hit of the party and won "Best Couple". This year the theme is cartoon characters, we'll see what Halloween costume I come up with!
Total Spent: $60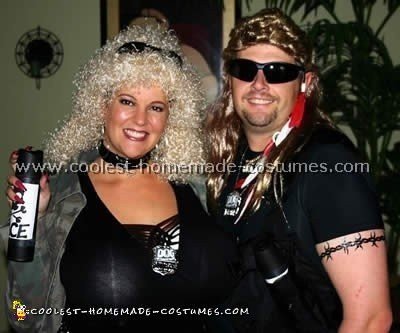 Costume by Helen S., Toronto, Ontario, Canada
Our costume was an ode to Dog the Bounty Hunter and his wife Beth! We borrowed a "muscle" suit top from a friend who works as a costume designer for movies, bought the clothes from a local used-clothing store and cheap sparkly belt/jewelry from the dollar store. Dog's mace can was just made from an old can of hairspray. Beth's "assets" were just two inflatable beach balls. Really fun!
Total Spent: $50