My wife and I have been coming up with couple Halloween costume ideas for the last couple of years and this Dia de los Muertos costume was no exception. I've always liked the idea of making our own costumes because you get to be unique. After talking about what we wanted to be this year we decided to do a Dia De Los Muertos couple (Day of the Dead Couple).  I'ts a Mexican tradition to dress up like the dead and celebrate their loved ones that have passed away. So with this idea in mind we got to work on doing our costumes for a Halloween party we were invited to.  It really didn't take much time to do, most of the things we had already and it was very inexpensive.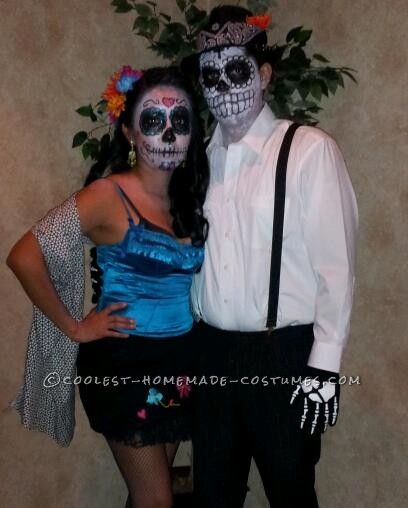 Dia De Los Muertos
My Wife's Outfit
My wife decided she wanted a Mexican skirt with flowers and colors. She had a plain black skirt which she said was not going to use again and would work for the costume.  We bought some color thread at Wallmart and she embroidered some flowers and hearts to her skirt. She drew the designs on her skirt with a silver permanent marker and then embroidered them. It took her probably like 30 to 45 minutes to do that.
For her shirt she used a corset which she already had.
We bought her some flowers at the Dollar store, different colors. She used blue, orange, red, and pink. She used bobby pins to pin them in her hair once her hair was done.
For the shawl we had an old bed skirt that we no longer used and even though it wasn't bright colored we decided black and white still went with the outfit.  She cut it out along the already stitched side from where it connects to the white big part that goes under the mattress and Tada…she had a shawl.
She used black fishnets that she already had from last year.
So for her outfit we only used $4 for the flowers and the colored thread. Not bad!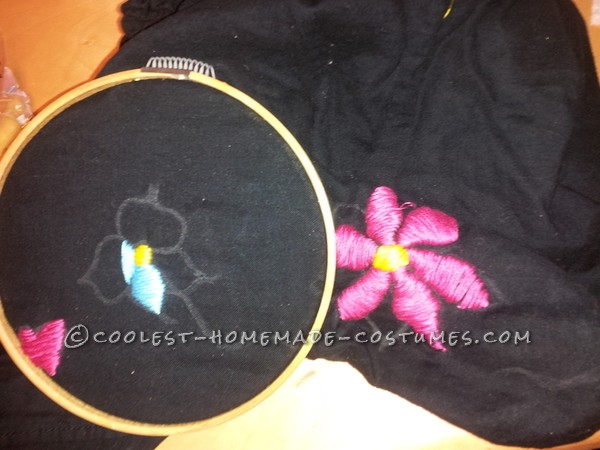 broiding the flowers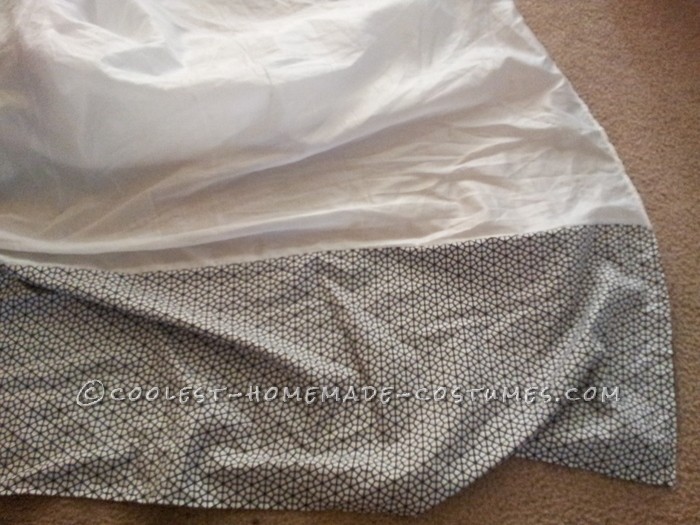 bed skirt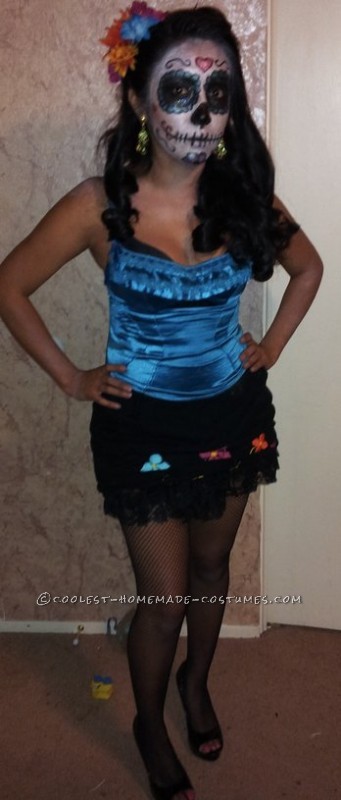 My outfit
My outfit was very easy. I used what I already had in my closet – a white shirt and some striped dress up pants. I had some suspenders and I was going to wear a suit coat but decided it would be too hot and uncomfortable to wear so decided to not go with it.  Also, I used an old hat I had used a few years back for another costume and just tied a black and white bandana around it. I folded the bandana lengthwise and then tied it around. My wife really wanted flower on my hat so we agreed to use an orange flower to complete the look.  We simply used a safety pin and pinned it to the bandana. We did buy some skeleton gloves at the dollar store.
So for my outfit we only paid $1. Great!!

Makeup for our Couple Halloween Costume
Makeup for our couple Halloween costume did take a lot longer than what I thought. We looked on line and got several ideas by looking at pictures. We bought some white and black costume makeup at Wallmart for around $4. And we also bought some colored pencil costume makeup at Wallmart. We covered our faces in white and then covered the eyes with eye liner.  Then we went over it with the black makeup paint.
We then covered our noses using the same technique of using the eye liner first then using the black make up paint. This seemed to work good for us. My wife did the teeth on our faces along with the designs and details.  She added glitter to her eyes with a brush. It seemed to stick with the black makeup paint. She added a small jewel to her flower on her chin and to the cross on my forehead using eyelash glue. It worked great because they stayed on the whole night.  We spent probably about an hour and a half putting on the make up. This does take a while.
Our time out
On our way to the party we stopped at the corner store and everyone there gave me compliments about our couple Halloween costume. I even got asked if they could take a picture of me which I thought was pretty cool.  At the party everyone like our costumes. My wife and I got a lot of compliments that night! Someone even asked us if we had gotten our makeup done somewhere professionally! A girl asked my wife if she could take pictures of us together and asked to take one of her face so she can try to do the same thing for this Halloween.
We had a great time and we did love our costumes.  Overall it was a great idea and we really liked how we looked together. If anyone wants to do this costume I would suggest to take a straw with you to the party because you don't want to have to keep reapplying the makeup on the mouth. Hope this is helpful to whoever wants to do this look.