My girlfriend Faith and I were thinking of a good costume to be this Halloween. The past two years we've done pretty creative couple costumes (Annie and Daddy Warbucks one year and Life of Pi the other, one of us the tiger, the other dressed as Pi), so this year we knew we had to be just as a good or better. In our opinion and most of our friends and family, this was our best year yet. The idea for the costume came about because my mom was telling my girlfriend that I would always watch Willy Wonka and the Chocolate Factory when I was a young kid. So my girlfriend suggested that that should be this year's costume and we knew it would be such a fun costume to make and wear. We knew doing the hair and make up for an Oompa Loompa would be hilarious and that recreating the original Willy Wonka would be fun but also a challenge. So a month prior to Halloween we set out on our journey to create costumes for these two classic characters.
The making of Willy Wonka
For Willy Wonka's Costume, we purchased most of the items at Savers Thrift Store. The first thing we saw when we walked in was a brown top hat and we knew we were in the right place. Willy's cane, top hat, tie and floral button down were all from this store. The button down was originally navy and white. We colored the white parts of the shirt with different shades of pink and purple fabric markers that were purchased at Michael's craft store. Willy's tie is actually a woman's scarf that was tied into a bow and the extra ends were cut off. It was secured to his neck using elastic that was also bought at Michael's. Willy's pants and shoes were pre-owned. Also pre-owned was the button down worn under the floral button down, which was just a plain white button down to give us the white collar look that the original Willy Wonka wears. Willy's coat was one of our biggest challenges. At first, we had bought a lab coat at Saver's with the intention of dying it purple. We did this buying the dye at Michael's; however the dye turned the coat more of a blue as opposed to purple. So as a last resort, we took to eBay to fight for an all purple women's pea coat, which we won. The last thing purchased for this costume was the wig, which happened to be a wig for a nerd costume. This was bought at Party City.
The making of an Oompa Loompa
For the Oompa Loompa, the white exercise pants and brown turtle-neck were also found in Saver's thrift shop. The white suspenders, gloves, face paint and hair colors were bought at Party City. The brown and white cuffs around the wrist and neck were made using brown and white felt. The white felt was cut into three long strips, one for each hand and one for the neck. The brown pieces were cut into smaller pieces for stripes to be attached to the white long strips. They were glued together using felt glue purchased at Michael's. To fasten them on to the wrists and neck, we used iron on Velcro which was also purchased at Michael's. The buttons on the pants were also brown felt that were sewed on (first time sewing for Faith). The makeup was fairly easy considering it was all orange with only white eyebrows. The hair was the interesting part. Originally, we had bought a neon green long haired wig at Party City that we were going to cut. But through further research, we decided the color was wrong and we wouldn't be able to style it correctly. We returned the wig for hair spray with the dark green color in it. Faith did her hair by teasing it and separating the top piece which was swirled and set as a bun with a pony tail holder. The rest of the hair was separated into two pieces and twirled and then the bottom of the hair was pinned to the back of her hair with bobby pins and then the whole head was sprayed green.
The big night, Halloween!!
We had a few parties to go to, so we rode our bikes because they were only a few blocks away. On the way, we got a lot of compliments and shout outs from trick or treaters and other neighbors. It was cool having everyone call out for Willy Wonka. When we got to the first party, everyone loved our costume. Even meeting friends before entering the party, they just laughed a lot and took pictures of us before even saying hello. As Willy Wonka, I purchased Wonka bar stickers to put on Hershey chocolate nugget candy as well as miniature golden tickets to put inside. So when I started giving them out and people got golden tickets, they would freak out (even though every bar had a golden ticket). We then traveled on our bikes to another party where we were given compliments on our costume as well. You know it is a good costume when everyone knows who you are right away. Our original plan was to just stay at these two parties for the night bouncing back and forth when someone told us about a costume contest at the bar. We didn't know if we should go at first but then everyone at the party convinced us we would win and had to go to the bar. We called our friends at the first party to tell them we might not be coming back and that there was a costume contest at the bar and then they also told us that we should go there and that we would win. We went to the bar with a few friends from each party we were at and after being there for many hours, they finally announced the winners. Unfortunately, we lost to a store bought, sexy Little Red Riding Hood and a Big Bad Wolf for the couples costume. Everyone we know is convinced that the contest was fixed. But it doesn't matter anyway, we had so much fun making and wearing the costumes and loved people reactions. All in all, our Halloween was amazing and we wouldn't change anything we did because to us it was perfect.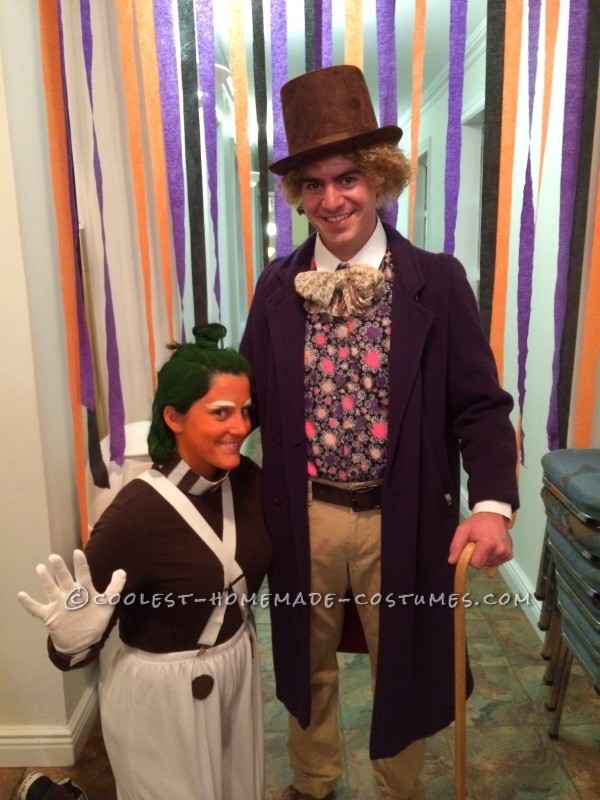 Kneeling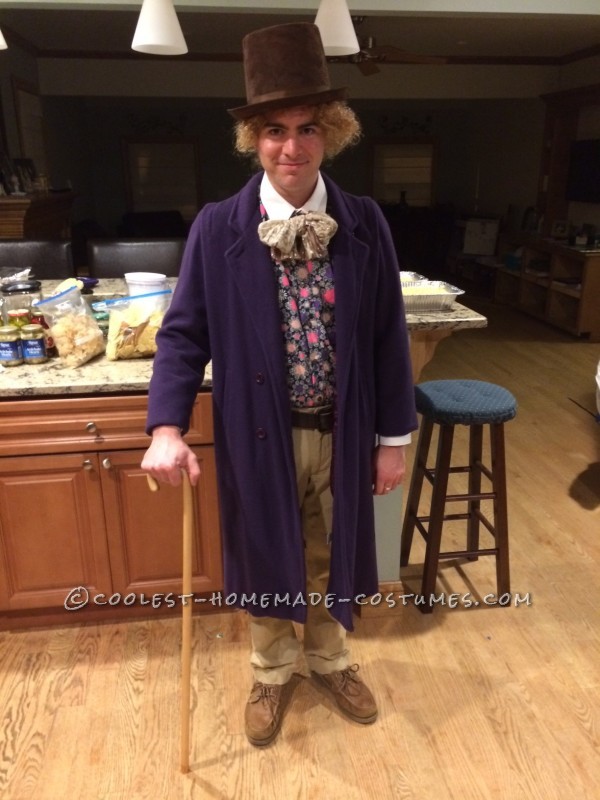 Willy Wonka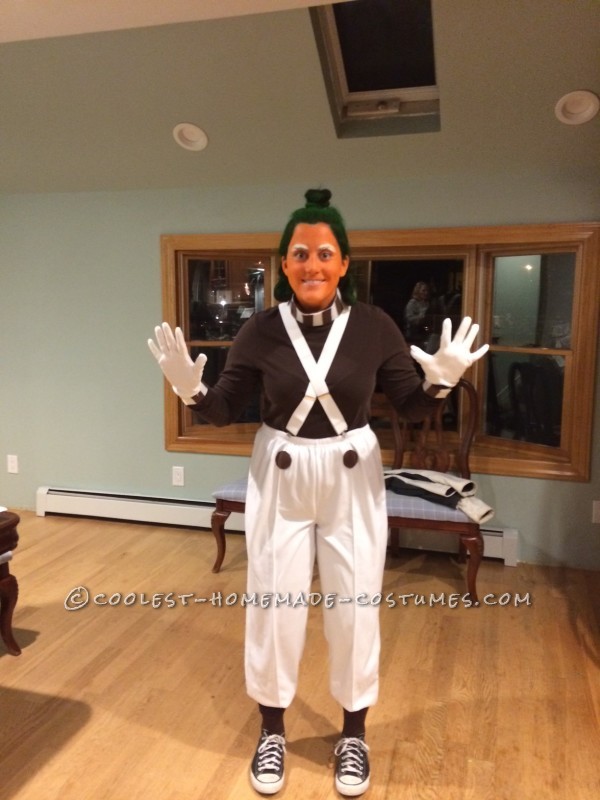 Oompa Loompa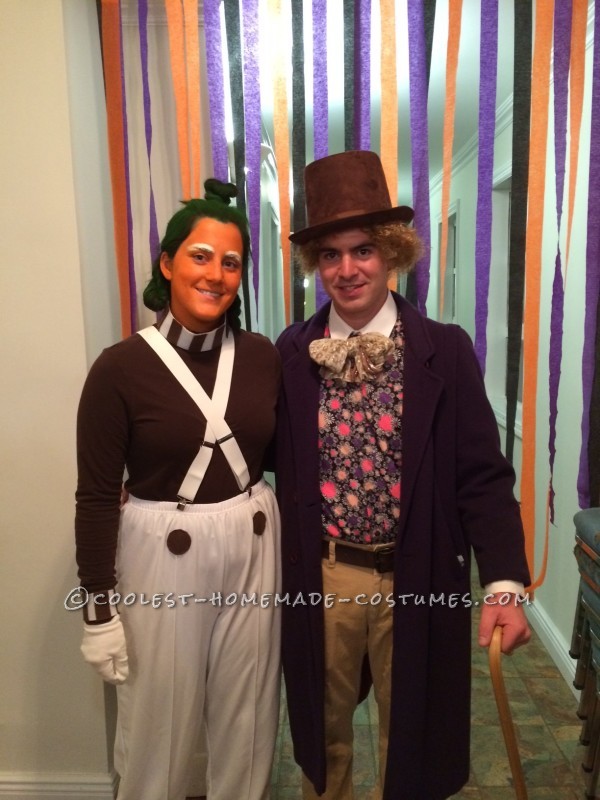 Standing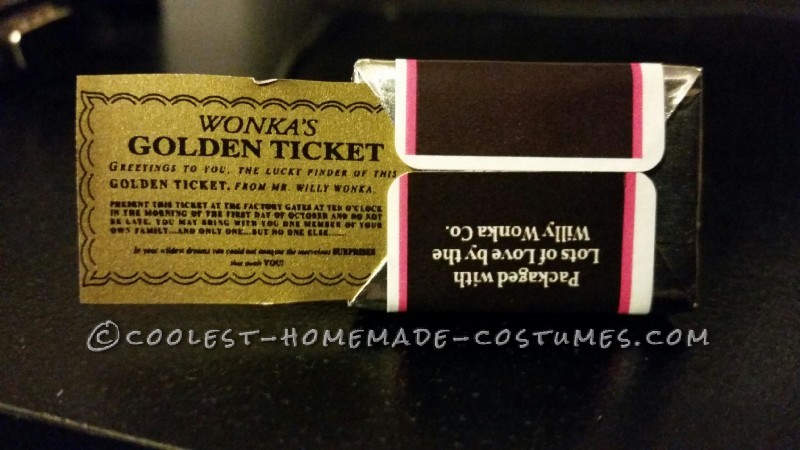 Gold ticket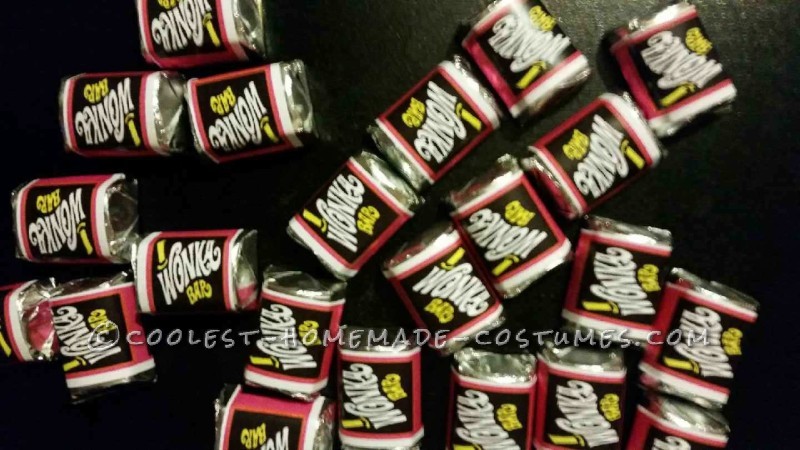 Wonka bars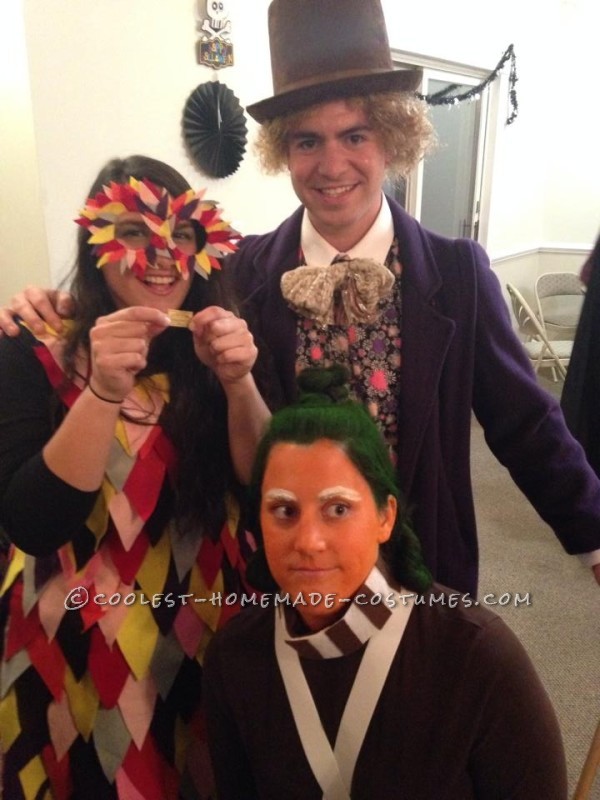 Winner!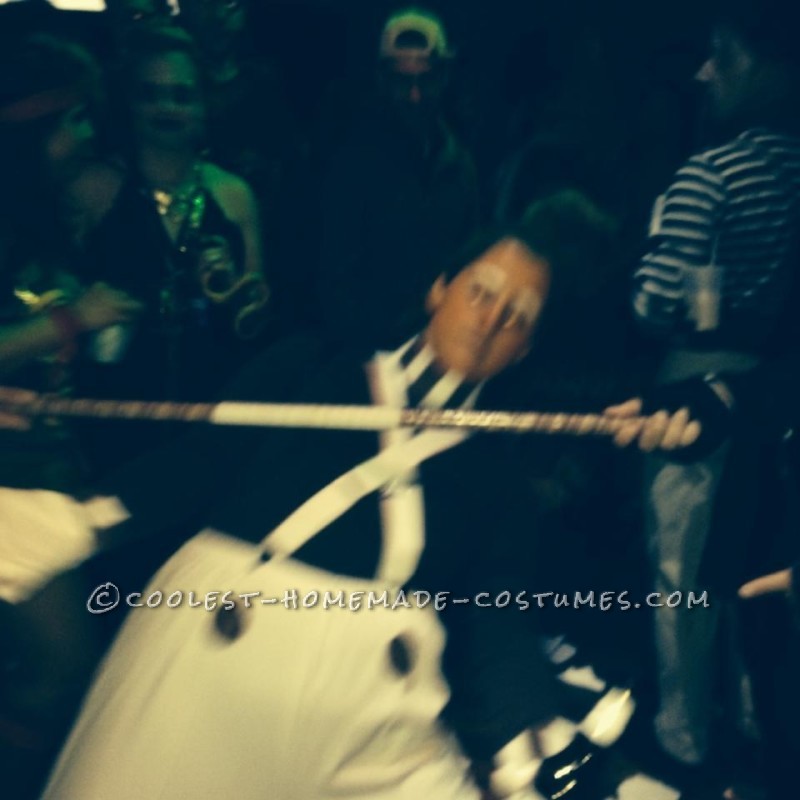 Limbo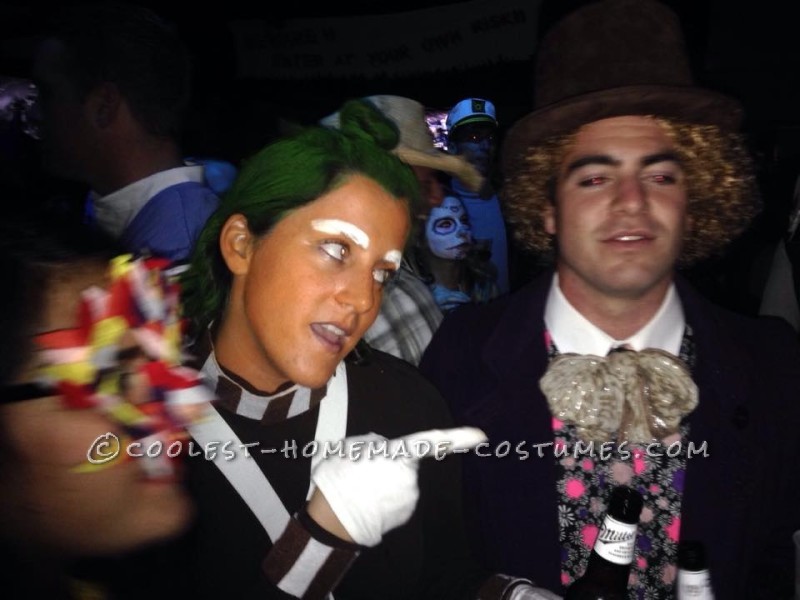 Dancing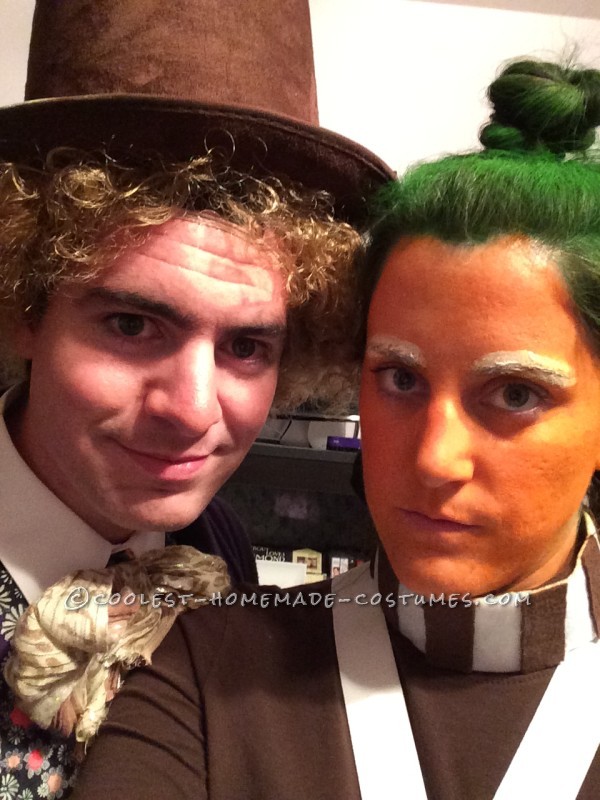 We lost :(