Take a look at these cool homemade Mr. T costumes shared with us by costume enthusiasts from around the world. Along with the funny costume ideas here, you'll also find loads of homemade costume ideas and DIY Halloween costume inspiration for your next costume project. Enjoy!
Latest Mr. T Costumes
---
---

---
More Mr. T Funny Costume Ideas
Costume by Jeremy S., Nashville, TN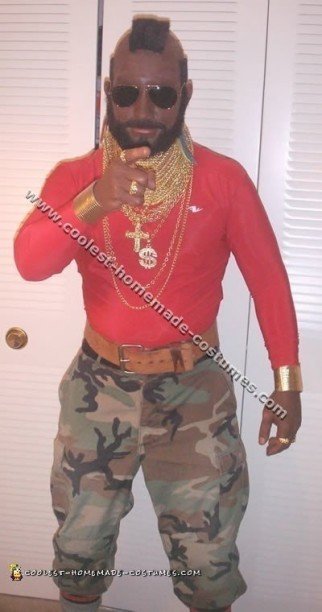 I have had this funny costume idea for a few years now my dad and brother did the same costume a few years ago and I decided this year was the year to blow their costumes out of the water and make it bigger and better! I had some of the clothes. I only had to buy the shirt, bald head cap, hair, beard, moustache, necklaces and chains.
I made a contraption out of cardboard and glued the gold rope to it so it would look a lot bulkier than it really was. I didn't want to have the weight of all those chains so I made my own way of making it look like a lot of chains. Then I had a few loose chains around it. I watched the A-Team while growing up so I knew a little about Mr. T. But when I went to make the costume I did some research and found different pictures of his outfits and his hair and tried to make it look realistic.
It was a fun outfit to wear, everyone loved it and I was a real celebrity for the night and I would probably do it again!
Total Spent: $100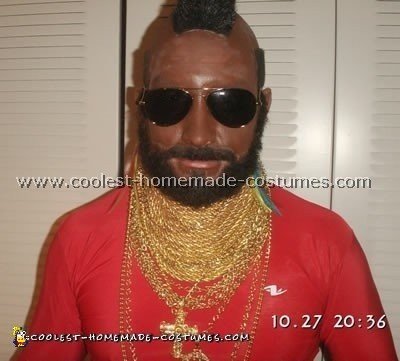 Costume by Chris D., Clarkston, MI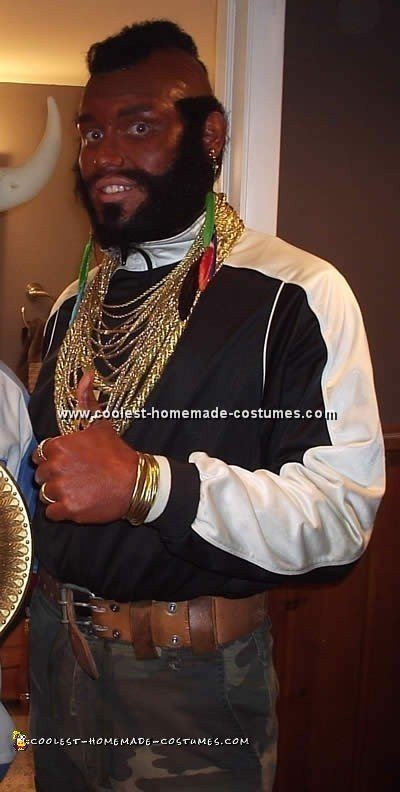 Gold fabric rope is the key to the costume. It is inexpensive and very light to hit all the hotspots throughout the night. A Bald rubber cap painted brown with black synthetic hair for Mohawk and beard, which is available at any costume store. (Good will or thrift store for your vintage 80's gear).
This funny costume idea I came up with last year on Halloween when I was getting ready for the 2005 party. I was watching an episode of the A-team. At that point I knew that I would go as Mr. T.
Our Middle school once invited Mr. T as a speaker. Since then I have always been a fan.
The response I received was awesome. I walked in the party with all my friends and they came up to me and introduced themselves. I could not stop laughing. When I told them it was me they couldn't believe that I came up with such a funny costume idea and said that it was the best costume ever.
Total Spent: $75
Costume by Kerrie F., Newport, KY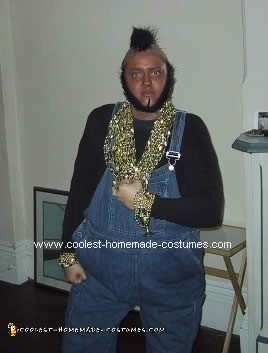 Mr. T is a great, unique easy, cost efficient and funny costume idea. I used gold Marti grass beads for the necklaces and bracelets (if you already have beads spray paint them gold)
I used a nude stocking for my head to look bald and dark. I bought black furry material from the fabric store for the Mohawk and goatee. (To get the Mohawk to stay just tuck it under the stocking).
I used very dark foundation from the cosmetic department at my local Wal-Mart for my face and hands. I bought those little $.25 rings that you buy from the vending machine outside of Wal-Mart K-mart etc.
For the outfit I went to the local second hand store and bought big overalls (I stuffed my shirt with socks for arm muscles and pillows for the body.) I wore my own gold hoop earrings. My funny costume idea gave me many compliments.
Total Spent: $25