I was searching for easy to make Halloween costumes and found this. I used painters tape and newspaper on the motorcycle and then sprayed it with Krylon spray paint and then used acrylic paint and various size brushes to hand paint the details. I then sealed the paint with acrylic sealer. I used stickers for lettering and GPD provided me with the badge stickers. I hand painted three strobe light necklaces to use for motorcycle lights and crazy glued them to the motorcycle.
I purchased an army helmet on eBay and used the spray paint and hand painted to duplicate the original helmet with a GPD sticker. I cut the finger tips off of a pair of black gloves and bought dark blue rubber boots. I cut the blue felt in strips to use for the striping on the pants and loosely stitched it on. I used Velcro strips to hold on the patches.
I kept a blown up copy of the actual motorcycle and uniform with me at all times and I think replicated it beautifully. So does the Gainesville Police Department they are naming him junior officer of the year! This was a very easy Halloween costume to make but was quite expensive.
Total Spent: $150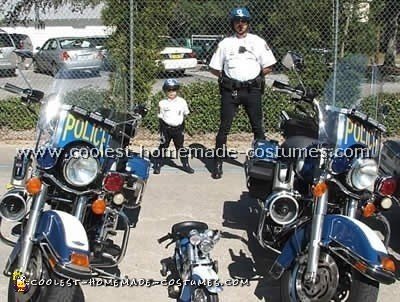 Easy to make Halloween costumes by Susan T., San Carlos, CA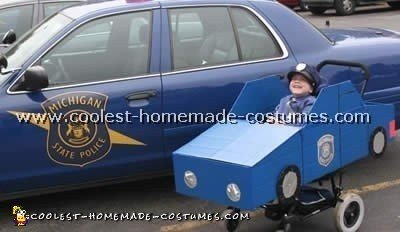 Our son has Cerebral Palsy and he uses a wheelchair to get around. Every year we come up with easy to make Halloween costumes that incorporate his chair as part of his costume but this can work for strollers as well.
What you will need is black duct tape, blue duct tape, aluminum foil, wooden trim (1/2 X 1/2), round head fasteners, 1″ red construction paper, spray adhesive, blue spray paint, three 18″X18″ cardboard boxes.
This is how you start: first the cutting out of the body. I used two boxes to make up the sides of the car. I cut the boxes open so that I had a long piece of cardboard for the two boxes. Cut the shape of the car out of the pieces. Car length was about four feet long and the height was about 33″ high. Note: works best if you sketch out your design before cutting so that your dimension meet your chair/stroller. Using the third box, cut our front and back of car to meet the dimensions of the car side pieces as well as the width of the chair/stroller. Measure the area of the hood to meet your dimensions as well. Using spare material cut our four circles for the wheels.
Using the blue duct tape secure side and front pieces together as well as leading edges of the cardboard to give a smoother finishes and highlight the cars lines. I then used the wood trim to give the sides some rigidity and to enable the car to rest on my son's wheelchair tray. The pieces of wood were secured on with the strongest spray adhesive.
Spray paint the entire car blue inside and out. I applied two coats to get a good even look. Apply details once paint is dry. I used strips of black duct tape to create the lines of the doors and other trim pieces of the car. Wheels are covered in aluminum foil and edges covered in black duck tape and secured to the car using round head fasteners. MSP logo found on the internet enlarged printed in color cut out and secured using spray adhesive. Tail lights made out of red construction paper and headlights out of aluminum foil both applied with spray adhesive. Obviously you can match your local police department's colors and logos.
I also dressed as a convict in a striped suit so when pushing his chair I stood inside the car as his prisoner.
Total Spent: $30
Easy to make Halloween costume by Darlene B., Wewahitchka, FL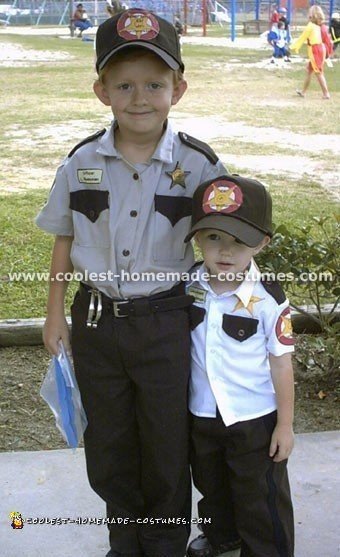 I had to come up with a Corrections officer costume because my 6 year old loves his Daddy and wants to be just like him. These are one of those easy to make Halloween costumes. I purchased a pattern for a boy's shirt and pants. While making the pants I had to add the black strip down the legs.
On the shirt I had to make the pockets and all the decorations to look like the one Daddy had. I called it the "Jr. Corrections officer" and the hat and badge stated the same. It was a huge success for him at school as we have a local prison and a lot who work there, live here in this town. The adults really liked it and people wanted me to make costumes of this sort for them.