I made this toothpaste costume for one of my three kids. For the toothpaste I bought about two meters of green satiny material from Wal-Mart. I then traced my daughter's outline onto it and cut it out. I sewed the two pieces together. I made it roomy so that she could wear a winter coat underneath if necessary.
Then I added the Crest logo onto it using different colour material because I wanted it to be more recognizable. I looked up the logo on the internet and copied their colors and font by freehand. I even wrote "fluoride" underneath to make it more realistic.
For the toothpaste cap I bought an old lampshade from Goodwill and covered it in white material then glued an elastic strap on the bottom for it to cling to her chin.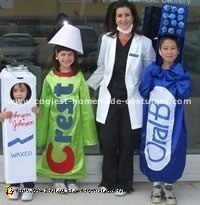 Total Spent: $8.
Costume by Stacy K., Wesley Chapel, FL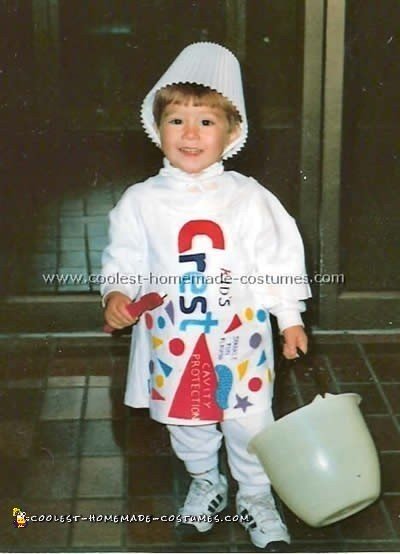 My son won a contest for this easy costume idea. I took a t-shirt of mine (women's cut) and glued felt onto it to look like the tube. Then I added glitter glue to exactly match it. The toothpaste cap is a small lampshade with holes cut on the sides where I attached white shoe laces for the ties. Add white sweat pants and an oversized toothbrush and you're done.
Total Spent: $15