I named my title after KISS' 3rd album which spawned their most known song, "Rock and Roll All Night." The entire costume is not the most complex of the four (that honor goes to Gene Simmons), but it is involved none the less. The costume in full a consists of a sequined vest and tuxedo jacket, spandex leggings with stars down each leg and one on the right butt cheek, platform boots with chains and piano stripes, a belt, choker and pendant with a chain. Rather than use 300 words in one step, I shall take you on a step by step journey.
The costume was worn to a KISS Expo, a friend's 50th birthday party, the same friend's benefit when he discovered he has prostate cancer. Here is a photo of the top half. The wig was purchased at a professional wig shop in Hollywood. You send a photo of what you want and they find a wig and style it exactly as your picture shows.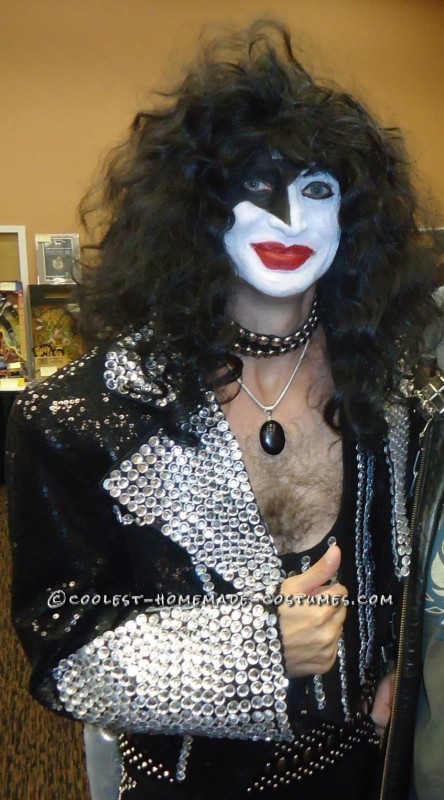 Where to Start?
Well, if you gonna do KISS you're gonna need makeup! A good makeup job includes pro clown makeup (not cheap stuff from Party City, etc.), a good setting powder and a spray sealant. If you don't want your makeup running or smudging you need the protection of spray and powder. As you can barely notice, I have a slight run in my lipstick in photo two since I had a meal. Your pencils, eyeliner, brushes, sponges can be found at Target or any local store selling cosmetics. If you are going to do a KISS member, start practicing NOW. The starchild is the easiest in my opinion and it took a good 2 – 3 months to get it perfect. Putting a character face is more difficult than you think.
Photo one is me at a friends house where three of us met and the second is me and a beautiful hostess at a local establishment having a Halloween Party, and NO, we didn't win, we lost to ALF!?! You can see my belt and vest in this pic. The third is my other two KISS pals. We made a great team and turned heads everywhere. We must have had around 40 photo requests. I never complain, I don't mind my mouth hurting the next day from all the smiling!!!!
I also have my accessories, a choker, pendant and chain all found on the internet. You can't make every item in a costume! I am not a jeweler or leather worker. The belt is an official KISS merchandise belt, again, no way around that.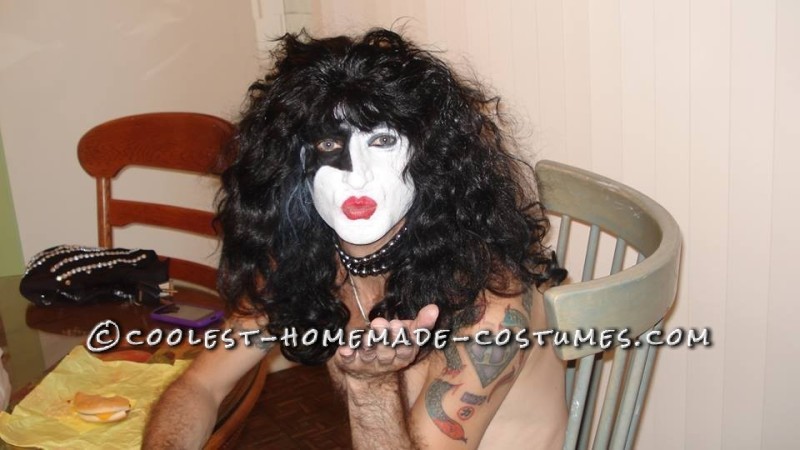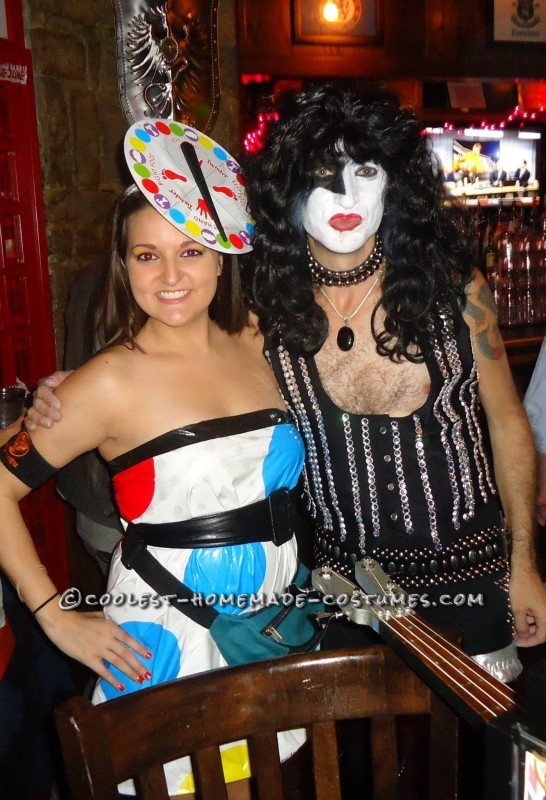 Strutter
The leggings are probably the easiest part of the costume beside the accessories. Just a pair of nylon Lycra leggings and rhinestones. I also use a silver wedding garter that you can find on eBay or and wedding or bridal store. I prefer the eBay route rather then go to a bridal shop to get a garter. I get enough looks when buying makeup at Target. I drew a large star on a piece of paper and cut it out. Then I drew dots on the star in a symmetrical pattern. Then I took a hole punch and punched out all the holes making an easy to use template. You simply measure where you want each star to go since you want them even on each side then you take a silver sharpie and dot all the holes you have made. When you have all the dots and remove the star, you see where you need to prong each rhinestone.

The Vest and Jacket
Yeah, sometimes an artist has his week spots and actually putting a piece together. I did have a seamstress make a vest for me, but I added the rhinestones. The jacket is the most tedious of all steps. I took an actual tuxedo coat and sewed rhinestone material and a silver lame onto it. Rhinestones were then added on the lapel, arms, and two falling stars on the back. The photos were taken at a cancer benefit for a friend. You wonder why there are only two of, well I don't play guitar. What you see is a stage prop I made myself as well as the axe bass. We each actually sing, but our backing music are karaoke tracks. I pretend to play but my friend's pretend playing is more accurate as he is an actual musician but does charity with me. He's a great guy. He made his own costume as well, but I am not telling him about this because I don't want him beating me. LOL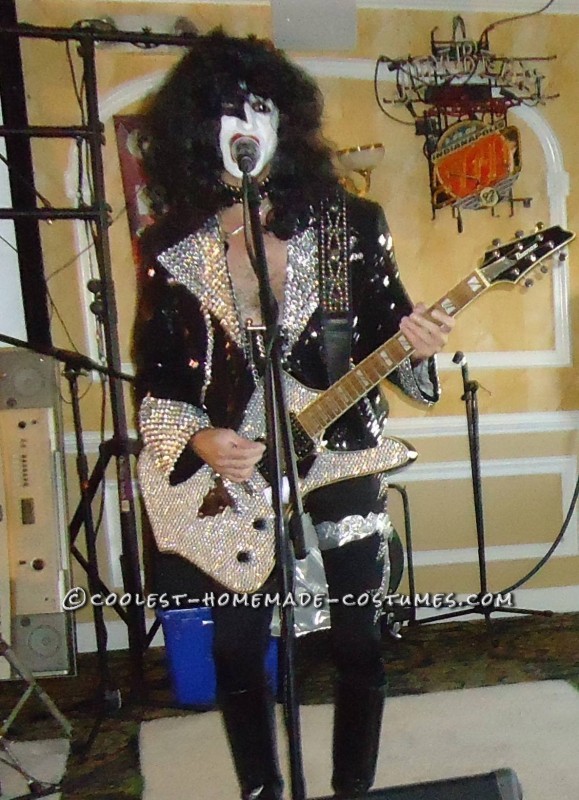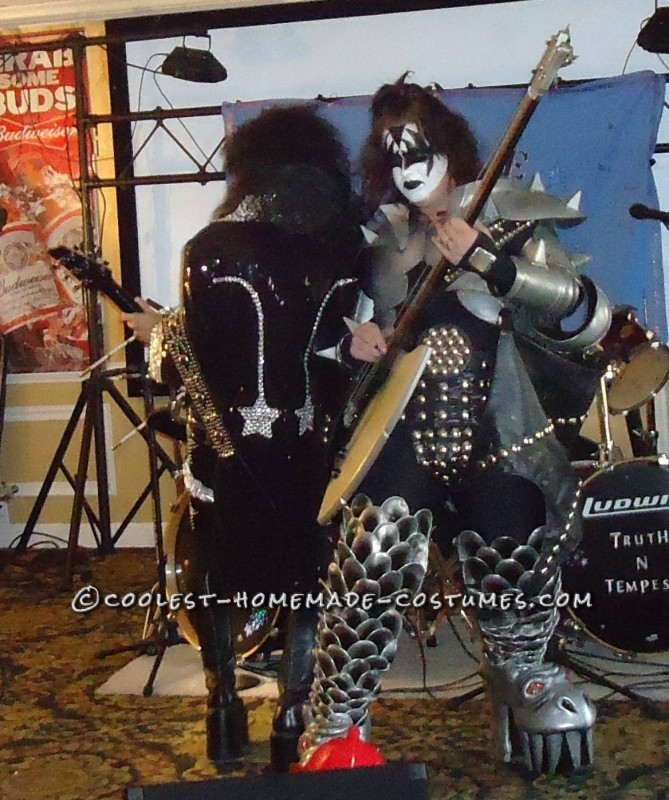 Dance All Over Your Face
KISS does have a line of boots but none of them would fit me and none of them would match this costume. So, I had to improvise. On the left we have the real deal. I had to find a way to come close. Well, I found great platform boots called Demonia Choppers and did some altering. Choppers are pic 2. I added studded arches to each side that close with Velcro, painted silver piano stripes and attached a key ring to attach chains with. The first chains were VERY heavy but I have since found much lighter ones at a craft store.
Well, I hope everyone enjoyed my little stories and tutorials. Believe me, I have been doing charities for seven years and it never gets tiresome. Adults and children that have never heard a single KISS song are drawn to you. They love pictures and autographs as much as the tried and true all time fans. If you don't want to go to extreme measures there are two short cuts I can suggest. KISS did an album called "Dresses To Kill" where they all had suits on. If you have a suit, no need to make a costume. KISS also did a tour of Budokan in 1976 and there are photos of them in kimonos. I would imagine you could find an inexpensive one. I always look on eBay. It seems you can find anything conceivable there.
Most of all, have fun with it. Design your own. Believe me, you will stand out regardless and no one will know you are wearing a costume that doe not resemble anything KISS used. Just get creative.