This year, I grew an extensive vegetable garden.  It was so impressive that when Halloween season began to approach, my friends started to suggest to me that I should really go as a farmer, or a plant, or some other garden-themed creation.  I thought about it, and finally decided I wanted to go as a living garden statue.  But what kind?  I looked through many photos of different human statues, but decided I wanted my statue to be unique.  To get some artistic inspiration for the costume, I visited the Philadelphia Magic Gardens, a mosaic art environment built by Isaiah Zagar.  The look of his unique blend of mirrors, and tiles, and shattered ceramic dishes, random words and phrases, and oxidized metal objects, all overgrown with plants, really inspired me.  I decided I would try to copy the look for my mosaic statue costume.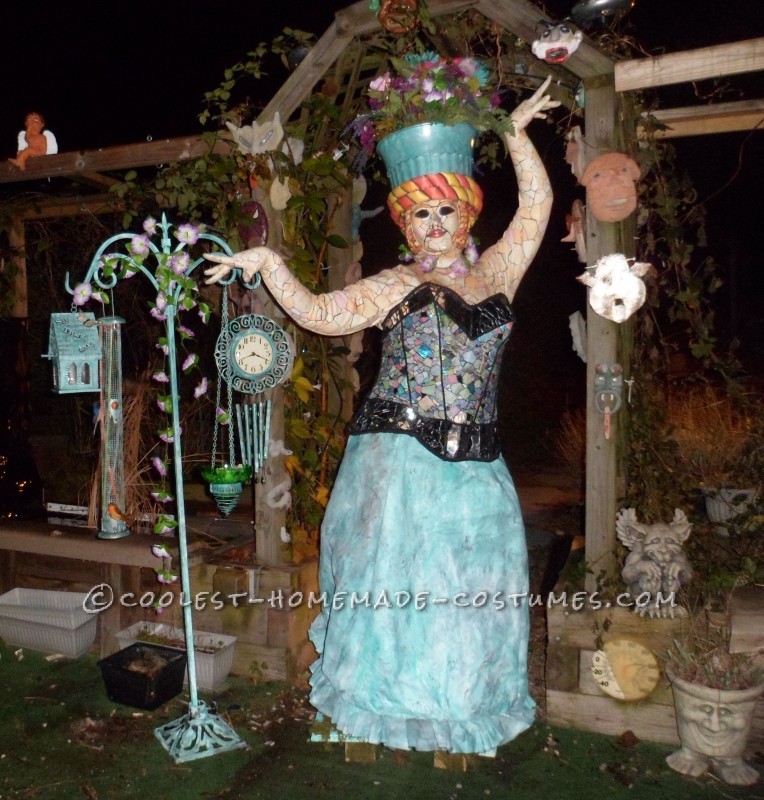 Living Garden Mosaic Statue

Philadelphia\'s Magic Gardens
Making Paper Mosaics and Fabric Printing
Obviously, I could not use real mirrors, glass, or mosaic tiles, as those would be too heavy to wear and might come with dangerous sharp edges.  So instead, I decided to create some mosaic patterns out of paper and print them onto fabric.  To do this, I purchased lots of scrapbooking paper and black cardstock.  I also took some old china dishes from my cabinet and photocopied them onto paper too, so I could have bits of ceramic dishes in my costume, only without having to smash them!
For the bodice, I used Simplicity pattern 5006 which I traced onto black card stock, cut out, and filled with paper mosaic pieces.  I then scanned all the parts of the bodice and used my Epson printer to print on printable fabric.  For the flesh-tone mosaic shirt and yellow-orange mosaic hair, I made repeating patterns of mosaic on paper and used www.Spoonflower.com to print out them out as fabric, since I needed bigger pieces of fabric than I could make with my printer.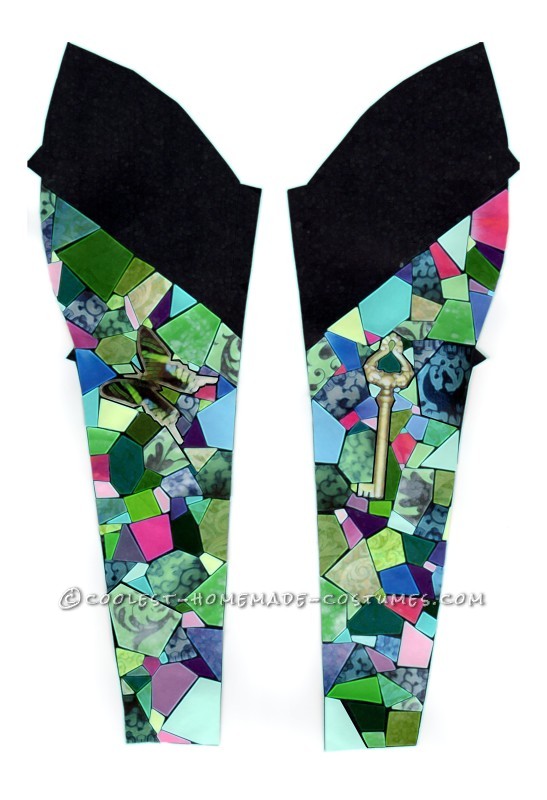 Paper Mosaic Bodice Pattern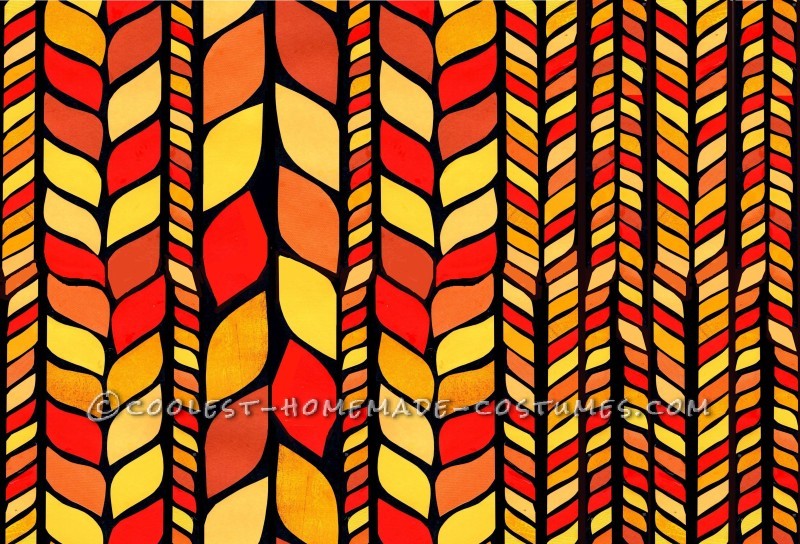 Paper mosaic hair pattern.
The headpiece was the most difficult part, but I lucked out when I found an adjustable construction workers' hard hat for a dollar at the thrift shop.  I got a plastic flower pot, cut off the bottom, and bolted it to the hard hat, so that I now had a hard hat attached to a flower pot.  I filled the pot with a block of florists' foam and lots of artificial flowers, including morning glory vines, that spill out of the pot and fall down on me.  I hid the bolts and jagged edge beneath coils of fabric braids I made from my mosaic-hair fabric.   I painted the pot with a greenish-white acrylic paint and clear topcoat, desgined to mimic copper patina.
The mask I made by gluing my flesh-tone mosaic fabric and a pair of mirrored lenses that I took out of some sunglasses.  I also wrapped some of my mosaic-hair fabric around thick cord and sewed it to a hood.  I did some extra painting and drawing with black marker on the mask, to give it facial features.  To make the hair, I cut my mosaic hair fabric into long strips and sewed them around thick rope.  I sewed the decorated rope to the hood, so I could pull the entire thing over my head, and tuck it into my flesh-tone-mosaic shirt.  The thicker braids I stuffed with fiberfill to make them three-dimensional.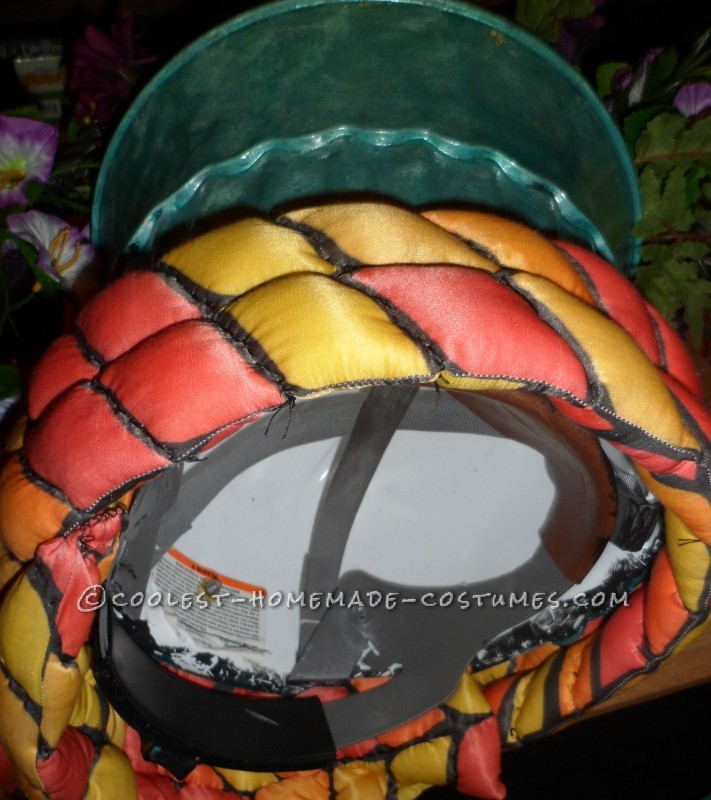 Underside of Flower Pot Showing Hard Hat
Shirt, Bodice and Skirt
My flesh-tone mosaic shirt I made by tracing around a shirt I had.  I cut out gloves by tracing around my own hands and sewed them to each of the sleeves, so the shirt would cover my skin.
For the bodice, I created a mirrored mosaic look around the top and bottom edges by cutting up sheets of plastic mirrored sheeting from the craft store and gluing them on with superglue, then going around the edges with puffy black metallic fabric paint.  Here and there, I also glued on random mirror pieces and other shiny bits of fabric. This made the bodice look like mirrors and stained glass.  I upcycled some metal rods from an old thrift-shop lampshade for the boning, and also black cord to highlight the edges.
I wanted the skirt to match the flower pot on my head, so I painted that fabric with the same green and white acrylic.  I didn't really use a pattern for the skirt, it's a regular a-line skirt with an improvised ruffle.  I used the steel hoop from my thrift-shop lampshade to give the skirt definition at the bottom and keep the skirt from blowing around in the wind and spoiling the statue illusion too much.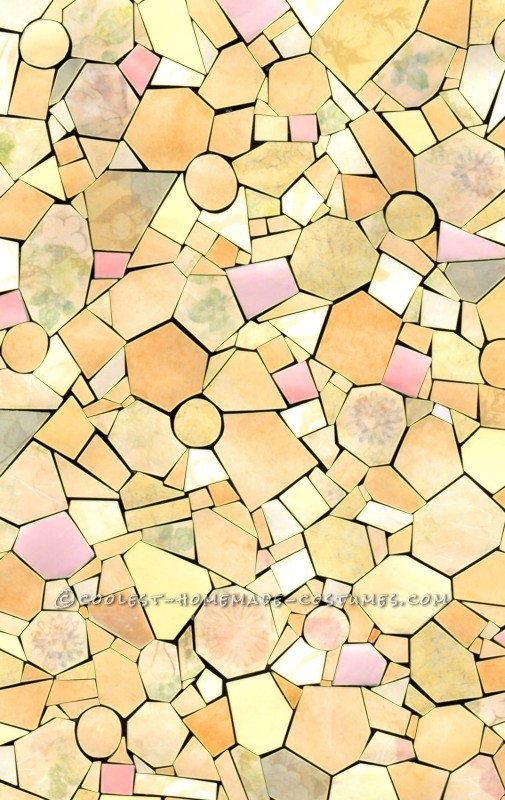 Paper Mosaic Shirt Fabric Pattern
Props: Garden Pole, Birdfeeders, Clock Wind Chime and Birdhouse
I decided I wanted some props with me on the porch for Halloween night, to suggest a garden.  So I sawed the prong-end off a garden pole that was designed to be hammered into the dirt, capped the sharp end with the rubber nub from an old pair of crutches, and put the pole into a floor-anchor designed to hold up a tiki-torch.  I made and hung a two bird feeders, a bird house, and a clock wind-chime on it.  I added messages in foam sticker-letters that said, "Say the Magic Words" and "Say Please" and "Say Thank-You" to the objects on my garden pole, in order to encourage young Trick-or-Treaters to be polite.  (I decided for my living statue act, I wouldn't come to life and hand out the candy unless asked politely!)  ;)  I painted the hanging objects and my garden pole green and white as well, and added fake birds, butterflies, and morning glory vines as decorations.  The wind-chimes make a lovely sound, and I figured the clock would come in handy if I were standing still as a statue and couldn't check my watch! ;)  The two bird feeders I filled with candy and glow-sticks to attract Trick-or-Treaters.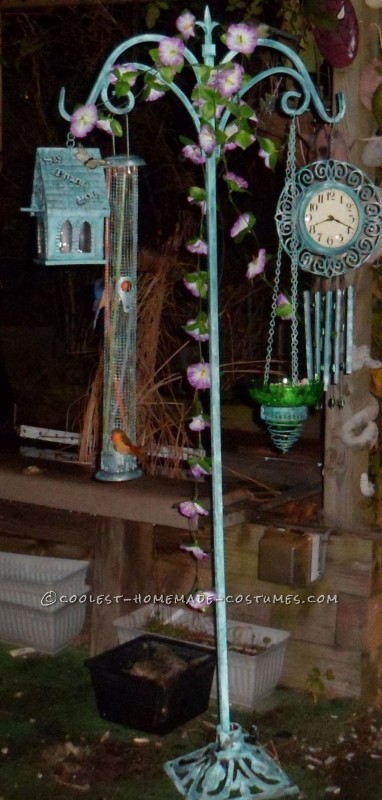 Garden Pole With Birdfeeders, Clock Wind-chimes and Bird House
Platform Shoes
The last thing I had to create were platform shoes, in order to be up off the ground a bit, like a proper statue.  I made them out of two 12-inch lengths of 4×4 wood, and a rectangular piece of bevelled board that I cut in half, and some old shoes.  These I painted green to match everything else, and decorated with bits of fake moss.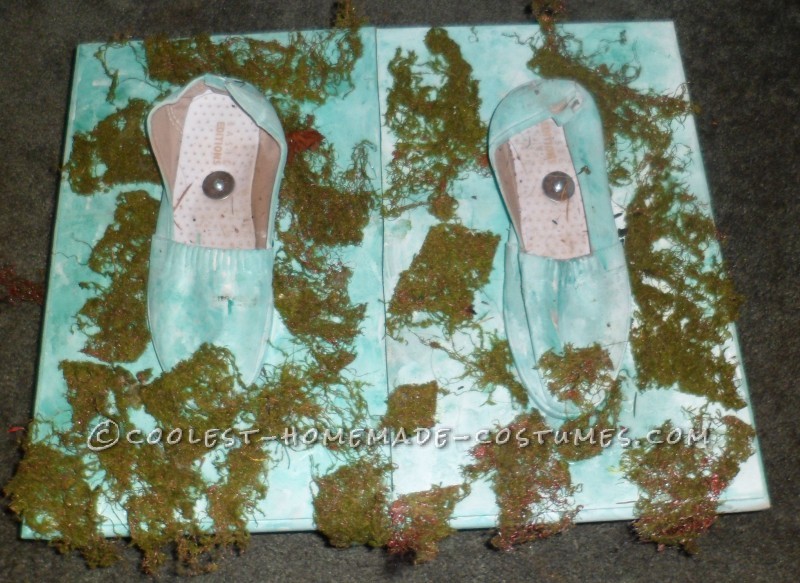 Platform shoes.
Halloween Night: Performing As A Statue
On Halloween night, my house was the hit of our neighborhood.  Lots of my neighbors took pictures of me with their children.  Some of the kids thought I was magical!  Others were very frightened of me initially, but changed their minds when I passed out the candy.  The parents all seemed impressed with my ability to hold poses so long.  I practice dance and martial arts regularly, but holding still was still much tougher than it looked!  The lenses in my mask made it particularly difficult to see what I was doing at night, but I was able to pull off the act for a full 2 and a half hours, moving very seldom—mostly when the kids arrived, but also a few times just to stretch or switch positions.   When the neighborhood finally quieted down, I was completely exhausted!  Thankfully, it was 8:30pm by then and the kids were all safe at home enjoying their loot.  I probably spent all my free time for a month and a half on this, but it was totally worth it! :D  Happy Halloween!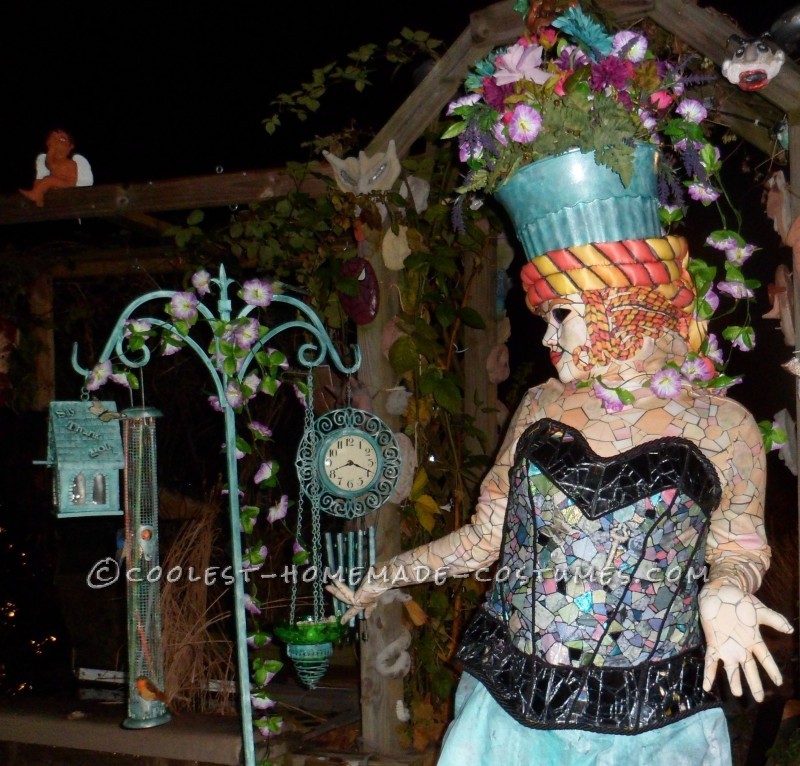 Holding still!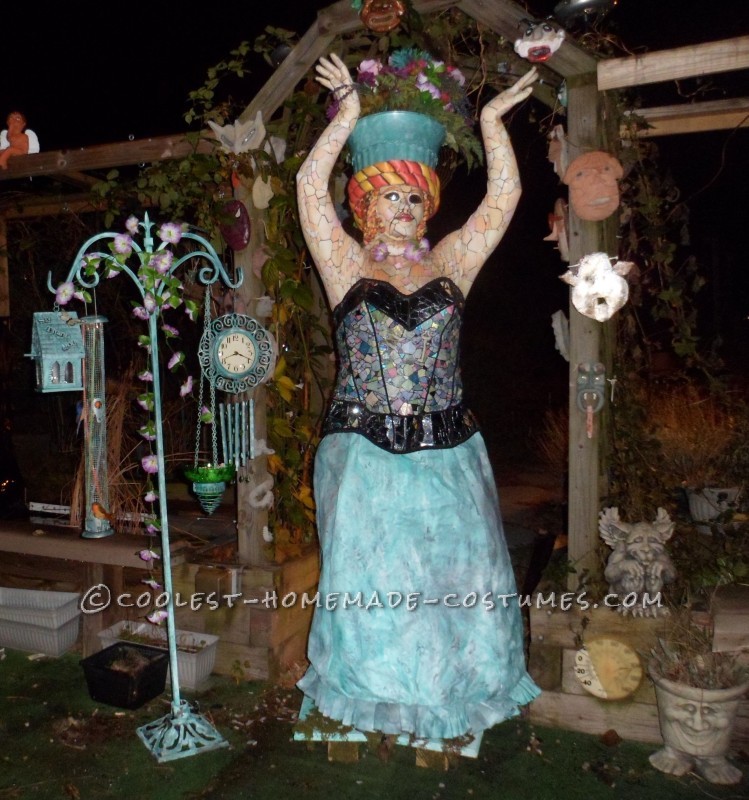 Living Garden Mosaic Statue