This caterpillar costume was pretty simple to make.
We used two tubes of fleece with the outer one bunched with elastic to create the segments or the body and then a hood style head with antennae sewn on the legs are strung together with elastic thread to a pair of mittens. It was nice and toasty for him to be inside and the bottom closed with a draw string for easy diaper changes.
The wings on the matching mommy costume were hand painted gauzy fabric stretched over plastic boning and coat hangers. They were also retractable to fit through doorways with just the tug of a drawstring.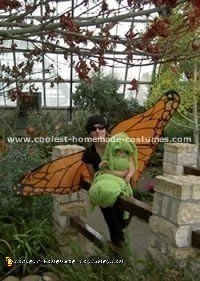 Total Spent: $30