My Godson has a Dr. Seuss themed bedroom so I told his mom I would make him the Cat in the Hat costume for Halloween. Making the costume was simple: I purchased red and white felt and cut it into strips which became the crown of the hat. I then cut out a circle for the top and another with a hole for the brim. I glued then stitched the stripes together and sewed on the top and brim. For the outfit I bought white "fur" and glued it onto a long-sleeved black shirt I purchased at Target. I made a red bow from satin ribbon and sewed it on. He also has a 'tail' (which can't be seen in the photo) made from black 'fur' trim.
The black sweatpants were purchased at Wal-Mart and he wore his own little white shoes (which every infant has). He was just learning to walk and we had so much fun laughing as he teetered around in that hat with the tail trailing behind!
Total Spent: $15
More Cat in the Hat Costume Ideas
Costume by Tara R., Pickerington, OH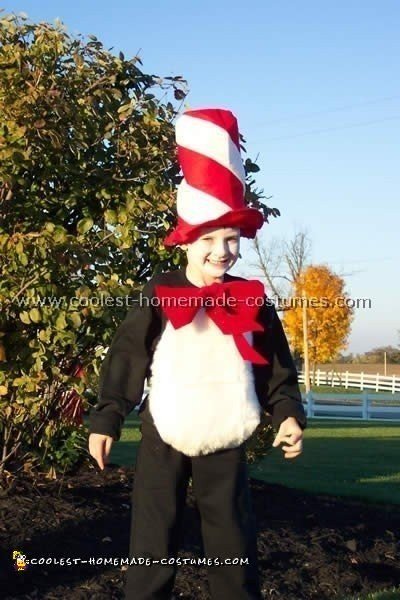 This cat in the hat costume was super simple and got lots of raves. My son was the Cat in the Hat and my twin girls were Thing One and Thing Two. We used sweat pants and shirts for all three outfits. His hat came from Oriental Trader. His furry belly came from Wal-Mart (craft isle). I simply trimmed it from square to an oval and applied three quick stitches to attach to his shirt. White face paint plus a black make up pencil provided the base for his 'cat' face.
I did bits and pieces of their costumes over a period of time. Had I worked on them from start to finish it would have all been done in a day. I picked this as our theme because this was their favorite movie at that time. I also liked that the kids were cozy in their outfits because you never know what this time of year will be like in Ohio.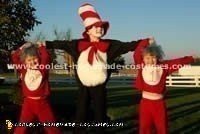 Total spent: $15
Costume by Jessica K., Keller, TX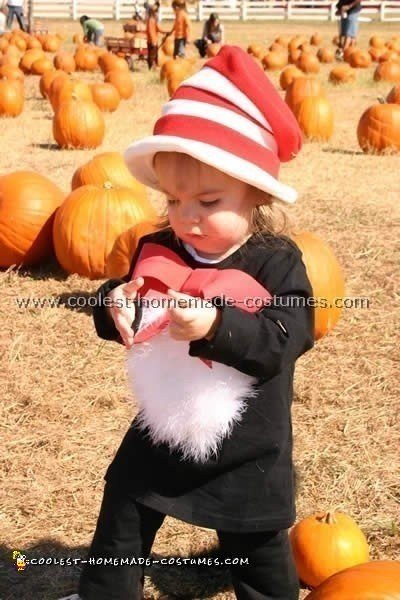 Okay I have to state up front that I didn't make the hat. We already had the hat. It came from a Dr. Seuss website. The body of the cat in the hat costume was easy.
We started with black pants and a long sleeve black shirt. I purchased one black fuzzy boa from a craft store and two white ones. I doubled the black one over in half and tied it here and there with black thread along the length of it to make it look like one solid piece. This made it thicker and shorter. Then I sewed it to the back of the shirt right where it covered my daughter's rump.
The white ones were used to make the cat's white tummy. I started by sewing the end of one white boa in the center of the cat's tummy and sewed it about every three inches or so along the length of the boa going in a spiral and continuing with the second boa until the tummy was about the right size and snipped off the extra.
The Bow Tie is made from Craft Foam cut into the shape of the bow hot glued together and then sewn to the shirt. It isn't done in this picture but on Halloween we put black socks over her white shoes. The socks had puff paint on the soles to help with traction. (This works with any costume that you need the feet to be same color as the rest but don't want to buy separate shoes for.) We left her hands bare since she was so little but you could easily make gloves like the cat in the hat wears out of felt and hot glue.
Total Spent: $20