Take a look at these cool homemade Care Bear costume ideas shared with us by costume enthusiasts from around the world. Along with the costumes here, you'll also find loads of homemade costume ideas and DIY Halloween costume inspiration for your next costume project. Enjoy!
Latest Care Bear Costumes
---
---

---
Featured NAME Costumes
This Care Bear costume was fun and easy to make! Materials: one pair plain pink sweats, one yard pink fleece, scrap of white material (old dish towel etc), red, yellow and pink craft paints, paint brush, Fleece hood pattern, scrap of pink yarn, scraps of batting or material for tummy stuffing.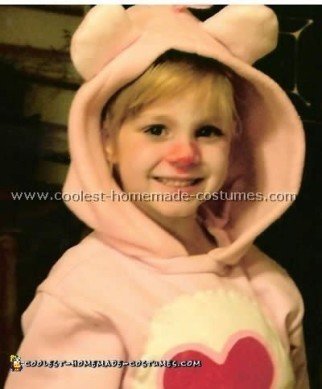 I took an old white dish towel and cut it into a round shape then painted the hearts on it following the example of my daughter's love-a-lot bear. Set those aside to dry. Meanwhile I used the hood pattern from a coat pattern I had to sew the pink fleece hood. I free handed a simple half circle pattern for the ears. Cut it out of the same pink fleece and hand stitched them onto the hood in the appropriate position. Also I added a few loops of pink yarn to the hood for the hair. I positioned the hood on the neck of the sweatshirt and sewed it on.
When the tummy piece was dry I sewed it to the front of the sweatshirt using a tight zigzag stitch leaving a small opening to stuff it with scrap material.. After it was stuffed I finished sewing it on.
Care Bear Costume Pants
On the pants I hand stitched a little scrap of pink fleece to the bottom for the tail. We also used some scrap fleece and traced my daughter's hands to sew simple bear paw mittens. We used pink slippers found at the dollar store for the shoes. I painted a red heart shape around her nose and a white circle on her face.
We got lots of comments for our Care Bear costume and everyone knew she was a care bear! It has also held up well as a dress up costume!
Total Spent: $15 (made by Sarah E., Cedar City, UT)
Cute Care Bear Costume for a Girl
Costume by Sandra D., Chesapeake, VA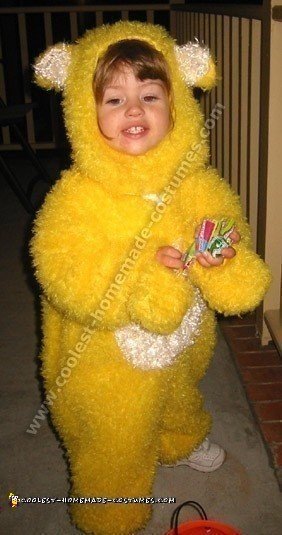 My two-year-old daughter loves the Care Bears and since the only color she really knows is yellow, I decided to make her a Funshine Bear costume.
For this costume, I bought a really simple bear costume pattern and altered it a little. I then bought the fabric and since it was yellow fur, I got a great deal at $3 a yard.
Then, I machine-embroidered the yellow sun on the white belly portion and proceeded to make the rest of the costume. I added a small tail since the original pattern did not have one.
My daughter loved this costume and had a great time handing out candy that night.
Total Spent: $20