Our caped-crusader Batman and Batgirl Couple Halloween Costumes started a month ago. We decided to home make these special costumes.  I "Batman " started  to research on the internet for designs and color and what material would I have to use to come up with the greatest Batman and Batgirl costume ever (so I was told from a neighbor, parents as we walked by them). We had to stop so we could take pictures with kids and parents repeating " what awesome costume".
So since I work at Trucktoyzperforume out in Mcallen Texas,  I have a lot of different material there in shop. I grabbed materials that we were getting rid of in the shop. Like two inner tubes, and three sheets of really thin foam pieces. First I started with the chin guards and Batman gauntlets to make them out of the two inner tube pieces. I sized both of my legs with card board to get the shape I wanted. After I was done I traced them onto the tubes. With trail and error I decided to use Velcro straps to hold them down, bought from a local hobby lobby.
Next the Batman gauntlets. I also used cardboard to get the shape that I wanted. I traced them on to the other tube. The spikes were made out of plastic plates which I bought from a local dollar store. After that was set and done the spikes became too sharp, so I decided to change the material to foam pieces. The belt was made out of 8 diff rent pieces. Two were travel size Qtips, two small first aid kits, two were made of Mentos containers, and last two small mini m+ms. Now the belt was made out of cardboard and duck tape, and Velcro straps. Boots were form last year Christmas freeze, but painted them black. Gloves were bought from a local Wal-Mart.
Gloves pieces were from plastic spoons painted and hot glued to the gloves. My batarangs were made out of compass and plastic end plates. Now the chest piece was fabricated from flour, newspaper and water. I wrapped my chest with all that just to make a plaster of my chest. We did about two hours to let it dry. Once it was dry I layed to layers of super adhesive duck tape. I added foam pieces to add the chest piece and the six pack. I used back support cut in half to tie down the chest piece. Grabbing material from last year's cape, I laid a spray on top of the chest piece, and laid the material down to get texture. I sprayed a rubber seal all over the chest piece to give it a rubber look. I cut of the Batman logo out of a foam piece left over, and painted that sun yellow.
Now for the cape. I used our old black curtains that I had in my room, and formed that in to a cape. My mask was the only thing I bought for the costume that cost money. Now that's the end for the Batman costume.
Now we go with the Batgirl. On her costume I bought boots and painted them yellow. Got her gloves that were dish washing gloves that I bought at a local Dollar store. Her gauntlets and mask were made out of extra foam shits.The belt was made out of lip glosses and cell phone packs, and yellow duck tape with cardboard with Velcro straps. The rest was clothes from home.
My best part of the build was the final product. The hardest part was putting on the costumes, and last but not least was getting all the attention and photo taking with kids and parents. It was one of the most exciting days of our lives because I came to be one of my favorite superheros.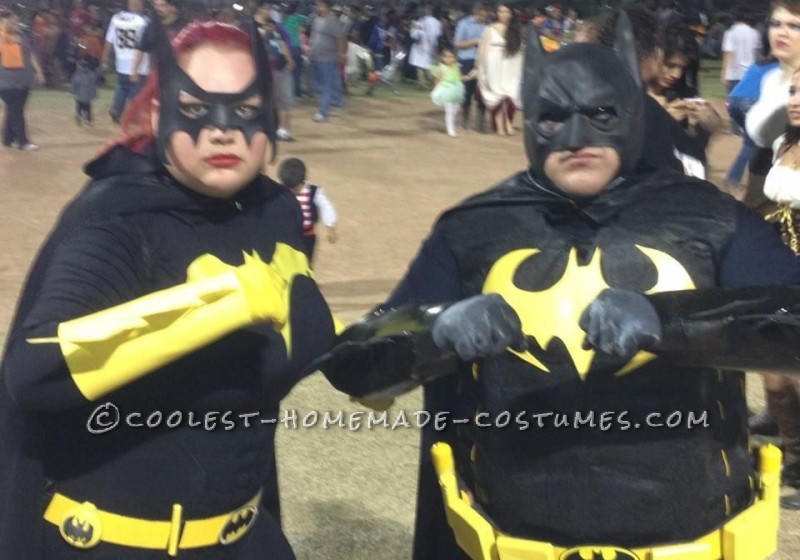 Batman n Batgirl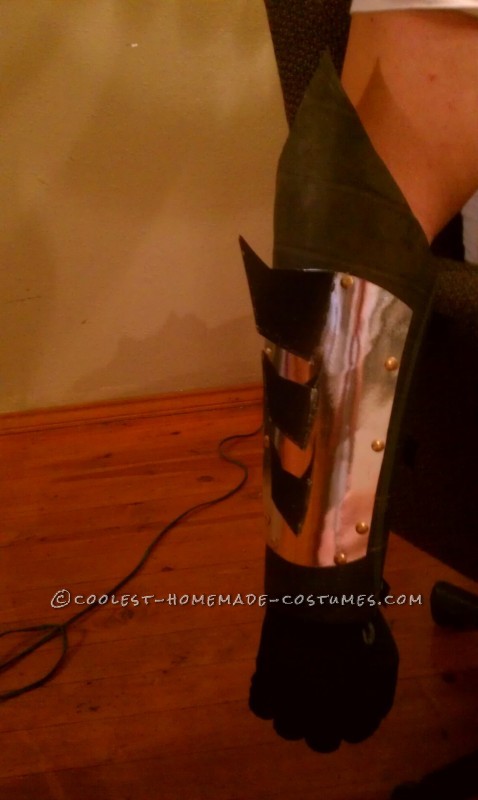 gauntlets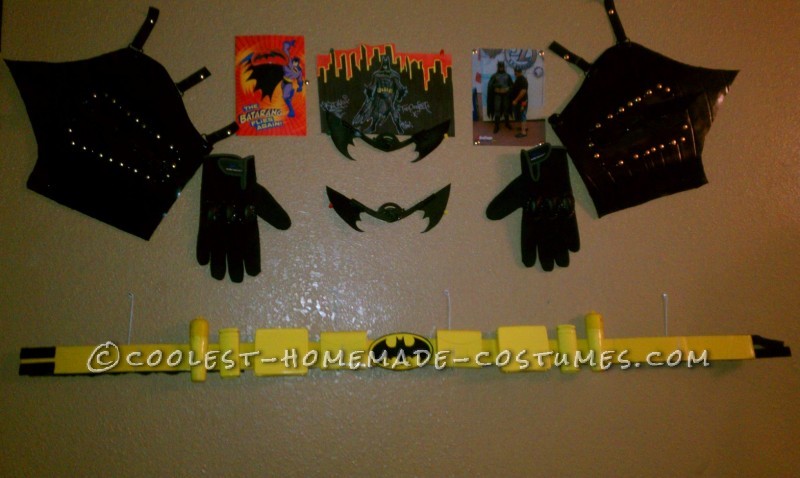 belt, gloves, gauntlets batarang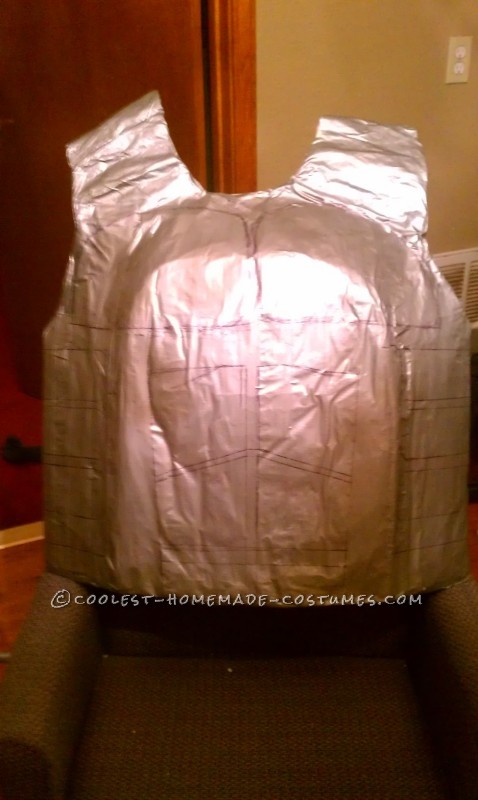 chest pieces at 50%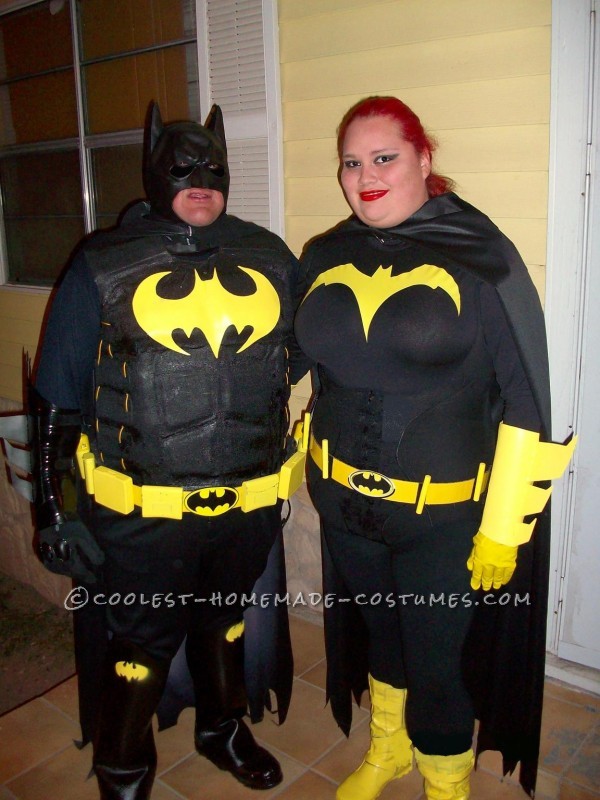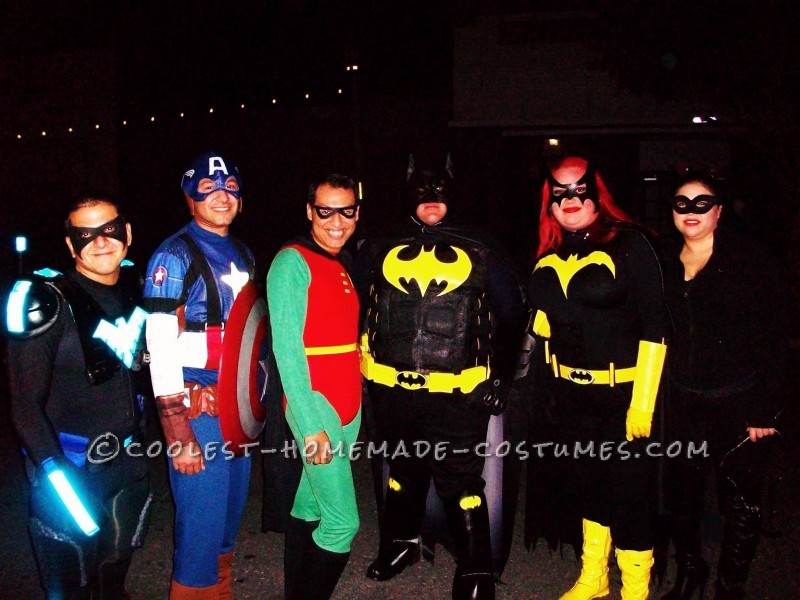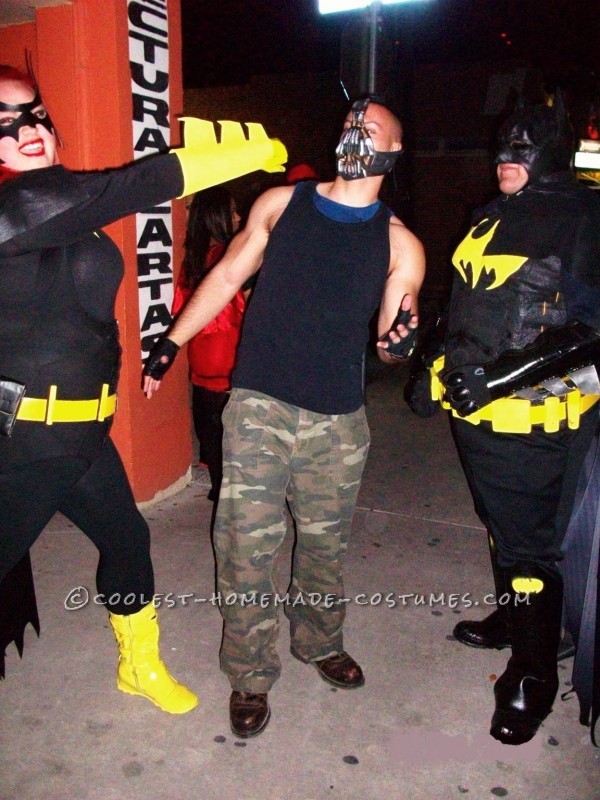 Batgirl taking down Bane..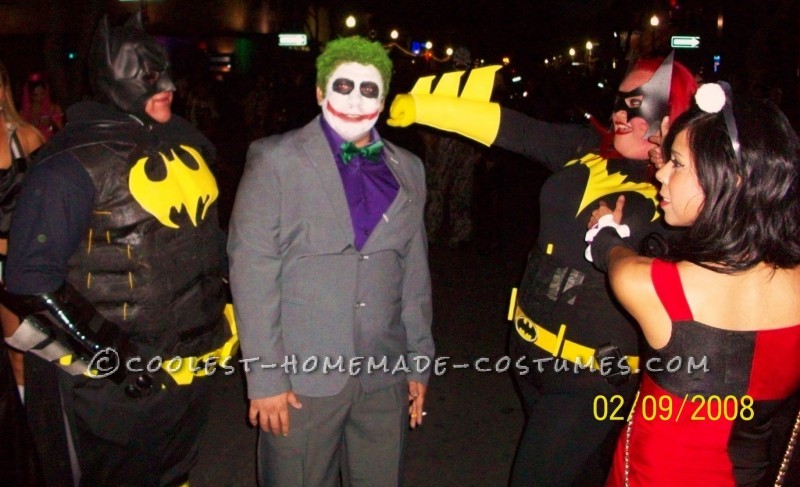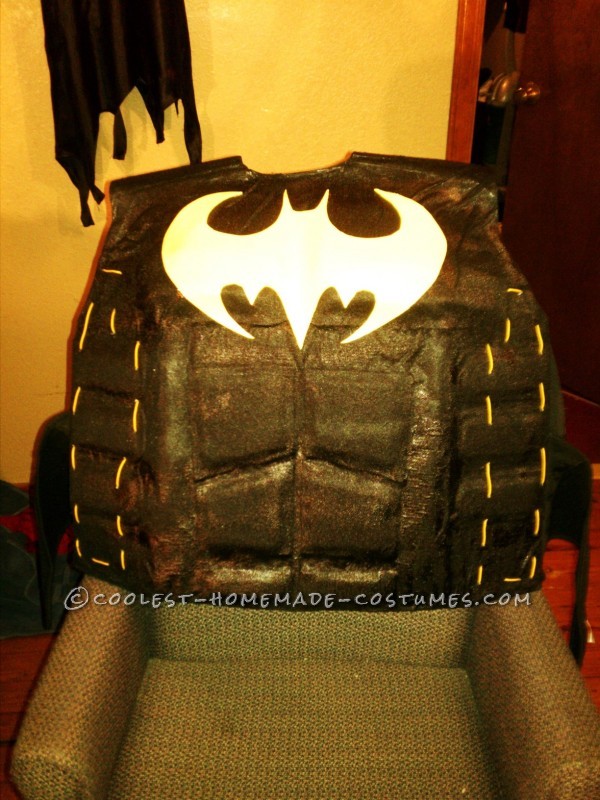 chest picese done