Take a look at these cool homemade Butterfly costume ideas shared with us by costume enthusiasts from around the world. Along with the costumes here, you'll also find loads of homemade costume ideas and DIY Halloween costume inspiration for your next costume project. Enjoy!
Latest Butterfly Costume Ideas
---
---

---
Featured Costumes
Butterfly Costume by Susan M., Stockholm, NJ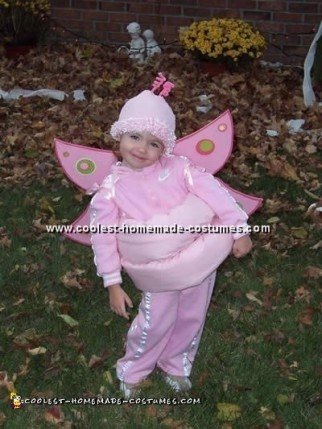 My daughter wanted a Pink Butterfly costume. I've never seen a pink butterfly so we decided to use our imaginations.
The Butterfly costume was pretty easy to make. We purchased foam board for the wings, pink paints circle stickers and jewels to decorate it. We also purchased a pink hat and pipe cleaners for the head, pink ribbon to attach wings and pink fabric and batting for the body. Then, we used an existing pink sweatshirt underneath.
I drew freehand a template for the wings on some brown craft paper (just one half on the wings) based on the size of my daughters back. Then I traced the wings onto the foam board (flip the pattern over for other half of wing) and cut out with a utility knife.
I painted both sides of the wings pink with a darker shade along the edges. Once dried we attached the circle stickers all over on the outer portion and just on the parts that would be seen on the side facing her back. Then we decoupaged the entire thing to make it water resistant (in case of a rainy Halloween). And, it also gave it a shimmery effect.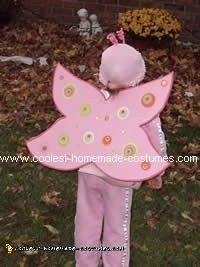 Accessorizing the Wings
Once dried we glued jewels into the circles on the back side of the wings. I used my finger to twist the pipe cleaners into antennas and pushed them through the top of a knit hat (bonus – if it was going to be cold on Halloween – hat is built into Butterfly costume!). I used 2 1/2 yards of pink fabric which I laid out on the floor, laid the batting on top then rolled into a long tube. Then I used Fabric glue to keep it together.
When dried I wrapped it around my daughter and secured it in the back with large safety pins. Once it was pinned she was able to step right in and out of it. I added a piece of ribbon around each side that could be tied over her arms to keep it from falling down. (Bonus – batting helps keep them warm on a cool evening!)
Finally I poked 2 holes in top of the wings to thread the ribbon through. This was then tied after going over shoulders and around the back to be tied underneath the wings. Bonus – the wings were so pretty now that Halloween is over we were able to hang them on a wall in her room using the ribbon that was attached!
Total Spent: $20
Stunning DIY Wings
Costume by Crystal S., Lincoln, Nebraska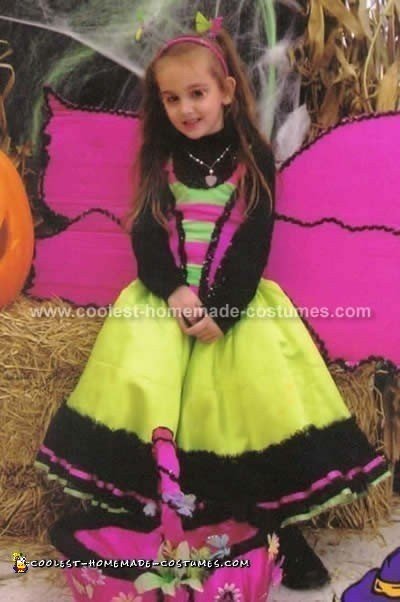 The dress for this butterfly costume was bought from someone who made it, I made the wings myself. I took a huge piece of cardboard and covered it in pink silky fabric with black lining and made a pattern with it. Then, I outlined the wings with battery operated Christmas lights. It lit up when we walked around at night and that way I didn't loose Mary!
I also made antennae's from wire and fabric covered in glitter and attached to a headband.
I made a basket for her, too, and covered it with the left-over fabric and black trim. Inside the basket I put some feather butterflies and artificial flowers and glued them to the pink fabric.
It was the most beautiful butterfly I had ever seen.
Total Spent: $20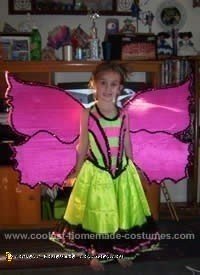 Adorable Baby Butterfly Costume
Costume by Domonique M., Washington, DC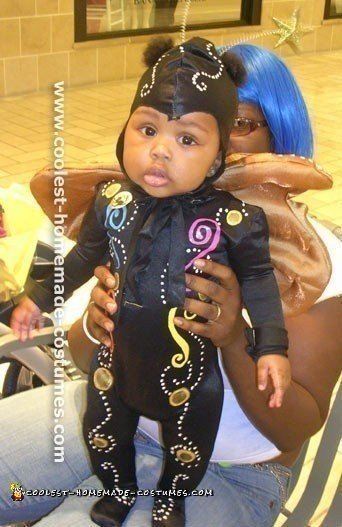 Our costume was conceived when a friend asked what Sadia (my daughter) was going to be dressed as for her first Halloween which was only 2 days away!
Originally I thought maybe something pink since that's my favorite color. But my good friend had an even better idea: "How about a butterfly?" Instantly I agreed and shouted, "Sadia will be the most beautiful butterfly in the world!"
After explaining my idea to my mother (a seamstress who knows how to pull together a quick fix), she recommended we make a bodysuit out of black spandex. And to use a sleeper as a pattern. The wings were made of gold organza, stuffed with padding, and attached to the back of the bodysuit.
With excess fabric paint that I had around the house, I painted the front of the bodysuit and the wings in glittering multi-colored swirls and circles. Now only one thing was needed. The antennas! Also at home I found an old headband that had stars attached to it with springs. Now, our most beautiful butterfly was ready to soar the world!