First off my inspiration came the day after Christmas of last year when I came across a picture of Luly Yang's Butterfly Dress and then while researching that I found her wedding gown Kimono.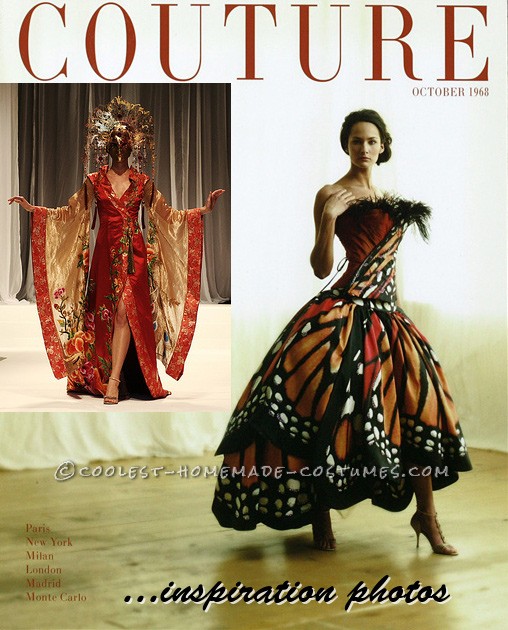 I am not a seamstress but I do know how to operate a sewing machine and I am fairly artistic. Where to begin on a very limited budget? Off to Value Village I found 2 very ugly pink bridesmaid dresses one was a 2 piece one so I could convert the top half into the corset type design. From there I cut 7 panels to make up the skirt part and bought some silk screen paint and hand painted each panel to look like a single butterfly wing and one extra to add to the corset top. Painstakingly sewed it all together. Fortunately each bridesmaid dress had a crinlyn attached so I was able to use those to make the skirt poof out really big, Then glitter, glue and gemstones and a boa on the top.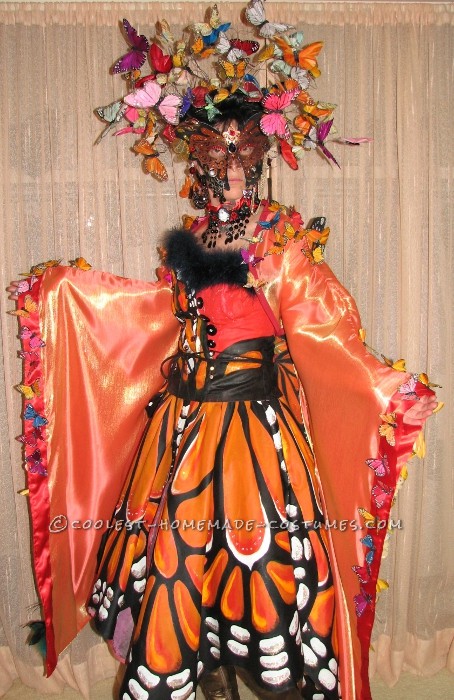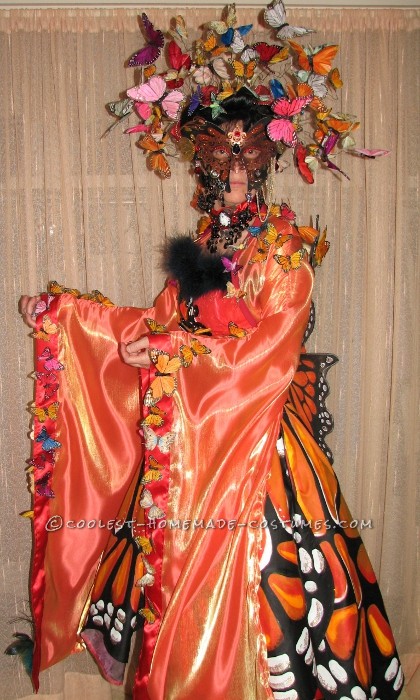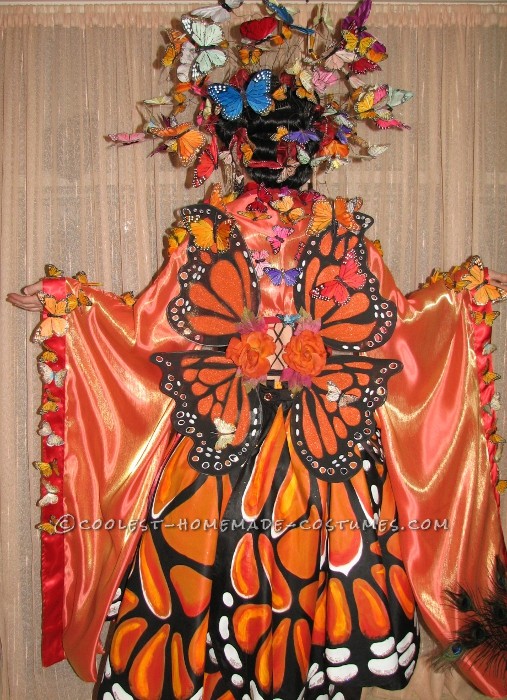 For the kimono I had to order the fabric from China as it was really cheap!!! Then I decided wings were in order so coat hangers and pantyhose made up that and the same screen printing paint and glitter of course. As you can see from the photo of the wings that this truly was made from pink bridesmaid dresses.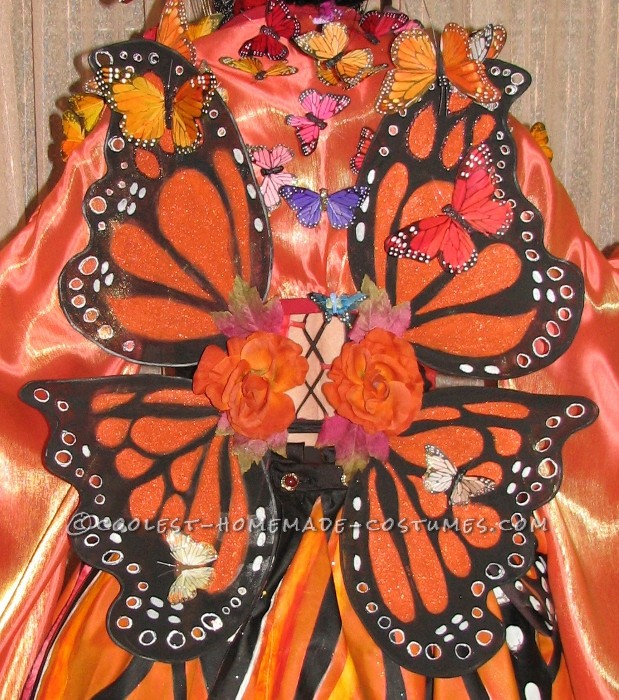 The butterflies were the costliest part but I knew I couldn't skimp on that as they were going to make the whole costume come together. There are approximately 120 butterflies on this costume and about 70 of them are on the head piece, with each one I added glitter and then wired them to 5 separate metal hair combs with thin gauge black wire.
I styled a black wig I had into an Asian style so the combs would fit in and it would appear I had a swarm of butterflies hovering around me.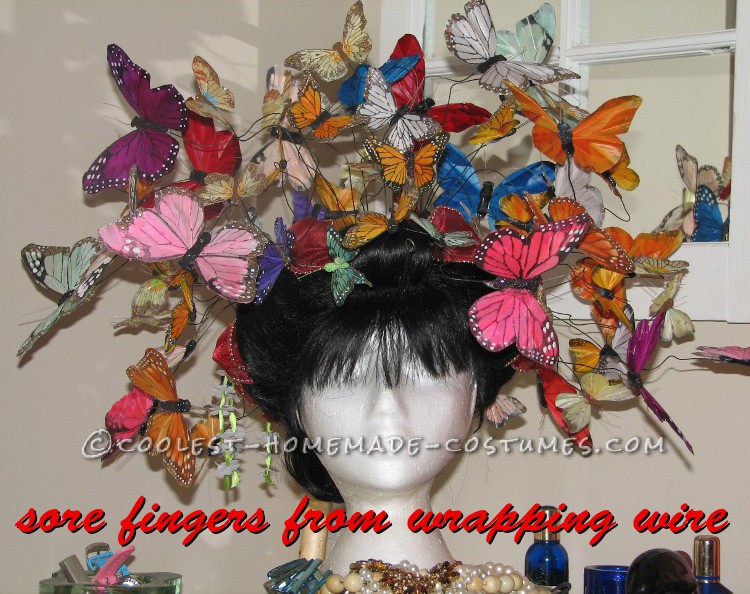 The mask was another trip to Value Village and I found 2 cheap masks spray painted and attached all kinds of cheap necklaces, brooches glitter and gems. I also knew I would be wearing this to work and I need to wear reading glasses so I bought a cheap pair of readers from the dollar store, took the lenses out and crazy glued them in between the 2 masks.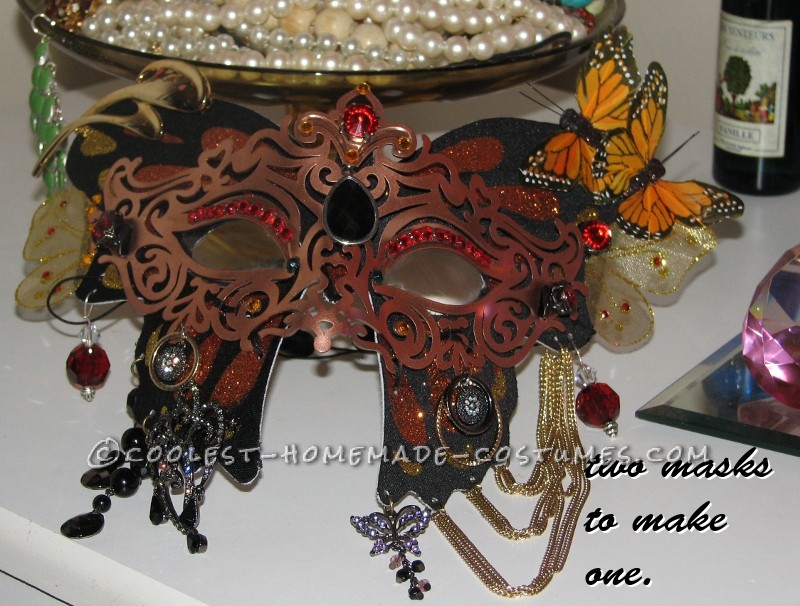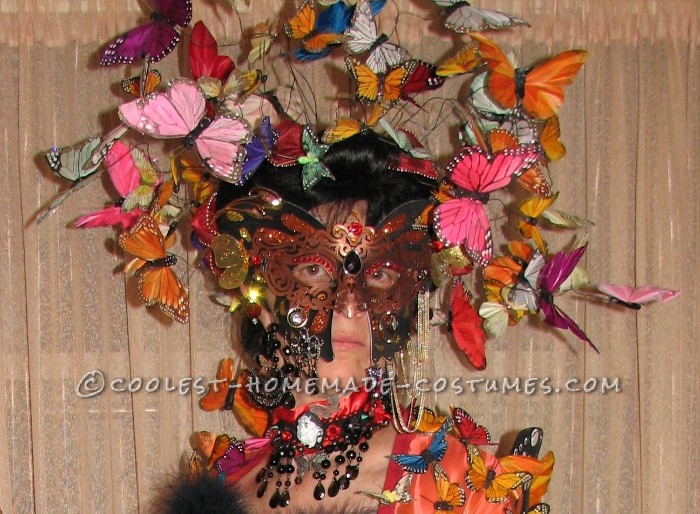 I really can't say how long this whole project took but many many hours. I had to put the project away for a few months as it really was consuming me. Now that it is done I can honestly say I love it and it is exactly how I envisioned it to be.
This costume is one of my projects that drove my son crazy as at every stage and stitch it was "what do you think of this?" or "I need your opinion on that!" Oh and now that Halloween is over I had to mention that when I wore it out the weather was just nasty and with the butterflies being made from feathers every time I went outside to go to the next pub the wind kept trying to lift the whole wig right off my head! Hope you all like it as much as I am proud of it!!!