Take a look at the best Halloween costumes for Dr. Seuss Characters submitted to our annual Halloween Costume Contest. You'll also find loads of homemade costume ideas and DIY Halloween costume inspiration.
Costume by Christine M., Trenton, MI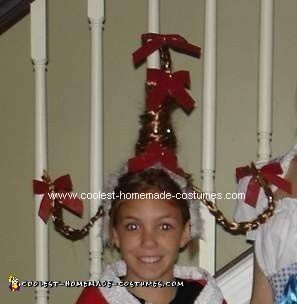 My daughter wanted to be Cindy Lou. So off I went shopping. First I went to Value World (like Salvation Army). I was really lucky to find a black checkered dress. I bought an oversized red velvet robe at Value World. I cut it to the size of a cape.
Then I went to the Dollar store and found a Christmas hat with pom poms. I used the white frill around collar of the cape. I sewed pom poms on the straps on the cape.
For the hair I bought fake hair and used wire to have the braids stick out on each side. I used a cone and wrapped more hair around and stuck part up and attached bows.
Last, I bought red tights and she was finished and ready to go with one of the best Halloween costumes!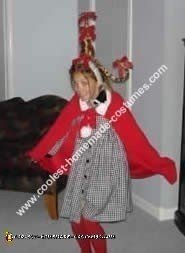 Total Spent: $11