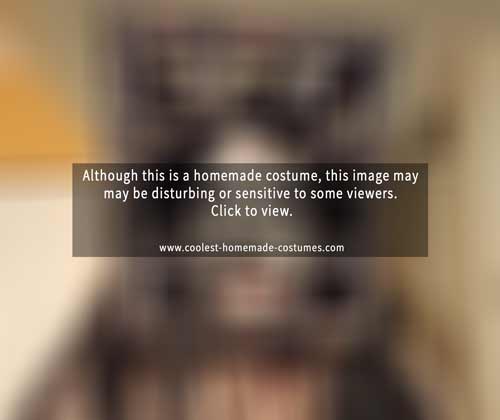 My coworkers really get into Halloween and it inspired me to do something unique. I came up with this optical illusion death zombie Halloween costume because I was tired of the tired old costumes that were being used year after year and wanted something that would really catch people's eyes.
Optical Illusion Zombie Halloween Costume Instructions
This costume was made by using a back pack filled with towels to give it some depth.
I also stuck a piece of Styrofoam in the backpack with two wooden rods sticking out of the top in order to support the head of my death zombie.
I bought a round piece of Styrofoam and stuck it on the rods coming out of my backpack.
Next I had a mask, I put it on and use the hood to cover the rest of the Styrofoam.
You have to take a regular t-shirt and cut a hole in the back, being sure to leave the hole for your head intact, as well as the bottom portion of the shirt in order to create the illusion that you are actually cut in half.
The rest of the costume required finding some pool noodles for the arms and some zombie hands.
I also used a pillow to make it look like my body.
I had a lot of fun doing this and it was really great to see people just staring at me, trying to figure it out. I even laughed hard when I answered the door and saw kids begin to cry (though I don't normally laugh at making kids cry).
This is not a hard costume to make. It took me about 3-4 hours to get it all together and about 7-10 minutes to get it on. Fun was had by all.