Take a look at these cool homemade Flamingo costumes shared with us by costume enthusiasts from around the world. Along with the animal Halloween costumes here, you'll also find loads of homemade costume ideas and DIY Halloween costume inspiration for your next costume project. Enjoy!
Latest Flamingo Costumes
---
---

---
Featured Animal Halloween Costumes
Costume by Alison C., Meriden, CT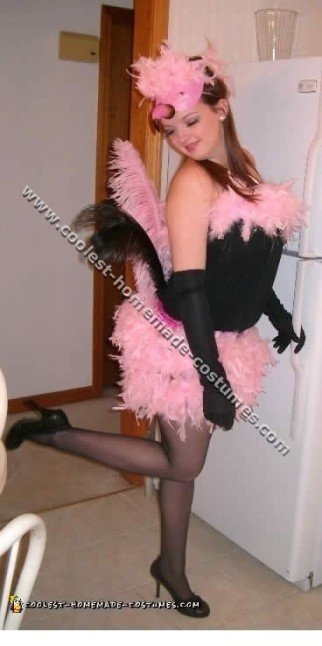 While I was out shopping for crafts for animal Halloween costumes I came across a pink feather boa and decided right then and there to be a flamingo. I took a cheap black strapless sundress and hot-glued two feather boas along the top and bottom. For the mask I painted a 99 cent silver mask pink.
I bought plastic devil horns and transformed one into a beak by painting it pink and black. I adorned the top of the mask with pink feathers as well. Add long gloves and black tights.
Total Spent: $30
Costume by Meghan A., Fredericksburg, Virginia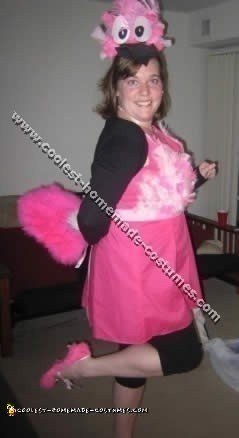 This is the ultimate girly girl costume! I ordered feathers from the internet; it was the only way to make sure I had enough of the same color. As a base I made a simple shift dress and hot glued different shades of pink feathers all over the top portion. To cover the raw edges at the bottom of the bodice I sewed on a wide strip of pink grosgrain ribbon. This technique also helps give the dress a better fit.
I wanted the dress to be short but to make sure it wasn't inappropriate. I added cute leggings. For the headpiece I used a plain headband, more feathers and cardboard. Again everything was hot glued into place. To get the shape on the beak you need three different pieces: Two sides and middle, this will ensure a more curved shape.
The shoes were my favorite. I bought a pair of heels from a thrift store and hot glued the feathers on. I didn't want the ends to poke my feet so I edged the whole shoe with ribbon and added a little bow. If you ever want to make animal Halloween costumes, this is very easy to make!
Total Spent: $40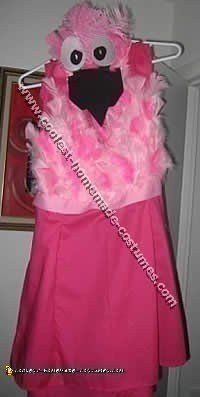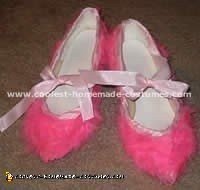 Costume by Kara, North Canby, OR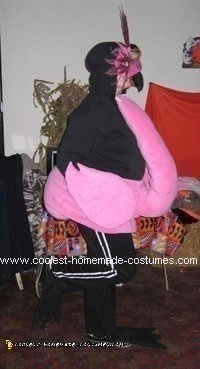 My boyfriend and I were cleaning up the property around his grandpa's house when we found a couple of garden gnomes. Then I got this idea for animal Halloween costumes for the two of us. My boyfriend doesn't like to dress up a lot for Halloween so I figured a garden gnome would be the perfect costume for him. All he would need is a beard and hat and he could just wear his typical shorts shirt and hiking boots. We found some suspenders at his grandpa's house that put the finishing touch on his costume.
The problem now was what was I going to be? We figured a pink lawn flamingo would be the perfect complement to a garden gnome and our animal Halloween costumes. I found some pink fleece fabric and cut it into three pieces as shown in the body pattern. I sewed it together to form a skirt. I put elastic in the top and bottom of the skirt to make a bubble skirt. I cut out a piece of fleece for the neck as shown in the neck pattern and sewed it together to form a tube. I sewed on some ribbon in order to tie it around my neck. I sewed the neck onto the body. Last I put pillow stuffing in the back of the skirt and the elastic held it in.
I found the mask at Goodwill for $5 and cut the nose off so I could put a beak in its place. I made the beak out of cardboard and wrapped pink and black fabric around it. Then I just taped it onto the mask.
To make the wings I cut out two pieces of cardboard and traced them onto the fleece. I cut out two pieces of fleece for each wing and sewed them together with the cardboard inside. I hand-sewed a piece of elastic onto each wing so they would stay on my arms.
To make the feet I cut out two pieces of cardboard and used them as a pattern to cut out the black felt. I cut out two pieces of felt for each foot and sewed them together with the cardboard inside. I then sewed on an elastic band so the feet would stay in place.
As a final touch I colored my hair pink with pink hair spray. Overall these animal Halloween costumes took 7 hours to make because I was designing it as I went along. If I were to do it all over again it would probably only take me about 3 hours. The flamingo costume received many compliments but paired with the lawn gnome our animal Halloween costumes were truly a hit!
Total Spent: $15