My name is Emily and I live in Austin, Texas. Halloween is a huge holiday event in Austin and each year I try to be something unique, but at the same time something I personally like. I grew up on the original Teenage Mutant Ninja Turtles series but have such a petite figure the store-made costumes never fit right- which would obviously be the easiest option. This past year I decided to make a TMNT costume of my own. I feel like most women in their 20's wear sexy costumes and I wanted mine to stand out, but still be as politically correct as possible.
Now I can be quite creative, but am not skilled at sewing AT ALL so I knew my costume would have to be constructed without that, but hold together enough to survive the night. I studied photos on Google of TMNT and chose to make a Donatello costume. I didn't quite know what supplies I was going to use to accomplish the look, but that was solved with a trip to Hobby Lobby.
I bought a plain structured black bra and bathing suit bottom that were on sale, large gold and green sequins, brown and green fabric push paint, purple ribbon, green sequin fabric, fabric hot glue (it's more flexible than normal hot glue, foam board, XXL paper clips (can be really hard to find), gold paint, brown belt ribbon,1 plastic purple Mardi Gras mask. I also used a few other house hold supplies I will mention later…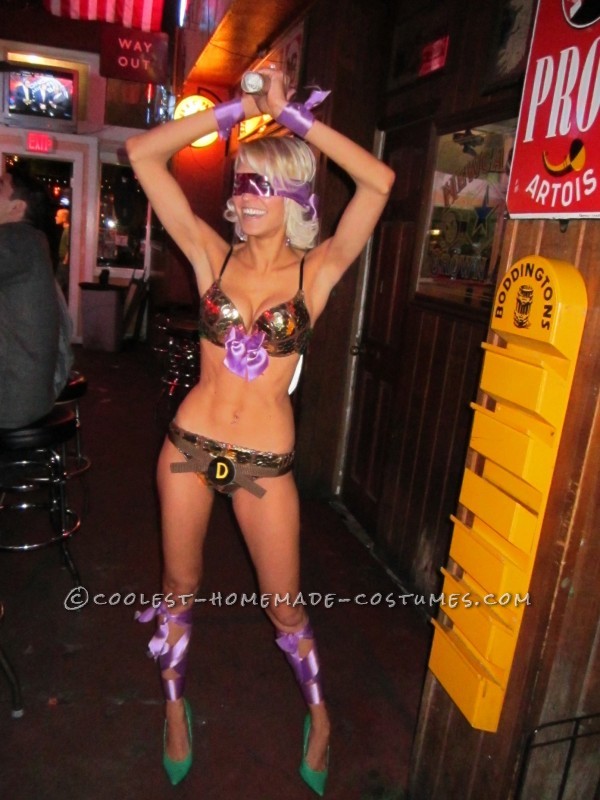 The completed TMNT costume.
Bra + Sequins
First step was to cover the cups of the bra with gold sequins. It took me about 30 mins per cup layering them in a scale pattern. If the glue gun is too hot it will melt the sequins. I applied it to the bra first, then place sequins on it. Using fabric hot glue works better.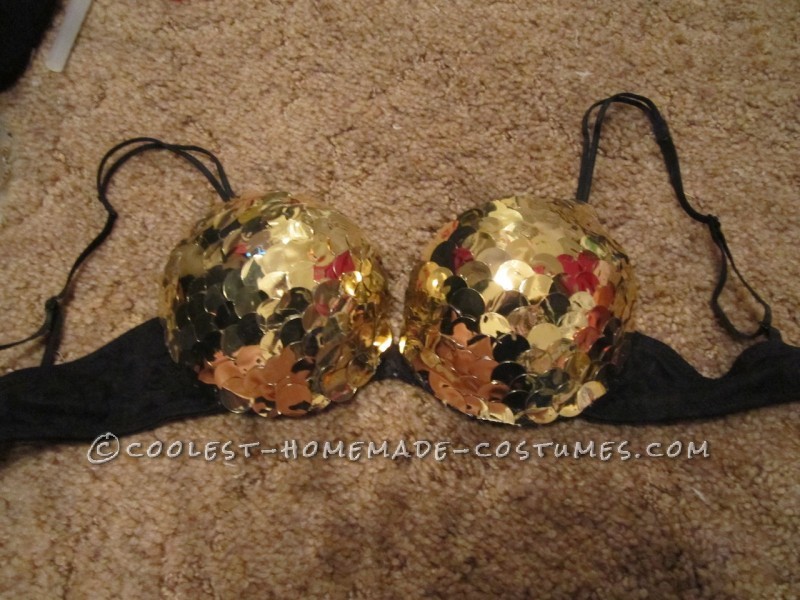 Bra after sequin application
Top Shell Pattern
After covering the cups I covered the side straps in green sequins. When doing this you need to be aware of if the side straps of the bra will need to stretch when you wear the costume. I have a sewing mannequin so I put the bra on this with the bust set to my size while I applied the green sequins. The sides took 30 mins total of applying the sequins in a scale pattern. After this I added a purple bow then used the brown push paint to make a shell pattern on the gold sequins. I also lined the side straps with green push paint. I wrapped the bow in foil while I painted to aviod stains. Once it was all dry the top was complete.

All sequined plus the bow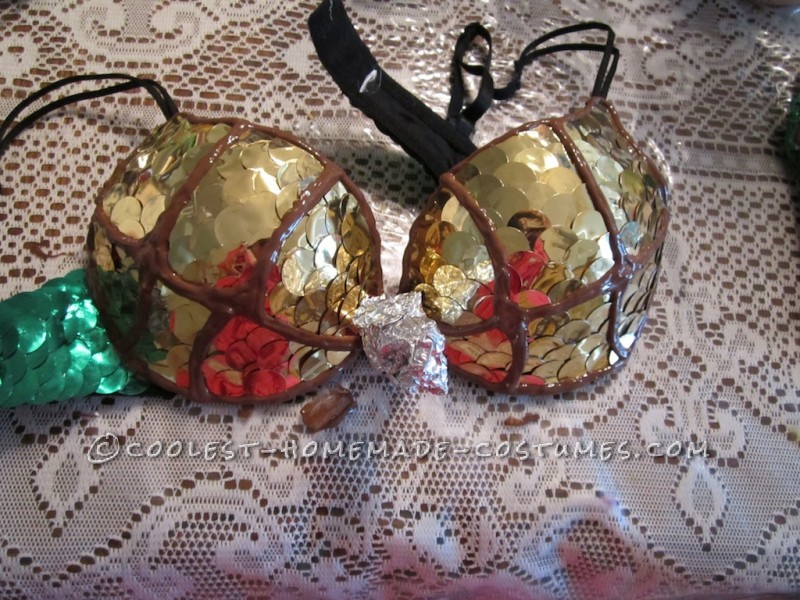 Painting the shell pattern
Making the turtle butt…
The bottom is tricky because without sewing and hot glue you have to make sure it will fit once completed. Once again I used my sewing mannequin adjusted to my size during the turtle butt process. With the bathing suit bottom stretched to the size I would need it I hot glued the green sequin fabric- only around the bathing suit bottom edges.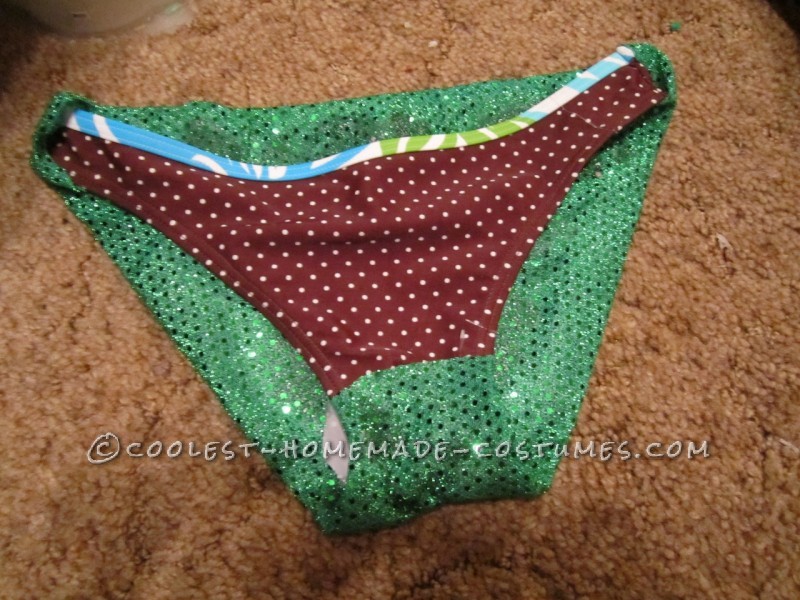 Front of bottom with green fabric glued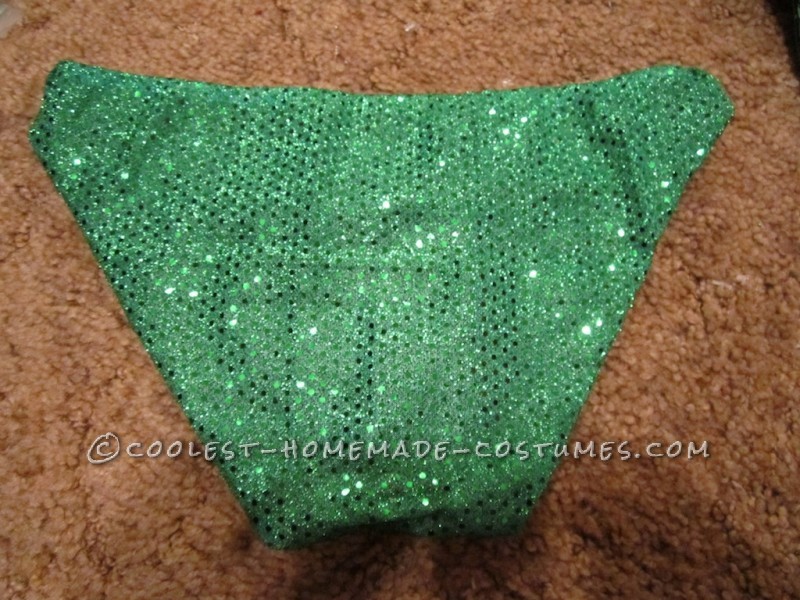 Back of bottom with fabric glued.
More sequins
After the green fabric I repeated the gold sequin scale pattern on the front of the bathing suit bottom which took about 30 mins more. After that I repeated the brown push paint shell pattern.

Bottom sequined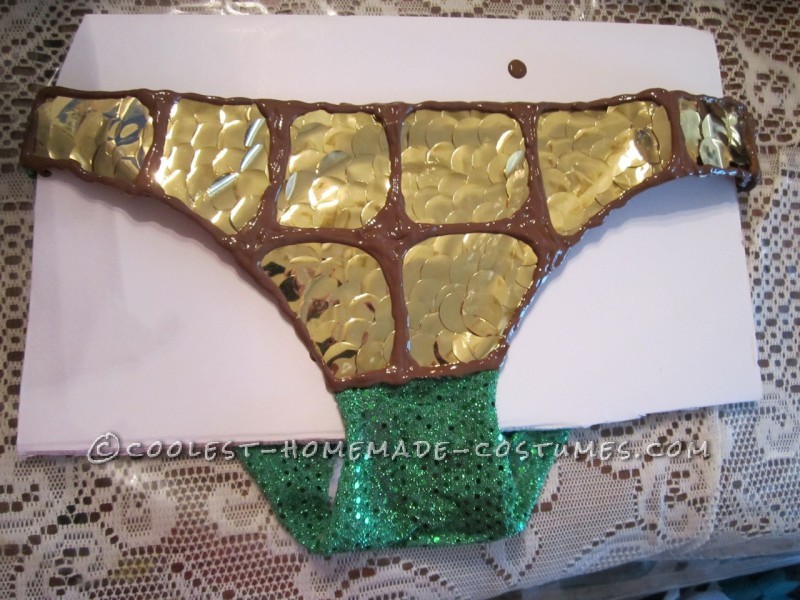 Bottom shell pattern
Accessories
With the completion of the top and bottom I made a staff out of a wrapping paper roll, gold paint, and newspaper. All I did was stuff newspaper in the roll until it was filled and firm. Then taped the ends and painted the entire thing with gold paint. Plain and simple since real weapons are not allowed in bars in Austin. Next I made my shell using the foam board. All I did was cut a shell-oval shape using an exacto knife (razor blade), painted it gold, and repeated the shell pattern with brown paint. I attached two XXL paper clips to the back with a HUGE amount of hot glue. XXL paper clips are hard to find and about 3 inches in size- you'll know when you see them. The paper clips allowed me to easily clip the shell on the side strap of my bra at the back. For the belt all I did was use the exacto knife again cutting a circle out which I painted with a "D" for Donatello, hot glued a large safety pin to and used the pin to clip the brown belt fabric at my waist. I cut the Mardi Gras mask to into a thin strip and attached purple ribbon at the side with hot glue. You can see all of this in the final photo…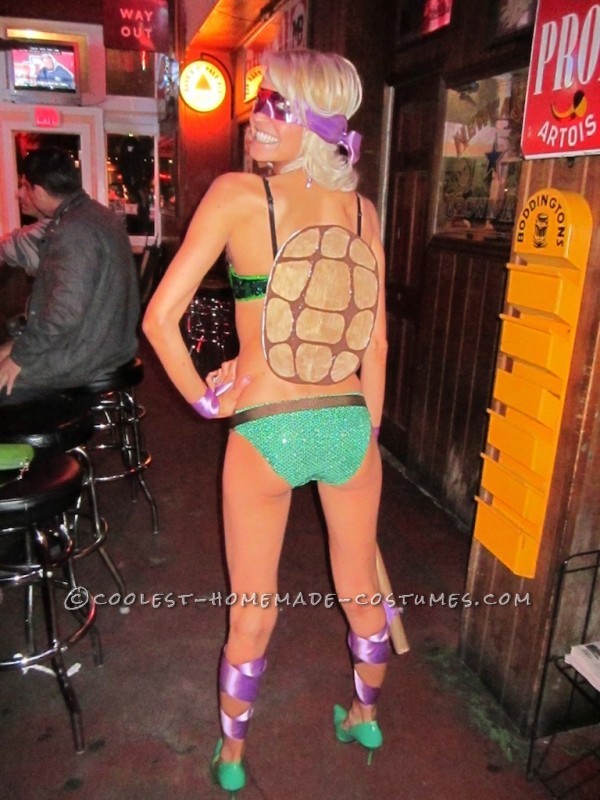 Turtle Shell
That's all!
I wore green heels and wrapped the extra purple ribbon around my calves- Ninja style. I had loads of people ask to take photos with me and everyone knew exactly who I was supposed to be. I received a lot of shocked but positive responses throughout the night. Overall the costume was a complete hit!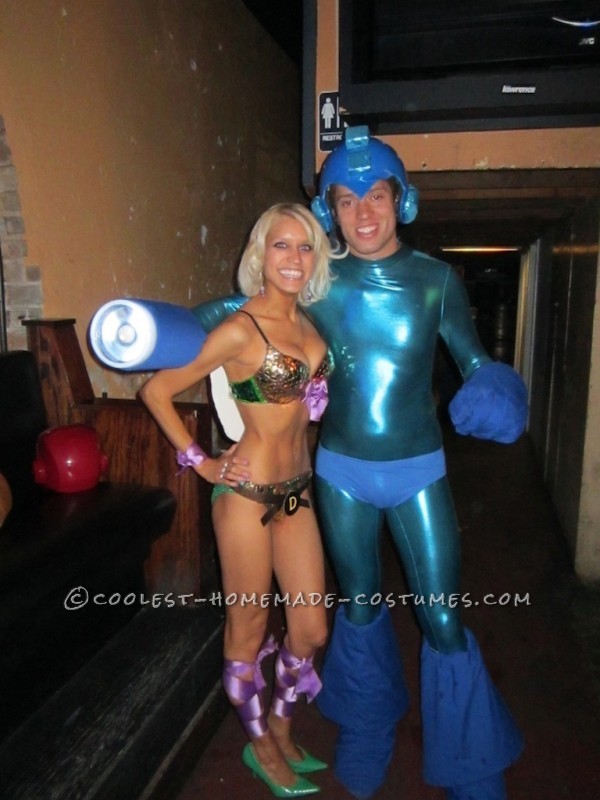 Me with MegaMan!