Two-Face was once Harvey Dent, the clean-cut district attorney ofGotham City and an ally of Batman. However, Dent goes insane after mob boss Sal Maroni throws acid at him during a trial, hideously scarring one side of his face. Dent adopts the "Two-Face" persona and becomes a criminal, choosing to bring about good or evil based upon the outcome of a coin flip. Just like Harvey this costume was decided on the toss of a coin. Should it be Batman? Or take on the challenge and create one of a kind, budget friendly Two Face costume? The challenge seeker in me decided Two Face costume was the way to go. After brain storming on how I was going to pull it off, headed out to the thrift store to find a suit and a white shirt.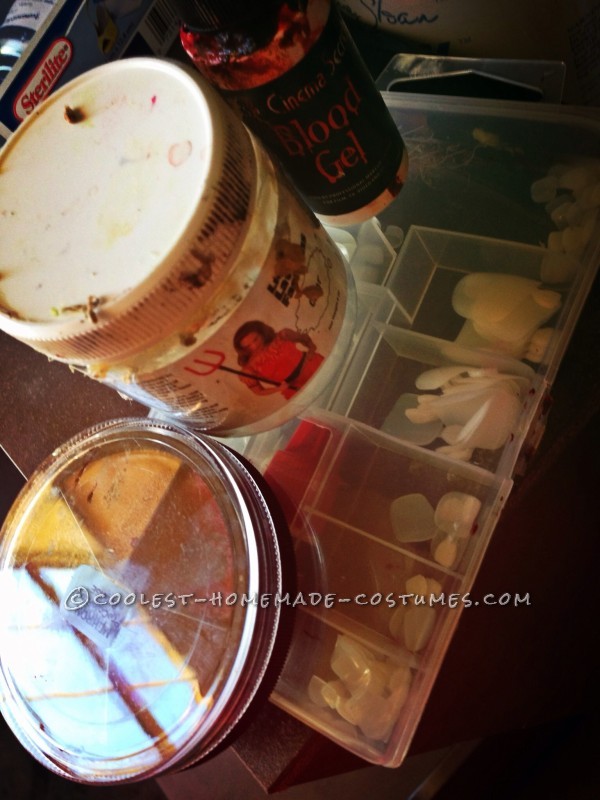 What you will need
The suit
After finding a suit at the thrift store it was tiime to make to create a burned effect. With a little bit of previoue experimenting (Zombie Costume), I decided that I could create the same special effects on clothing using the same technique I had used for my Zombie makeup.  I applied liquid latex there I wanted the effect and covered it with toilet paper. I added more layers (about 6) and covere the whosaid upper side. Once it dried, I punctured the latex and created small holes to make it look like spider webs.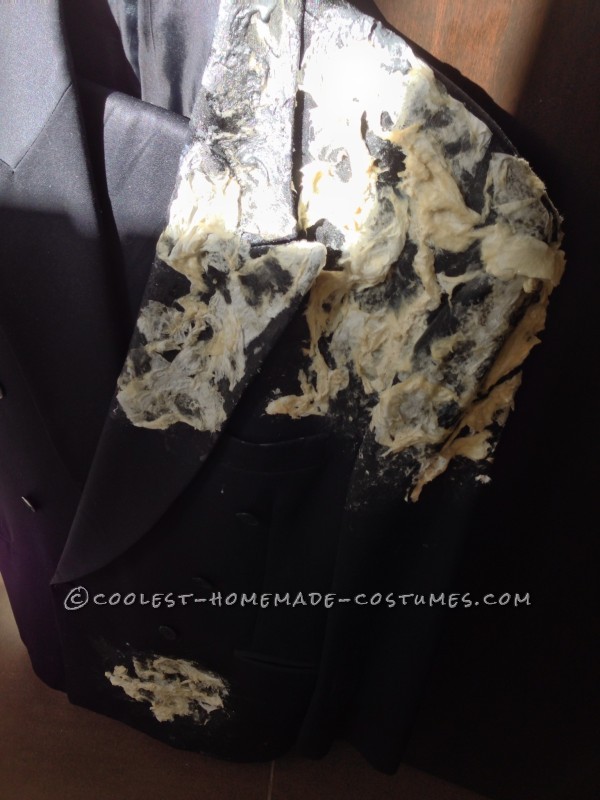 Covering the whole area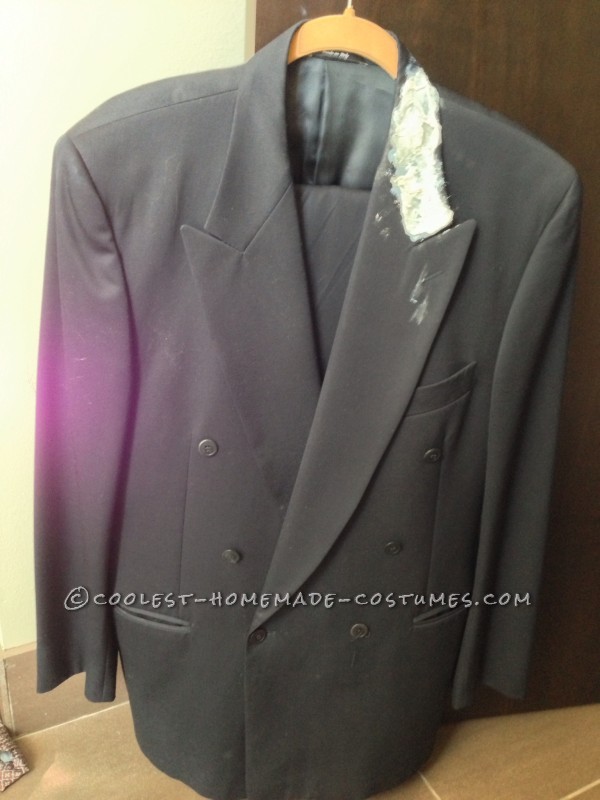 First layer of latex and toilet paper
Paint
I painted the latex/toilet paper with chrome metallic paint and used brown paint to fill in the holes. I used black paint to highlight the ridges and give the "burn" look more depth.  I poured coffee on half of the white button down shirt that I found at the thrift store to simulate burn lookthat his pulled the outfit together.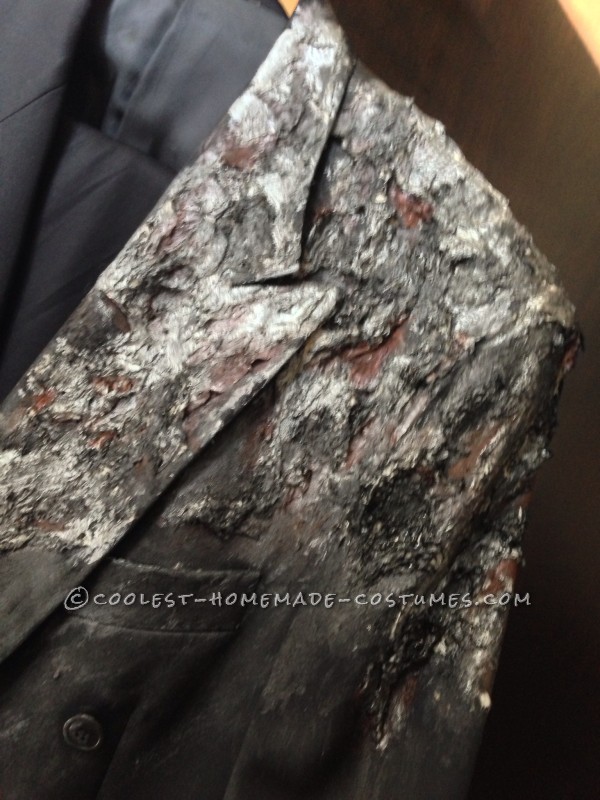 Painting the latex/toilet paper
Makeup
To create the look of a burned face, I used the same technique. I started with the ripped mouth effect. I used liquid latex to glue toilet paper, wait for it to dry, and reaplied 3 times. once it was dry. I glued on press on toe nails with the liquid latex to give the effect of showing teeth. I used a Qtip to apply brown paint around the teeth to simulate dept and painted area with red paint. I used black paint to highlight ridges to make it look more realistic. I then started working with the rest of the face. Using liquid latex and toilet paper, I created the ridge around the mouth and around the eye. (Do this technique as many times as needed to create desired effect, use gel blood to cover entire area, darken edges by using Qtip to apply brown paint, fill in ridges with red paint, and highlight papain lack paint.). I colored in the eye area with black paint to simulate a crater. I painted the neck and the ear with red paint and sprayed white paint on half of my hair.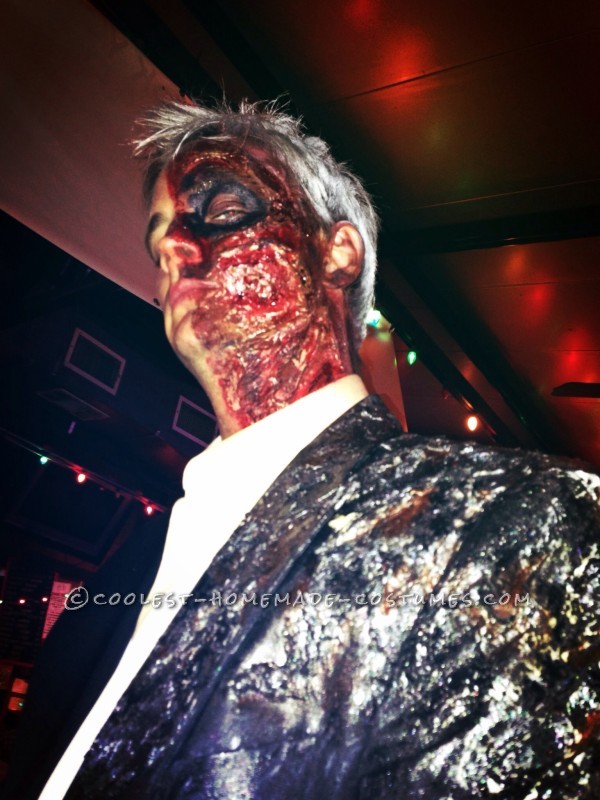 Finished look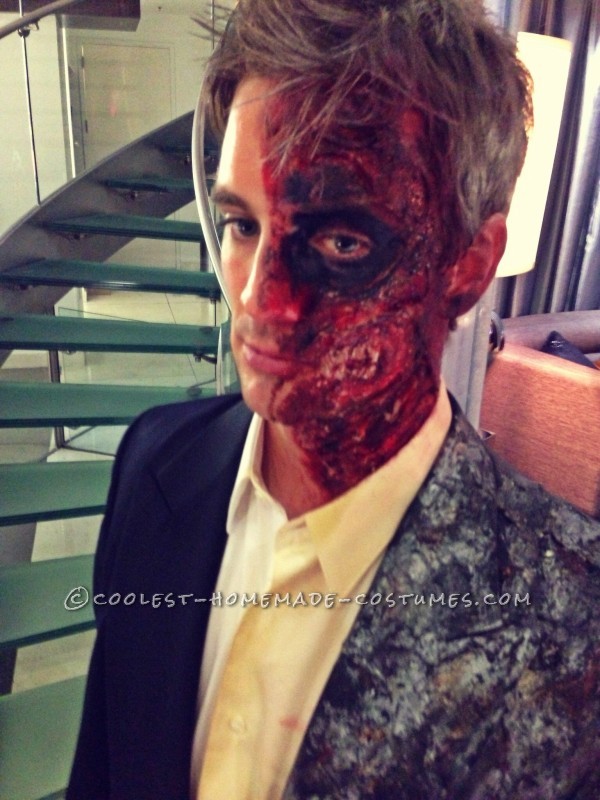 Finished look