Take a look at these cool homemade Prince and Princess costume ideas shared with us by costume enthusiasts from around the world. Along with the costumes here, you'll also find loads of homemade costume ideas and DIY Halloween costume inspiration for your next costume project. Enjoy!
Latest Prince and Princess Costume Ideas
---
---

---
Featured Costumes
Costume by Beverly N., Houston, TX

I had to dress up for work and I wanted to do the whole princess costume thing but with a non-traditional flare. I had read about this guy who had made a tuxedo jacket and pants out of duct tape for his prom and I thought why not make a dress out of duct tape. At first I was going to make my dress solely from duct tape but when I tried my original top design on it was super hot so instead I went to a thrift store and purchased an old two piece bridesmaid's dress for about $6 and some dress shoes for about $3. I then went to the local hardware store and picked up four rolls of blue duct tape and one roll of white duct tape costing about $13.
I simply took the dress, pressed it as smooth as I could get it and then took long strips of the blue duct tape and went row by row covering the skirt and then the top until all that was showing were the zippers. Next I took bits of the white duct tape and formed them into wintry trees and used smaller pieces as the snow which swirled across the front. For the crown I cut out a crown design from an old poster and covered it with duct tape.
For the scepter I made an origami star out of regular notebook paper and then attached it to an old piece of a CD rack and then covered it with strips of blue and white duct tape. The shoes I covered first in blue duct tape and then added the white stripes to give them a 'root' look. Once I'd fully zipped myself in I covered the zippers up with the last two strips of tape so it looked as though it were all duct tape.
The wig was purchased at a local Halloween shop for $6. If you plan on making something similar I'd suggest that even if you use old clothing as the pattern that you still wear something between your design the duct tape and your skin because that much Duct tape doesn't really breath and its tape so it will stick to your skin or hair if you happen to leave any of the tape exposed. Also be prepared to be very popular and for having a lot of people wanting to touch your design! I won my work costume contest with my princess costume.
Total Spent: $28
Costume by Marci K., Topeka, IN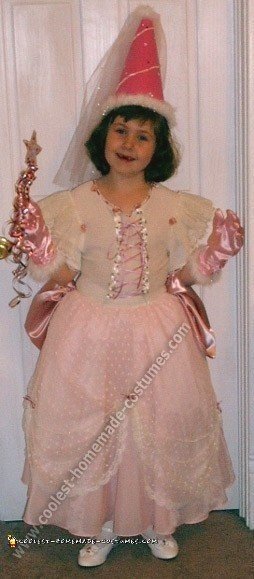 To make this costume, I started with a premade simple dress, had a simple stretchy top with a plain light pink skirt w/lace overlay. I began by drawing up the lace around the skirt in 3 different places to give the look of ruffles, I sewed on some pink satin 'puffs' to go on the hips to give it a fancier look.
I took some creme colored ribbon and sewed 2 pieces vertically on the bodice of the dress. On top of that I sewed on some ribbon with ribbon roses (attached only tacking them by hand to leave spaces to thread a ribbon – like a shoelace up to the top of the bodice so I could gather the dress making it look kind of like a corset). I did this also to make the top smaller (it was a size 14 and my daughter wears an 8-10, so I had to be creative in order to alter the princess costume dress to fit her better).
I threaded ribbon through the lace on the sleeves and the neckline for color. I took a long piece of lace and gathered it for the puffy lace ruffles on the sleeves, I also took 2 layers of tulle/netting and made sleeves for elastic to run through like a skirt (to go under the skirt making it pouf out).
The hat was made form fun foam. I used a feather boa (I bought at a dollar store) to go around the bottom of the hat and the top of the gloves (bought at Walmart for $1). I had several pieces of string pearls, gemstones and confetti that I glued to the hat with a ribbon to give the sprial look, and to fancy the gloves up. I also hand-tacked some ribbon bows to the princess costume dress for added beauty.
I used some of the tulle to come out of the top of the princess costume hat and glued some of the heart confetti (used on the gloves and hat) on the tulle, also adding some glitter paint for sparkle. I used fun foam, curling ribbon, and a bamboo stick for the wand, adding glitter paint, gemstones, and confetti to tie it all together. I did use a piece of tulle for a belt, tied in the back with a bow.
She wore white tights and a pair of white dress shoes to complete the princess costume. All of the decorations on the dress can be removed so we can reuse the dress if wanted (she wants to keep it the way it is though). This costume was very cheap as the dress was given to me (I had to buy the satin, the gloves, the boa, and the ribbon with the ribbon roses attatched ($0.25 an inch), the rest of the things were from other projects, pieces from wedding albums, confetti from a friends anniversary party, bamboo skewer from the kitchen relatively cheap).
It was time consuming attaching the decorations to the costume (they are not permanent).
Total Spent: $10