Take a look at these cool homemade McDonald costume ideas shared with us by costume enthusiasts from around the world. Along with the costumes here, you'll also find loads of homemade costume ideas and DIY Halloween costume inspiration for your next costume project. Enjoy!
Latest McDonald Costume Ideas
---
---

---
Featured Costumes
Costume by Alexis L., Kalamazoo, MI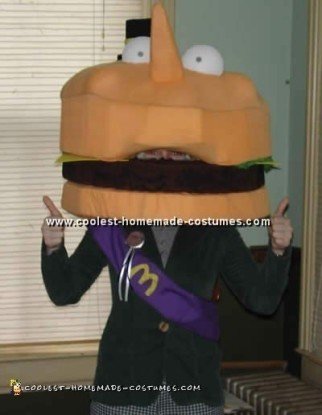 I had my heart set on being Mayor McCheese for my costume for Halloween for the past several years but I wasn't quite sure how to make the head and the head is most definitely the most important part of the costume. You know I'm not sure if I was even born before Mayor McCheese "retired" but I'm familiar with the hamburger-headed Mayor of McDonald land nonetheless.
To create the giant hamburger noggin I decided the best building foundation would be foam. I bought 3 chunks of foam each about 6 inches thick and approximately 3 feet on each side. (This is the most expensive part of the costume.) I cut these pieces into circles with a bread knife.
I cut the centers out of two of the circles to create a kind of foam donut. The center holes of the donuts should be large enough to fit over your head. I also cut a small space out of the middle piece of foam (what would become the meat patty) so I could see with the head on.
I covered the top "bun" piece with an orange-ish stretchy fabric. I then stuffed the top with poly stuffing to give it a rounded appearance.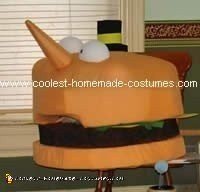 The middle "patty" was covered with brown fabric and I glued down some pieces of craft foam for cheese and some scraps of green fabric for lettuce.
The bottom "bun" was covered with more of the orange-ish fabric and the three pieces were sewn together.
For the eyes I cut a foam ball in half and painted on pupils. The nose is a foam cone covered in the orange fabric and the hat is a stack of foam cylinders covered in black fabric. Last but not least add some sesame seeds to your top bun with fabric paint.
The rest of the costume for Halloween is much easier (and cheaper). The jacket and pants were thrift store purchases; just look for an outdated suit the Mayor is all about 70's leisure suits. The sash is a long strip of purple fabric with the golden arches painted on with fabric paint. I'm pretty pleased with how it turned out and I'd estimate my costume for Halloween took about 6 hours to make.
Total Spent: $60


Costume by Rebecca B., Sault Ste Marie, Ontario, Canada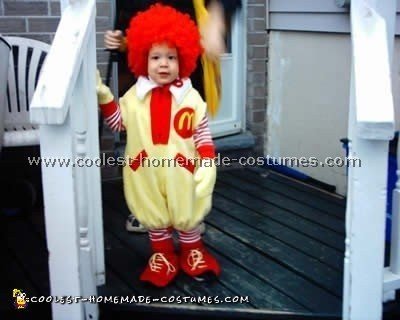 I LOVE McDONALD'S!!!!! This was my son's first year Trick-or-Treating and I was just going to make him a rabbit or something similar so I went to Value Village and found the yellow suit (which had a bunny tail attached to it).
When I got home I decided to make him a Ronald McDonald costume, so I turned the costume around so the zipper was in the front, cut the bunny tail off, added the red detail, and Golden Arches and bought a red clown wig which I sewed onto a red hat.
We already owned the red and white striped sleeper, which is underneath everything, and I bought adult-sized red slippers, sewed yellow laces on with yarn and cut a hole in the bottoms to slip over his boots.
I also made a "Fry bag" (not a very good photo) for the treats which was just a white bag that I sewed a red bottom and the Golden Arches onto.
Total Spent: $10-$15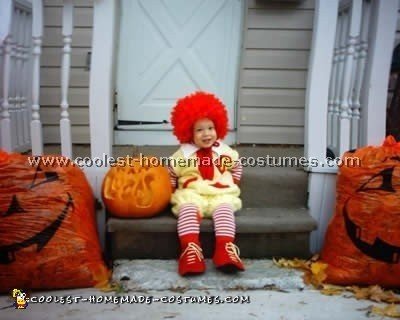 Costume by Tara T., Forrest City, AR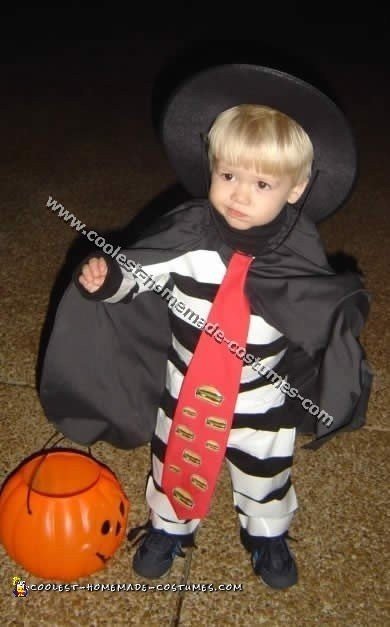 I enjoy coming up with great unique ideas for my children's costumes and last year we decided on Hamburglar from McDonald's! I couldn't find a striped shirt and pants like I wanted so I used a solid black turtleneck that my son already had and bought a plain pair of black pants. I then used white duck tape to make the stripes. We bought a black Zorro hat and I used yellow construction paper for the rim on the hat. I bought a small piece of black material for the cape and enough red material for the tie that was made with Velcro.
I printed pictures of cheeseburgers and glued them to the tie. We also had a black plastic mask that my two year old didn't care for so I don't think it's in any of the pictures. We had a blast with this McDonald costume and so many people were impressed with our ingenuity. It was so much fun!
Total Spent: $20