The photo to the right is my Reference image -The Red Death costume from Phantom of the Opera.
I made this Halloween costume pattern as if I had to design a Red Death costume for a new stage production. It has some of the classic design features that the Red Death is known for along with some slight changes I made to make the Halloween costume pattern more appealing to me.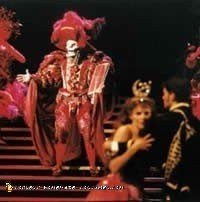 I made the entire costume except for the boots and mask. The pants are striped silk and upholstery velvet. The pants have a total of 20 stripes of gold trim, 4 stripes of sequined trim, 8 stripes of machine embroidery and 12 embroidered circles on each leg.
The Doublet was made with a Halloween costume pattern I drafted. It has about 40 embroidered circles, 40 hand sewn gems and a custom button front. The Cape is 10 yards of fabric and it has 20 yards of trim. It's made of high grade upholstery velvet and corduroy.
The Hat I made using foamies as a base and covering them with the same fabric as the doublet. Everything is sewn and no glue was used to make this hat.
The Skull cane is Fiberglass. (I used a candle as a mold). The entire costume is fully finished and lined with every seam properly finished.
Total Spent: $400