These are our costumes that I had made 4 yrs ago. It was 100% of pure fun!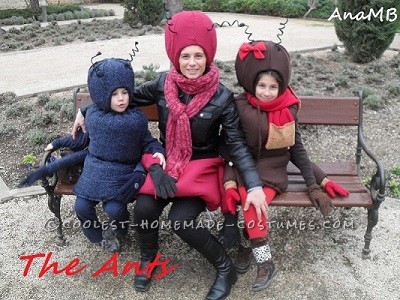 Look how many arms and feet we've got !
how to make
To create this costume you will  require a foam (1m x 2m x 2 cm), the coating material  for the foam, wire for antennas, gloves for hands and elastic band.
BODY – Fist you cut the foam in desired dimensions, depending on a child, and handstitch the edges. Don't forget the openings for the arms. Then you tailor the fabric, cut it, sew with the mashine, pull over the foam shape, fold over edges (no need to sew material to the foam). Make sure to cut around the arm openings as well, fold  fabric over edges and hanstitch a little, so it doesn't stick out. Then you take thin elastic band, the kind that goes into needle, and  hand sew it a little bit below upper and lower opening and around the waist line. When you tighten the elastic band, make a knot but do not cut the rest of, becouse you will need to loosen up when you want to dress/undress. Now you take 2 pieces of fabric, sew something like sleeves, put some rolled foam inside, handstitch arms in area below waist and put some gloves at the end. Gloves could be filled with small pieces of foam, cotton woll, whatever you have around.
HEAD – Cut 8 shapes as shown in picture, handstitch them all together and you will get a ball like round shape (actually, basketball was my inspiration). Cut the opening for child's face, but make it smaller then face, because foam tend to stratch a little. Cut 8 pieces like that out of fabric, mashine sew them, pull over on foam head, cut around face, fold over edges and handstitch so it looks better.
TENTACLES – Take a wire 1 m long. Sew  a "coat" for the wire out of fabric or ribbon. It doesn't matter if the coat is a little bit wider then a wire. Now shape the dressed wire as shown in picture above, wrap the ends around broom stick to get these nice spiral look. You should glue some foam at the end of the tentacles so they are not sharp. Then, you take foam head, make 2 holes, slide both end of tentacles through so the middle part stays inside of the head.
And the ant is finished!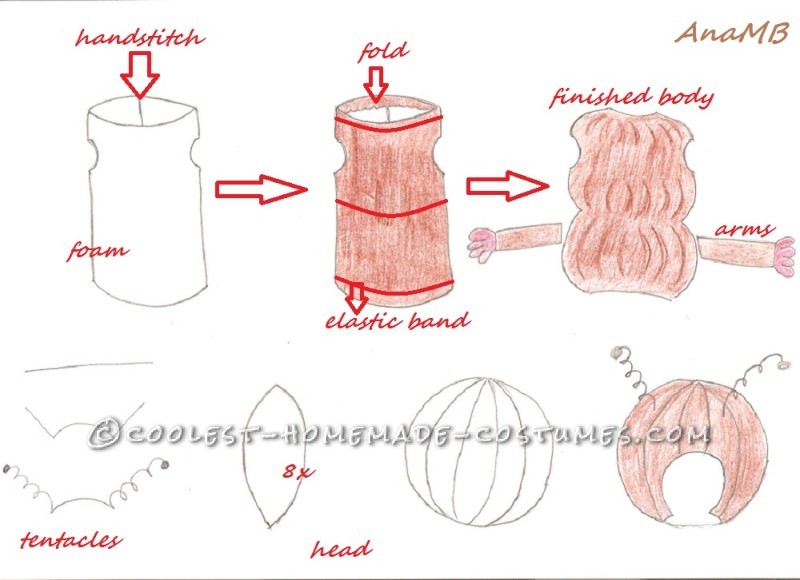 how to make
Finished Girly Ant
This is my daughter, all finished up!
She has 3 sets of feet and tentacles :)
And, of couse, some bow, because – I am sure – ant girls like to dress up, too!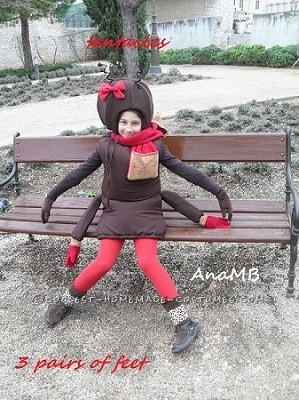 Girly Ant