We like to dress up as very obvious things that people just don't usually think to be. This year this creative costume idea came to us while waiting for our dinner at a Mexican food restaurant and snacking on the chips and salsa. It was really pretty easy to put together.
The salsa tube is made out of stapled together red and green poster board and the label is cut and glued letters. Just make sure that the straps are not positioned too high. I couldn't put my arms down all night! The chips are made from triangle cut Styrofoam painted chip color and strung together with yarn. Besides waiting for the paint to dry the costume only took a few hours to complete and needless to say was a hit at the party!
Total Spent: $15
Costume by Nichole G., Clayton, NC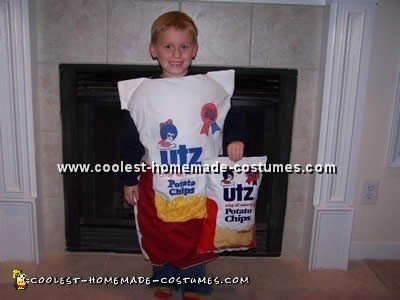 My son's Kindergarten class had a Halloween Parade titled "Letters on Parade". Each kindergarten class was assigned a letter for a creative costume idea. His class was lucky enough to select "U".
It took me weeks to come up with an umpire but inspiration hit me while snacking on a bag of potato chips at work. UTZ starts with the letter "U" – as in UTZ chips!!! A pillow case later… David was "All that and a bag of chips!"
Total Spent: $10