Take a look at these homemade Boo costume ideas submitted to our annual Halloween Costume Contest. You'll also find loads of homemade costume ideas and DIY Halloween costume inspiration.
Costume by Angela D., Phoenix, AZ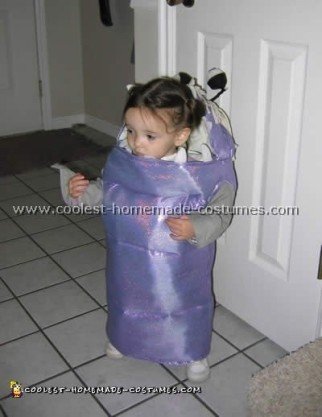 Since she had the natural resemblance to "Boo" from Monsters Inc. we decided to run with it. Found the purple fabric and quilted it with a liner then turned it into a tube for the body, sewed crescent shapes together to create the hood leaving a hole in the top for mop hair and googly eyes out of pipe cleaner Styrofoam balls and felt.
The sleeves of the Monsters-inc-costume were sewn out of the gray fabric and felt teeth were attached around the mouth opening. Elastic shoulder straps were added so it wouldn't fall off.
Total Spent: $15,