This summer, my dad told my four-year-old daughter a True Story. One day he noticed a fox taking a walk across his field. He watched as the fox stopped in his tracks, stuck his nose high in the air, and turned his head into the southerly wind, the direction of the neighbor's hen house.
This hen house is home to the chickens that my dad and my daughter enjoy chasing with the lawn mower. In the next instant the fox darted off in the direction of the yummy scent. The next day, there were chicken feathers all over my dad's front yard. Three days later there were more. And he hasn't seen the chickens since. True Story.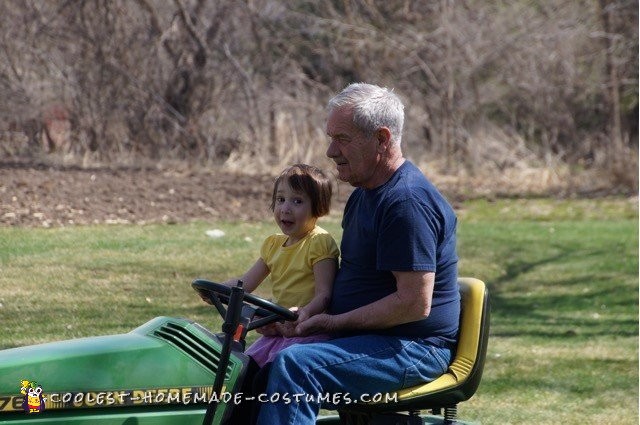 A foxy way to chase chickens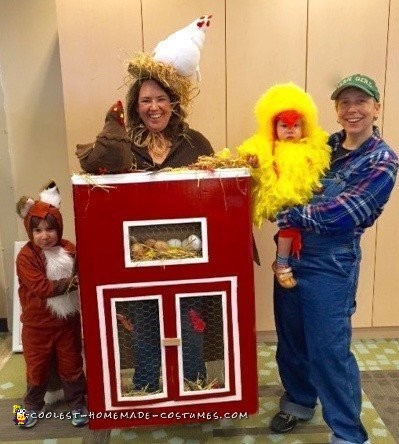 A fox, a chick, a farmer and a hen house.
A Family that Plays Together, Stays Together
From the moment my daughter heard this story she was determined to become a fox for Halloween. We talk about Halloween all year in our concerted effort to land on an excellent idea. My family loves Halloween!
Well, that's not a true story. I love Halloween. They just try to keep up and play along. The little ones do pretty well. My wife, on the other hand, can hardly endure the endless trips to craft stores, fabric stores and Target, or the late night sewing and glue-gunning sessions that require her to take over bedtime for weeks on end or worse, participate in some serious crafting at my direction. I admit it: I get a little stressed and obsessed.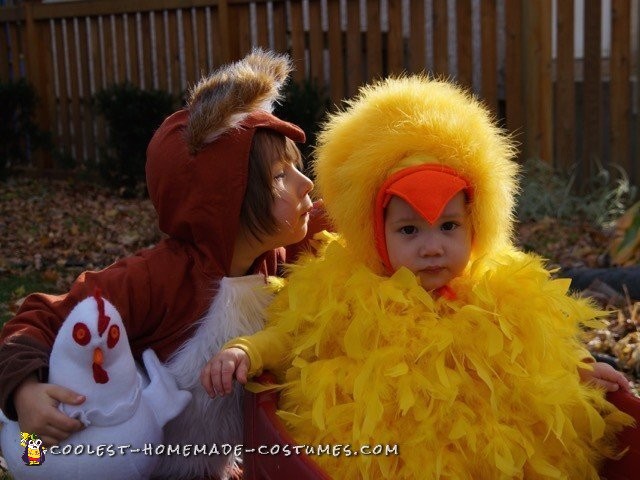 Dinner smells good!
The Farmer
My wife has excellent boundaries. She only participates in my Halloween dream if she can be a real person. No animals, no inanimate objects and no structures. To which I say: No problem.
We just stick with chefs, beekeepers, farmers, etc. So the farmer was the easy part. Run on down to Fleet Farm and grab some overalls and borrow dad's flannel shirt.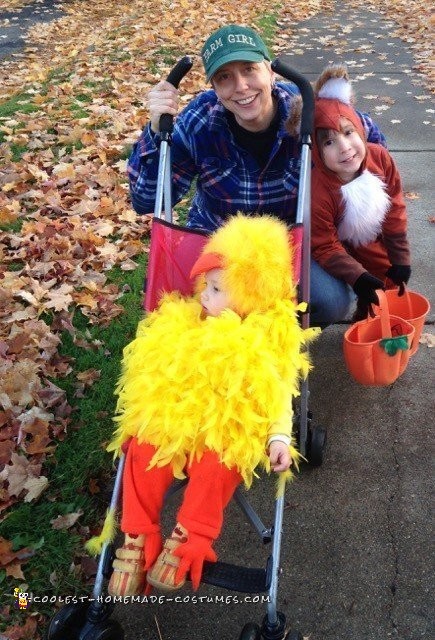 Farm girl.
The Fox
I had my heart set on recreating a fox costume I found on Pinterest. I even paid for and downloaded the patterns, but, we live in Minnesota. Thin stretchy fabric just won't cut it in 40 degree weather. We could only find "the perfect color of red fox" in regular fabric.
I firmly believe costumes can't just look good, they have to work as well. For hours as we parade around the office (and win the annual company contest), as my daughter plays at school, as we pound the neighborhood on a cold Halloween night for candy. Thank goodness my mom (master seamstress and still the only person who can make me go to bed), had come for a last minute visit to assist.
We made a hoodie sweatshirt pattern from one we had and used a pajama bottom pattern for the pants. The outer layer is the "perfect color of red fox," according to my daughter. The inside is lined with an old brown flannel sheet.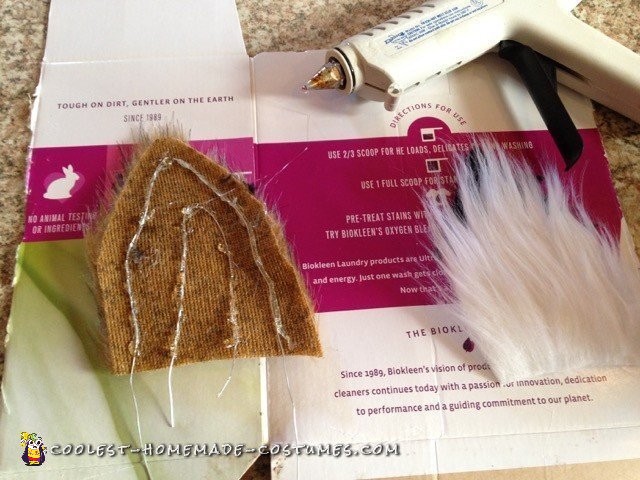 Fox ears.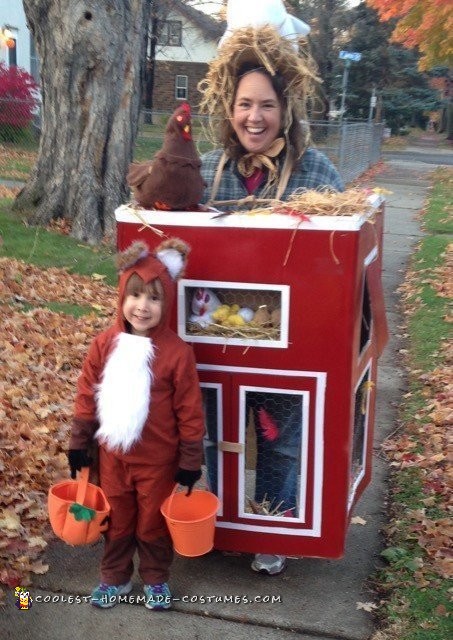 Trick or treating!
The Hen House
I searched high and low for a big cardboard box. As fate would have it, I saw a truck delivering a refrigerator to an apartment building on our way home from preschool one day. I whipped a U-turn, screamed out the window "Hey, what are you going to do with that box. I really need it!" We drove it home with the hatchback open and the car seats squished up as far as they would go.
A little cutting, a little spray paint, a little chicken wire from the garage, a lot of duct tape and a little stolen hay from the hayride at the pumpkin patch the week before.
The details are important here: a little cardboard box taped to the inside of the front window created a space to keep eggs, chicks, hay and feathers. Flaps on the side allowed the fox access in, but it just didn't look right without hens. So, we made these egg-laying beauties (since named Annie, Vera, and Elma). The hat is just a circle of cardboard with a ton of raffia glued on. It's covered with a dozen sticks of glue-gun glue. Everything is stuck on—raffia, straw, feathers and nests.
The only true argument during the whole process was trying to get the coop in the minivan without crushing it.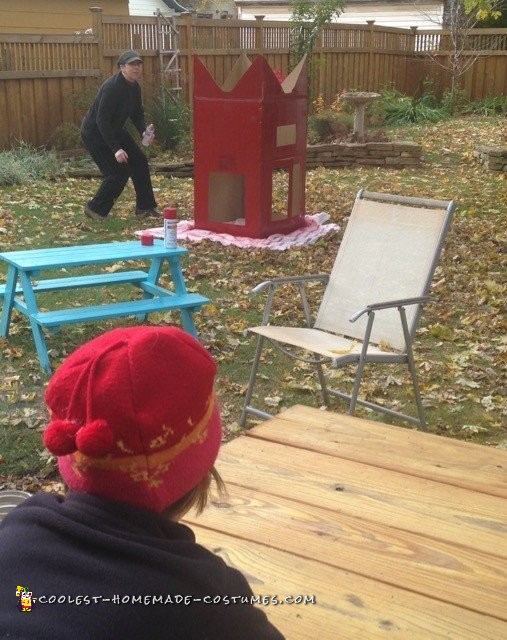 Spray paint, duct tape, and cardboard.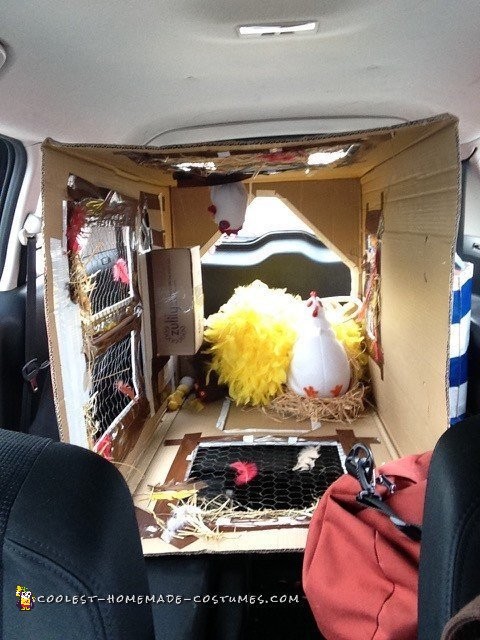 The view from my rear view mirror. Notice the kids and the coop don't fit in the car together!
The Chick
A toddler in feather fluff. This is more cute than even I can handle. Never mind that my one-year-old only says about three words, one of which is cluck!
I made the pilot cap from polar fleece so she wouldn't freeze when we keep her cuteness out way after bedtime on Halloween night. A million safety pins attached two chicken-down boas to the cap.
The body is a pattern I've used for pumpkins, honey pots, and more in the past. It's double layer fleece (which you can stuff for more fluffiness but I didn't) and comes off easily for the toddler who just can't take it another minute. Three regular boas and a million more safety pins finished that off.
The pants are copied from a pair she wears all the time, with little chicken feet sewed to the bottom.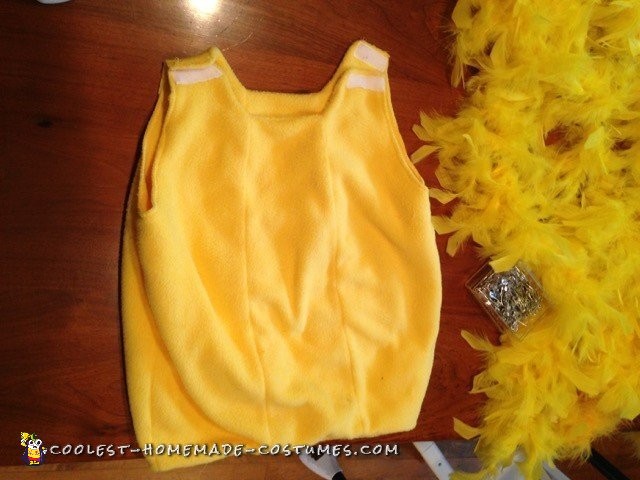 A little boa makes all the difference.
Winner Winner Chicken Dinner!
The worst part of this ensemble: those damn fabric eggs, chicks and chickens took a long time to make and even longer to justify to those around me who thought I was loosing my mind at my sewing machine in the hours leading up to Halloween.
The best part: those damn eggs, chicks, and chickens. They have provided hours and hours of post-Halloween fun. And my four-year-old loves wearing her fox costume because it's so comfortable. The chicken coop in the back yard is still super fun to steal eggs from, .we just ripped off the chicken wire so no one gets hurt. Well, almost no one.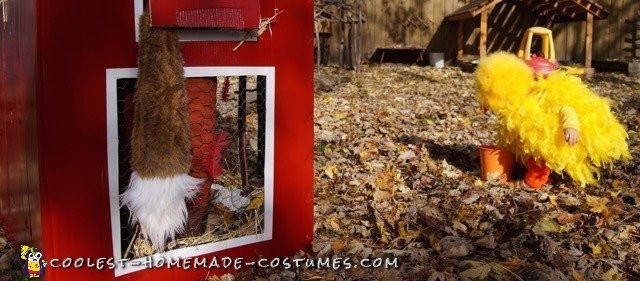 There's a fox in the henhouse.