Take a look at these cool homemade Girls Gone Wild censored streaker costumes shared with us by costume enthusiasts from around the world. Along with the sexy Halloween costume ideas here, you'll also find loads of homemade costume ideas and DIY Halloween costume inspiration for your next costume project. Enjoy!
Latest Censored Streaker Costumes
---
---

---
Featured Costumes
Costume by RKX., Tri-Cities, WA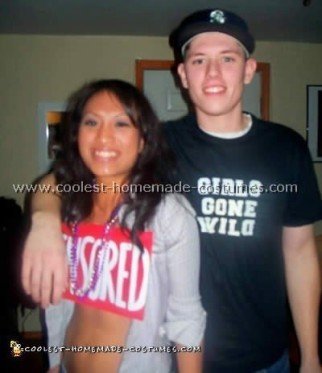 I am so excited to share my photos with the site! Your previous submission helped with my costume decision! Seeing as to how she had so much fun with this original idea finalized my sexy Halloween costume idea. We did this all in one day (only because my boyfriend is quite the procrastinator) but it literally took no more than two hours total including for the paints to dry. I researched the GGW meticulously to see what exactly encompasses a Girl Gone Wild. (Yes I know such an excruciating task).
Instead of black I went for the signature red and white "Censored" sign which stayed true to the Censored theme. We painted a strip of cardboard red, waited for it to dry (10-20 minutes) then painted white "Censored." I attached the sign with Velcro backing we bought from the craft section in Wal-Mart for a total of $3 for about two feet or something of that sort. I put one side of the Velcro to one of my bathing suit triangles and the other side on the sign; Voila! It's attached! It stayed on all night even though people were very curious if I was actually wearing anything underneath.
My boyfriend's T-Shirt was easy. Just grabbed a couple of packets of Iron-On lettering and ironed those things on in about 20 minutes front to back! "Censored" (with my backwards "D"!) and "Camera Crew" on the back. And we had Mardi gras beads lying around and I took those bad boys and tossed it on. Something I would have tried for more effect would to have a trucker hat with GGW logo on it and maybe some party sunglasses just for fun but my outfit was fun enough because everybody got the idea!
My sexy Halloween costume was a hit and everybody complimented on the idea and took pictures. All in all it was great! I wish I could do this again because we were second runner-ups.
Total Spent: $6
Costume by Sandra H., Jacksonville, FL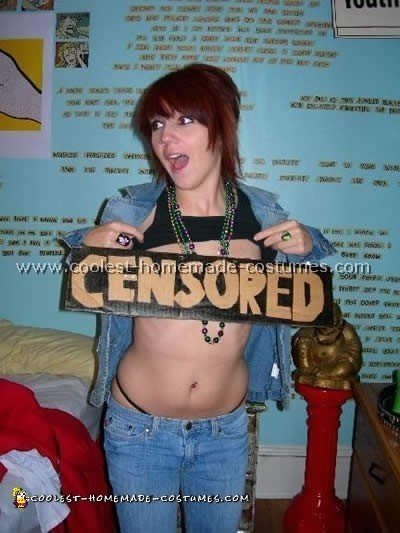 This sexy Halloween costume idea was one a friend and I thought of back in high school. We always knew it would be a hit but neither of us had the guts to totally pull it off. I was invited to a Halloween party last minute in 2005 and I wanted a costume that I knew would stand above the rest.
Using some cardboard tape (create the lettering) and black spray paint I made the "CENSORED" bar in about twenty minutes. I attached the sign to an old bathing suit using zip ties and then I accessorized with the expected Censored attire, a red plastic cub, mardi gras beads and a g string coming up out of the back of my jeans.
This was easily one of the quickest and easiest costumes I had ever worn but also the funniest. Needless to say my sexy Halloween costume was a riot at the party.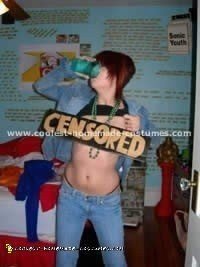 Total strangers on the street were asking to take pictures with me. I still get compliments to this day and soon I may bring it back for a little more Halloween fun.
Total Spent: $0