Take a look at the coolest Pee Wee Herman homemade costume ideas submitted to our annual Halloween Costume Contest. You'll also find loads of homemade costume ideas and DIY Halloween costume inspiration.
Costume by Jacob M., Cerritos, CA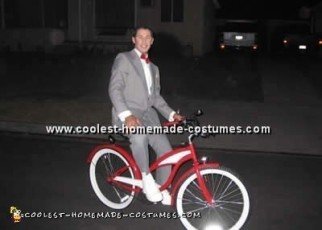 Every year I try to out-do myself and this year I think I really did it! I decided to be Pee Wee Herman. I knew I had a lot of work to do but it could be done! My mom was always really into Halloween and would be up to 4am making me home made costumes for school and they really paid off….so when I thought of Pee Wee Herman I put a lot of time into looking as close to him as possible.
The trick in having a good costume is having the "accessories". So for Pee Wee Herman it was the famous bike…if I had more time on my hands I would've made it more identical with the baskets on the side and tigers head in front….but I ended up just throwing a bunch of lights and horns and stuff on it and it was perfect! I got the bike from Wall-mart and stripped it, sanded it and painted it. I mainly focused on the bike because that was the most time consuming thing.
Then for my outfit I went to the local thrift store and found a grey suit and white shirt. Got the red bow from a tux shop and the good old shoes from a Halloween store in the mall and that was it.
I would have to say this is the best costume I have ever worked on!!! My friends and I went out to some parties and I was the hit of them all!!!! We went out to Huntington Beach on Main Street where there are bars. I could not even get into a bar because I was getting stopped by hundreds of people wanting to take my picture! It was an awesome experience. I felt like the real Pee Wee Herman.
Total Spent: $180