For this lamb costume, I followed a pattern. I did simplify it by coloring on the nose instead of sewing on the contrasting fabric, and I saved on materials by lining the ears with card stock to get them to stand up.
I'd use cotton balls and hot glue if I had to make a new sheep instead of spray adhesive (that got messy and I am STILL finding batting places).
Cute Lamb Costume for a Girl
Costume by Rebecca L., Elizabeth City, NC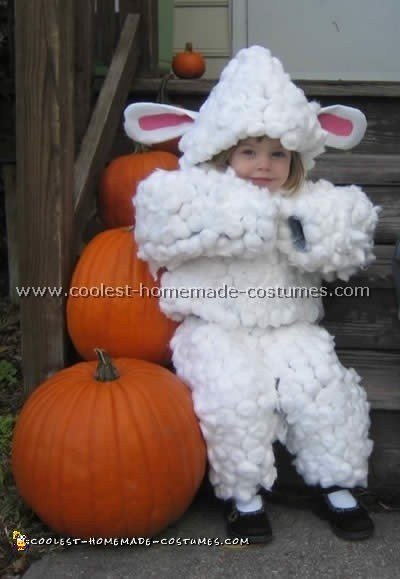 I love to make my children's costumes every year and look forward to Halloween just to make their costumes. I decided on a lamb costume for my two year old because it was going to be so fast and simple. That year I was also making a shark costume that was going to require more of my time.
I went to the local thrift store to find some light colored sweat suit with a hood to glue cotton balls to. At first I poured Elmer's glue on a plate and was dipping the cotton balls in it and then placing them on the pants. But that was slow going and it was messing up the cotton balls. I ended up just squeezing glue directly onto the fabric section by section and just placing the cotton balls down one at a time and pressing it into place. Then on to the next one. I was really moving this way however the moisture from the glue was seeping through to the back side. So, I used cardboard inside the clothes to keep the pants and shirt from being glued to itself.
I used felt for the ears and painted pink in the center of the ears. Then I sewed them to the hood and covered up the ugly stitches with more cotton balls. Then, I started with like four bags of cotton balls. I ended up running back to the store at least two more times for more cotton balls! I think I ended up with about eight bags in total.
Total spent: $15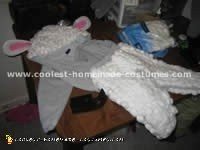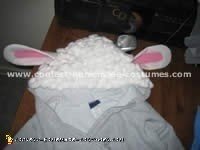 Inexpensive Lamb Costume Onsie
Costume by Amanda R., Scotland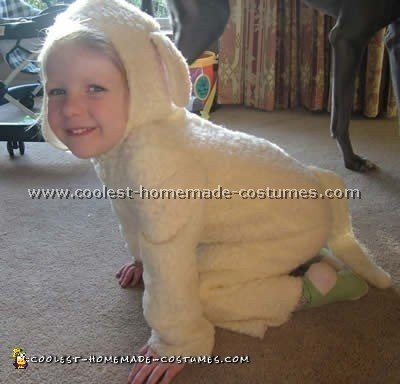 My daughter came home from nursery with a letter stating she needed a costume. She was to be a lamb in the school play.
I bought some lamb effect material and used a pattern for a jump suit with hood to make the main part of the costume. I then made ears which I attached to the hood and a tail.
Very simple and inexpensive but she was delighted!
Total Spent: £5