Take a look at these cool homemade Jack Sparrow costume ideas shared with us by costume enthusiasts from around the world. Along with the costumes here, you'll also find loads of homemade costume ideas and DIY Halloween costume inspiration for your next costume project. Enjoy!
Latest Jack Sparrow Costumes
---
---

---
Featured Costumes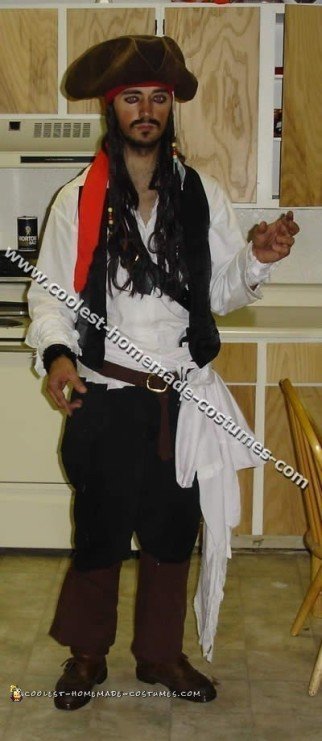 I bought the wig on eBay for this Jack Sparrow costume. The bone comb is a wooden spoon handle. The chest belt is a belt I found at a thrift store and safety pined to an old shirt.
I bought the jacket at the same thrift store. The sash was made by tying together a shredded white dress shirts and using a permanent red maker.
The boots were made from brown shoes and matching brown pants with the ends pined to the black pants flipped upside down.
Total Spent: $30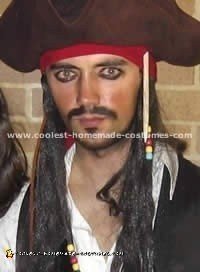 Costume by Liz H., The Woodlands, TX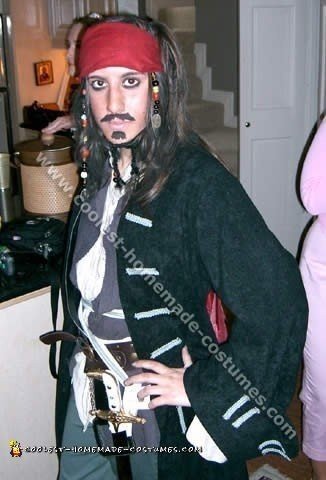 When my high school group decided to throw a Masquerade party, I had to decide whom I wanted to dress up as. Quickly, my love for pirates and for the film "Pirates of the Caribbean" made me certain that I had to create a Cap'n Jack Sparrow costume. Savvy? I was taking sewing lessons that year, so I took on a project to make a pirate jacket and I bought a pattern half price at Wal-Mart. I basically used the pattern just to make the jacket.
For my Jack Sparrow costume, I bought all my fabric at discount prices. The jacket itself was the most expensive part of my entire pirate costume. I bought velvety material at Joann's fabrics; it was about $30 for 6 yards.
I bought all the jacket accessories at Wal-Mart for half price. And the buttons I pulled off of an old vest my mom had. It took me a lot of time to get the jacket finished since I'm not an expert seamstress yet. But it wasn't a difficult pattern; I'd suggest buying patterns by Simplicity, they're great.
The vest I made from material that was on the dollar rack at Wal-Mart.
I got a nice cotton blend fabric for the front piece of the vest. If you find a texture of fabric that you like, and don't see the colour you want…just buy a cheap box of dye and make it the right colour! That's what I did with the vest piece. It took me less then an hour to make the vest because I only did half of the steps required to make a "real" one. I just cut out the two front flap pieces, and then cut out the entire back piece, then I sewed all three pieced together and didn't bother to do lining on the inside or interfacing.
After I had my Jack Sparrow costume Jacket and Vest finished I needed to focus on the pants and a shirt. I bought both for a few cents at thrift stores. The shirt was a cheap but very piratey linen shirt and the pants were a stretchy grey that only had a zipper up the side. So they looked very seamless, which also made them look quite piratey. They were almost like horseback riding pants.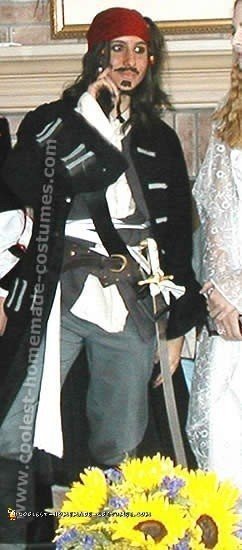 My boots were simple; I had an old pair of snow/ski boots in the attic. I decided that they weren't quite Captain Jack-like without flaps, so I bought two squares of black felt at Michael's and I shaped them as flaps and pinned them onto my pants. I tucked my pants into the boots and the flaps fit perfectly over the tops of my snow boots.
My waistband was a striped stretchy material I bought also off of Wal-Mart's dollar table. I cut a long piece so that it would hang down to my ankles. I also tied a loop in it to hang my sword from. Once I had the basic costume figured out, I needed to focus on accessories. My sword was from home; it was a decorative sword my Dad had purchased when we lived in Saudi Arabia. I put a big black leather belt across my chest to look like a sword belt; I bought that also at a thrift store for 25 cents.
The material around my head was from Wal-Mart as well. I used jewelry and scraps of materials from around the house for hand and wrist accessories. I died my hair black with cheap hair spray from Party city, and the beads in my hair I bought at Michael's. I strung them onto strings, and then tied the strings to small black hair barrettes, which clipped underneath my bandana.
The trickiest part of looking like Captain Jack Sparrow would be the beard, especially when you're a girl. I bought black face paint at Party City, and painted a mustache and a small beard. The tassel beard was the tricky part, I bought yarn, braided it, beaded the ends of it, and then I had to buy Spirit glue at Party city. Spirit glue works miracles; it stuck my beard fast to my chin for the entire party.
A ton of people said I was the spitting image of Captain Jack Sparrow. They didn't even know it was me at first. We had a ton of laughs and I was thrilled to quote my way through the Pirates of the Caribbean during the party…when everyone came up to introduce themselves as their character I said, "Me? I'm dishonest, and a dishonest man you can always trust to be dishonest. Honestly. It's the honest ones you want to watch out for, because you can never predict when they're going to do something incredibly… stupid." Yo Ho, Yo Ho a Pirates Life for ME! Hope you enjoyed my Jack Sparrow costume matey.
Total Spent: $50