Take a look at these cool homemade Grim Reaper costumes shared with us by costume enthusiasts from around the world. Along with the costumes here, you'll also find loads of homemade costume ideas and DIY Halloween costume inspiration for your next costume project. Enjoy!
Latest Grim Reaper Costumes
---
---

---
Featured Costumes
Costume by Susie L., Santa Clarita, CA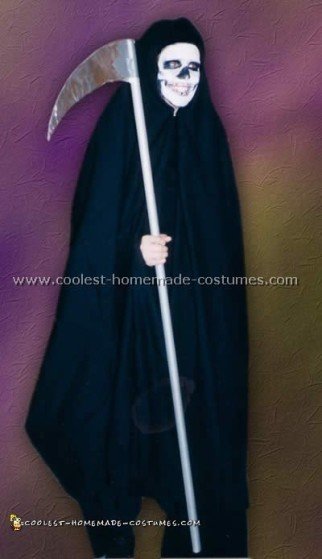 A big piece of black fabric, a brooch to pin it on, some makeup and black clothes make for a great last-minute Grim reaper costume. I pulled out my anatomy book to help me paint my face like a skull. I painted my eyelids black and even put on eyeliner (first) to completely cover my eyes. When they were closed they looked like empty sockets. I painted teeth across my lips and tried to make the skull as realistic as possible. I used a Q-tip to blend the black and white makeup for shading. Hint: applying cold cream or lotion to your face before painting helps the makeup smooth on better and it's easier to get off later.
For the scythe I cut a sickle shape of cardboard and covered it with aluminum foil and duct-taped it to a piece of leftover PVC pipe. It's nothing too elaborate but it's quick, cheap, and easy and you'll get lots of compliments.
Another year I did the same costume but on stilts. I used a much longer PVC pipe for a scythe which helped me stay up on my home-made stilts. I stood still with my eyes and mouth closed next to our front door. When trick-or-treaters turned around from getting their candy I moved and they freaked out. They thought I was just a decoration! I tried not to scare the littlest kids but one kid about eight years old started hitting me with his candy bag yelling "You're not real!" The best was when some too-old-to-be-trick-or-treating Jr. High girls came by. They ran and screamed bloody murder all the way down the street!
Total Spent: $0
Costume by April P., Wausau, WI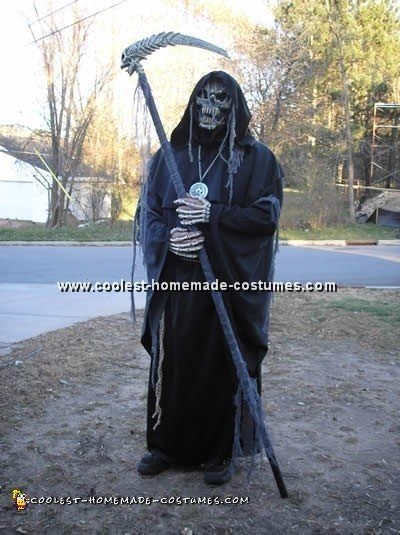 The cloak of the Grim reaper costume was $17 and the mask was $10 at Goodwill. The belt I made chain knots with $1 twine.
To make the staff I glue gunned grey cheese cloth, wrapping it around most of the way down gluing separate pieces at the top and bottom making it look tattered and old. I also added some to the mask to hang out from the hood and used 4 long pieces which I added to the shoulders of the cloak and the arms of the cloak.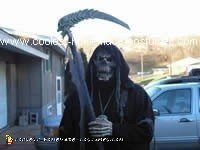 Total Spent: $50