I made this easy costume – a tree costume – for my son's poem contest. At first, I didn't have any idea what I was going to do… Since the tittle of the poem is The Little Plant, I thought of making a seed costume, but I changed my mind and thought that it would be nice if I'd make a tree.
So I had an easy costume idea and my next concern was the materials. I love recycling things, we have lots of boxes from the grocery, here in the Philippines if you buy anything from the grocery they use boxes or paper bags. Anyway, I checked on my art material so I could see what things I could use from there for the tree costume. I prepared all the materials and started working. I really enjoyed doing this, especially because it was for my child and I wanted him to enjoy the costume.
The outcome of this easy costume was unforgettable for both of us. He won  first place not only because of the poem but also because I think the judges and the audience were mesmerized by the tree costume.
What a champion!
Materials:
2 boxes
paper twine
felt paper
shiny paper bought at the bookstore
construction paper
Elmer's glue
glue gun and glue stick
scissors
Cool and Easy Costume – An Apple Tree!
Costume by Jennifer J., San Jose, CA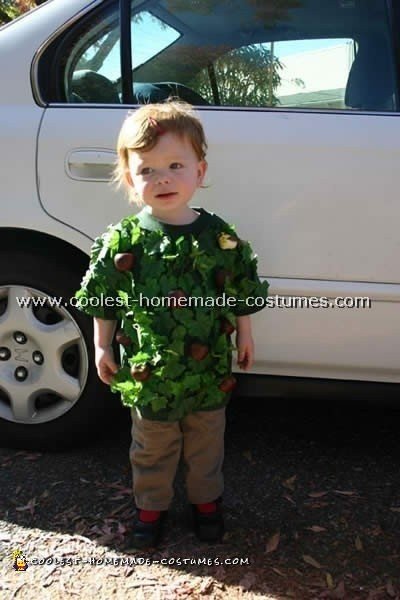 I wanted my two year old to be a very simple object that she knew of and together we decided on an apple tree. The costume itself was a very easy costume to make.
I used brown pants she already had for the trunk of the tree and purchased a green t-shirt. At a craft store I then found a bunch of fake greenery (I used only the individual leaves), a small fake bird and the Styrofoam apples (part of a fall wreath which I disassembled). It took me about an hour to hand sew the leaves, apples and bird onto the shirt.
Everyone loved this costume and thought it was very clever!
Total Spent: $10