My name is Asia, the joy of my life is Janice Caye. She is 5. She asked to be Hello kitty for treat day ( that is what she calls Halloween).  After looking at the many stores being Hello Kitty was going to be more than .50.$ . so I decided to try and make the costume for cheap. Standing in Hobby Lobby struggling on how to make her, Janice was walking in the fabric section. I was telling a friend that this may not work. 30 min of standing in the store, lost, I hear Janice say, Asia look at this Abby, I wish I could have her. Looking at the fabric  it hit me. I asked Janice was it okay to be Abby. Her eyes light up and she was happy again. So we are now on the hunt to make Janice Abby for treat day.
Many people asked why I didn't just buy the Hello Kitty for her and I  said I thought I would try something new! The truth is I could not afford to spend that much money in as a single parent and Janice is type 1 diabetic. I couldn't buy the costume and pay for insulin but I'll do what it takes to see Janice Caye smile.
Now we have a new idea so we started the hunt for a life size Abby full out.
The Abby hair: hand made.  5 different stores to find the right pink and purple, wig holder, plastic cap, purple and pink yarn, hot glue gun, wig cap, large daisy, a few burnt fingers but hours of fun! Started with Abby's bangs, checking every so often to make sure it was correct by sizing it on my baby girls head, after the bangs start on side and start gluing hair to the wig cap creating the center line. Tie knots in the yarn so it does not untwist once you get one ponytail finished.  Go to the next side. Every so often place on your child's head to make sure the center is correct and the sides look good. I made many mistakes and burnt my fingers on glue many times. This was for my baby and I wanted it to look great.
Creating Abby's pink body: I brought pink pants and shirt from Walmart. I had this outfit since summer. It just happened to be the perfect pink for Abby's body. I had pink fuzzy gloves, cost 1$.
Abbys dress: blue shirt I found at Childrens Place for 2$ and I hand made a tutu with the elastic band tulle (turquoise aqua purple) 6 in wide and knee length. Cut took me 30 min to make but 5 days and 10 hobby lobbies and 4 coupons to find the right tulle and at a low cost.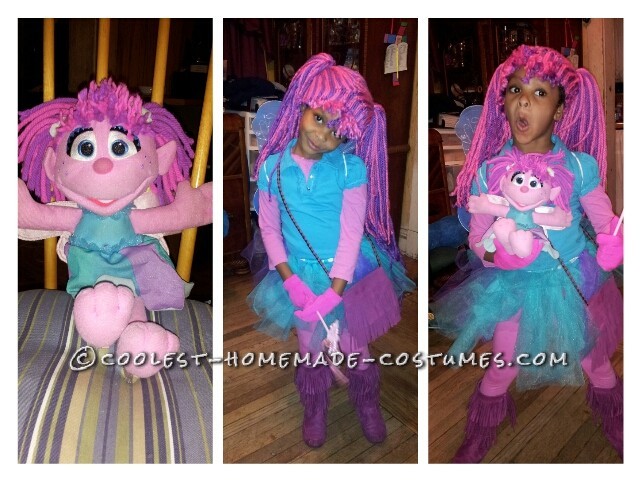 Abby Cadabby
Wand and Have Fun
Walmart Yarn 3$ each
purple and pink yarn
wig cap 1$
wing holder and plastic cap , my sister loaned them to me
hot glue gun from mom house glue sticks 1$
large daisy from my dress
Start with the bang the bang would cover the darker black section on the wig cap once the bang is complete try it on her head to make sure you have the right amount stoping bang on the corner of her eyes
The pony tails …start on one side making sure the middle is even once you get a few parts on try it on make sure it is.lined up
only glue with the.wig on the wig stand once you complete.the.1.st side creat the pony tail mobe on to the other side
i only glued the hair half.way down so i.could.mobe the pony tail around if i needed to.
the patteren on the wig is 2 purple 2.pink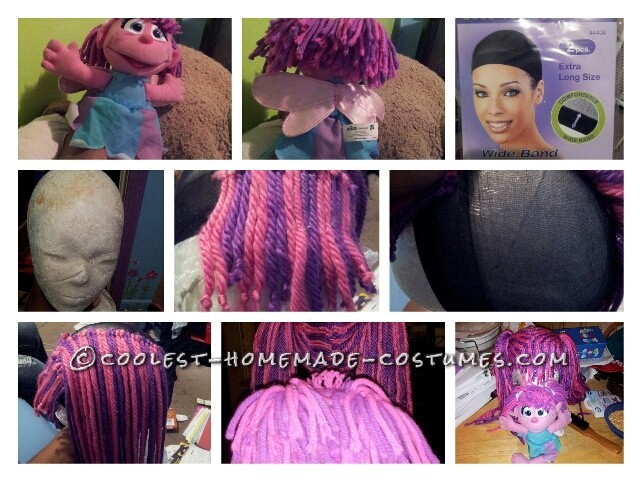 Making The Wig
The Body , Dress, and Wings
The body is a pink long sleve top and pants From walmart I had this in her closet from the summer 2$ each
The blue shirt childrens place 1.50 summer church shirt  still fits yay
Pink gloves her Grandmother brought from family Dollar 1$ they was a good thing cause her winter coat is pink they will be handy for winter
Boots from children place bday gift in july
Tutu Tulle from Hobby lobby 25 yards per roll was 3.99 but i had coupons i paid 2$ each turquoise, purple, aqua elastic band 1.59 the rolls are already 6 in wide which made it easy to just cut and loop on the band there are 3 sections of each color Janice likes her tutus thick
k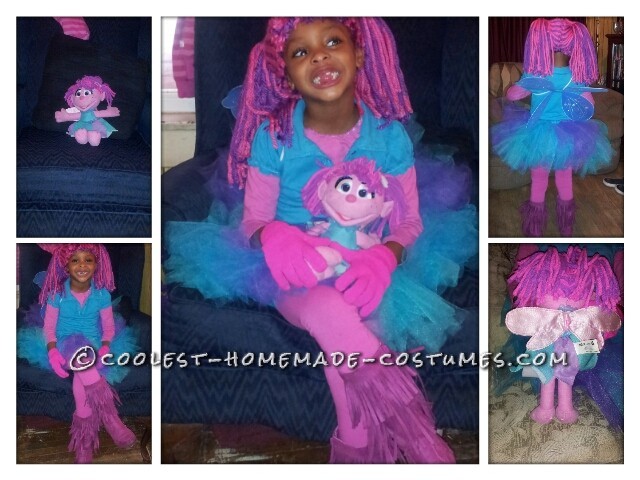 Abby Gear
Wand and make up
dollar store wand pink i add left over yarn to it
wings dollar store couldnt find pink so we picked blue looked good with tutu and shirt
make up white blue black purple could not put to much on her eyes it burned and gave her bumps so we worked around her eyes the lashes are hers nothing added
she lost her teeth in the summer they are trying to grow back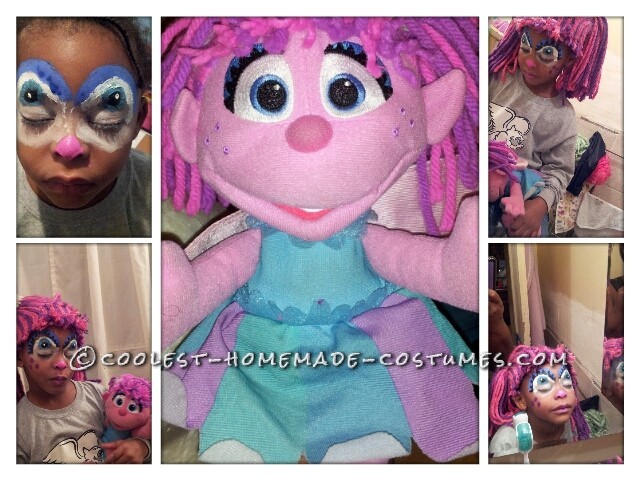 Trying Make up
Have Fun
After getting Her put togethr and walking around on treat day Janice had fun every little child that seen her thought she was really Abby babys and parents was walking up to hug and speak to her. A mother asked where did we getit and when i told her home made she told me about this page and said i should add her cause she looks just like abby
Jaice didnt care about the candy she was more excited about bing Abby she was the onlu abby walking around but that day we seen many hello kittys
Janice brought Abby to life she help me make theboutfit and became the fairy she loves so much
the best part of the day was when a 2 year old seen Janice pass and when her mom did not stop she cried till her mother found Janice she just wanted.to hug the Abby i told her she was a smart bay cause her mom didnt know who or what Janice was This weekend project turned out to be fun and Janice had the best time
She is my life size Abby Cadabby
thanj.yku for ykur time and allowing peopke to post their ideas and storys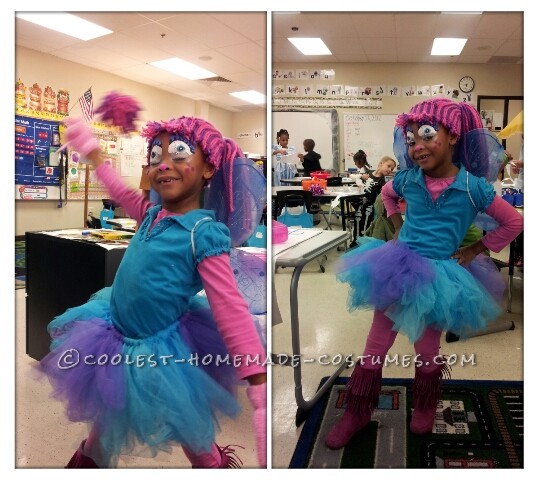 Having Fun