After seeing the cheap look of store-bought Bob the Builder costumes we decided to make our own Bob the builder costume. We already had the overalls and just needed a few more items which we found at a thrift store; we found the hard hat, shoes, belt and shirt. Our son loved it!
The night before Halloween I made his tool belt by using the excess piece of belt we had after we cut it down to size and some do-it-yourself snap buttons I found at the hardware store. We then loaded it up with his play tools and off he went. It sure beat the foam tool belt he would have gotten with the store costume. It was fun, inexpensive, satisfying and like I said before, our son loved it!
Total Spent: $15
Easiest Bob the Builder Costume Ever!
Costume by Lori O., Thunder Bay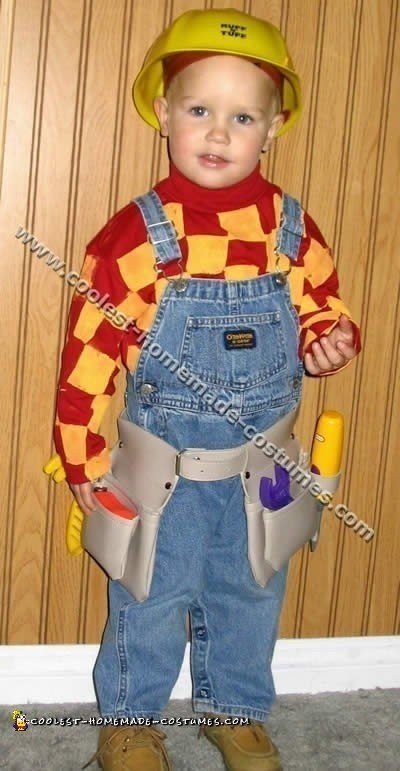 My son was a huge Bob the Builder fan but I couldn't justify paying the $30 – $40 they wanted for those one piece flimsy costumes! So I decided to try and make a Bob the Builder costume by myself!
It was so easy and turned out great! I had most of the items already at home so the cost was minimal. I used one pair of denim overalls, red long sleeve shirt, sponge, yellow fabric, paint, brown "construction" boots and toy tools with belt construction hat.
The only work I had to do was cut the sponge into square pieces and make the squares on the shirt. The hat and tools and belt can be found at most dollar stores (I used the Fisher-Price set we already had at home)
Total Spent: $5
Easy Bob the Builder Costume for a Boy
Costume by Susie L., Glendale, Arizona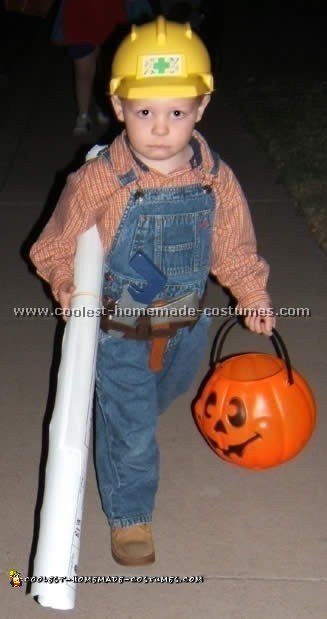 This Bob the builder costume was probably the least stressful Halloween costume I've ever created. All you need are overalls, an orange shirt, a toy hard hat, work-type boots and a toy tool belt. Add some rolled up "blueprints" and you're set! We already had everything but an orange shirt. The tool belt was a Christmas gift from the dollar store. They usually have hard hats too. We found an orange plaid shirt at a thrift store for $3 and it's a real shirt so he can wear it anytime!
Total Spent: $3
Costume by Jackie R., Laflin, PA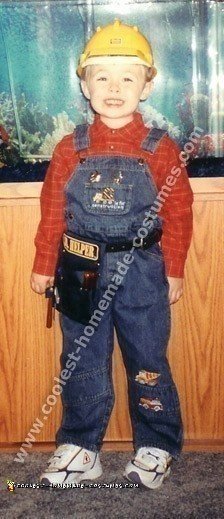 My son Brooks was a Bob the Builder nut. But every time we went shopping for a Bob costume they were plastic and cheap looking. For his birthday, late Sept., his grandma got him a pair of construction overalls. Perfect, I thought. He already had Bob sneakers. So I went to the toy store and found a hard hat and a Jr. helper tool belt with tools. I put it all together and Voila the perfect Bob the Builder. Between the toys and his sneakers I only spent $25. And best of all he had an outfit to wear afterwards! Total Spent: $25