The baby is in a baby carrier. I am wearing sweat pants and a sweatshirt. I sewed ears on my hood and her hat and a tail onto my pants! Adorable and very practical! One of the easiest animal costumes ever made!
Total Spent: $0
Costume by Staci N., DuBois, PA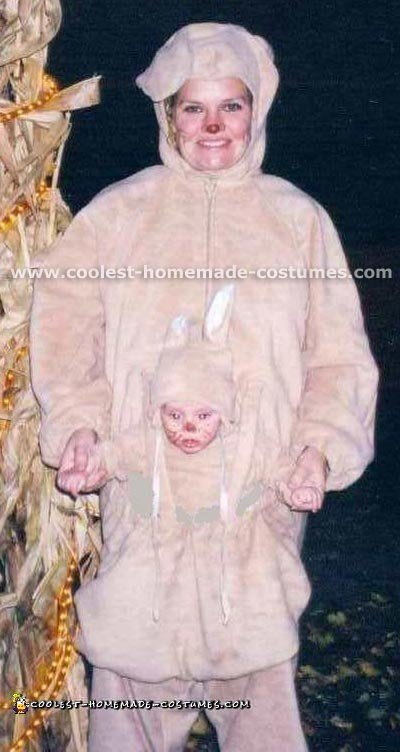 Somehow I needed to take my 9 and 6-year-old daughters trick or treating AND help with their school parties, but what to do? I had a 3-month-old son, and we live in a very hilly area.
I knew that a stroller on Halloween would not be easy, or warm enough on a chilly October night. I decided to use my infant carrier, but I still wanted the baby, Ethan, to dress up for his first Halloween.
That's when I realized I would have to become Ethan's first costume. I asked a friend to help me make a kangaroo costume for me.
Then we put the Snugli in the costume, cutting the back straps apart, and sewing them back after putting them through the sleeves. We covered the straps with the same fur we used for my costume.
Ethan stayed warm and cozy with his "joey" ears and warm up against me, and I got to take my girls and my little guy!