For a fun Halloween costume run (race), a group of us decided to be Wizard of Oz.  I made my entire Glinda costume and got TONS of compliments, and was asked at least 25 times to stop and take pictures.  Unfortunately the picture I have doesn't do it justice, but I'll explain and hopefully that will help!¨I made the tutu out of MANY yards of tulle.  I used 4 different shades of pink, one sparkly, the others varying shades of pink.  I made one "layer" longer than the rest to give the skirt a fuller feel.  I honestly bought the first batch and decided it wasn't enough tulle, so I went back 3 more times to by more.  The fuller the better in my opinion!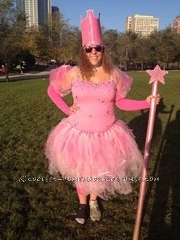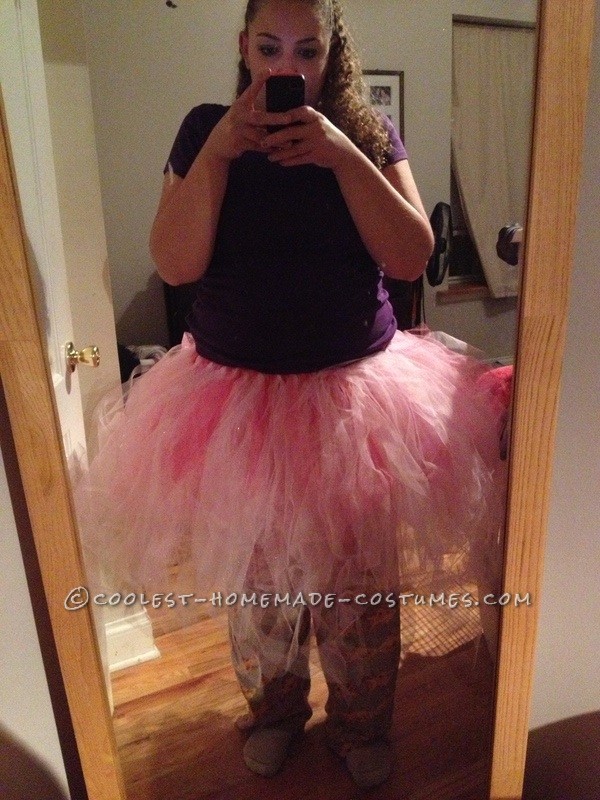 The Top
I then bought a pink tank top from a local cheap store ($6).  I bought fabric glue and large rhinestones from my local craft store ($3.99)  I carefully made patterns of rhinestones on the tank top.  I needed poufy sleeves, so I bought some fabric and sewed the biggest short, but poufy sleeves I could! I realized that in October in Chicago it could be really cold, and that Glinda does have long sleeves.  I bought a pair of pink leggings (on clearance for $3.50)
I cut the legs off and sewed them onto my poufy sleeves. I then bedazzled those and sewed a little loop out of elastic to fit around my middle finger (kept the sleeve down and looking pretty!)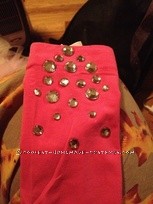 Wand
I then made my wand, out of a long cardboard tube (which a rug from my school came delivered wrapped around).  I cut out a star from cardboard, painted and glittered it (using 4 different kinds of glitter).  I then added rhinestones to make it sparkle even more.  I also painted the tube, then used glitter paint to make it shine!

Hat
I made my hat/crown out of pink foam paper.  I cut out the shape, glued rhinestones and other glitter around the edges.  I also painted with leftover glitter paint from my want.
The moral of the story was, the more glitter the better! It took a bit of time and effort, but it is by far one of the best costumes I 've ever worn, let alone made!  I'm obsessed, and am so pumped I get to wear it 2 more times!
Also, this was a costume meant to be comfortable, as I was supposed to run a half-marathon in it (but I broke my foot ). The skirt could be bigger, or longer to look a bit more like Glinda if you would like!