I like Spawn a lot and was always miffed that they never actually made an adult sized Spawn costume. So I made one myself.
Total Spent: $800
Costume by Sebastian C., Barrie, ON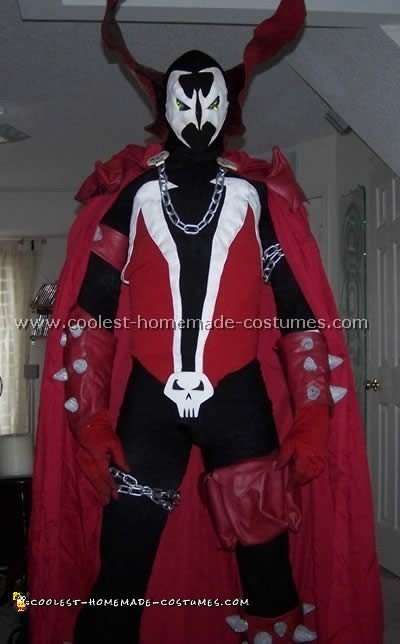 A friend introduced me to spawn years ago. I took an immediate liking to the character so I decided to make him come to life for me and all spawn fans by making a spawn costume. I spent weeks drawing sketches to get the right image drafts on spike sizes, lights for the eyes, cape length collar length fabrics. Finding everything wasn't easy. I had to put in quite a bit of creative flair such as hard cutting and carving the spikes since I couldn't find any pre-made.
The glowing green eyes were hit and miss with routing the wires positioning the leads the proper shape of the white accents on the mask. I actually went over a few different versions of the costume, the final one (that you see on the picture).
I picked crimson red leather. I couldn't have made a better choice since the cape shoulder accents and the collar flow and hold near perfect. The gauntlets are all of the same leather hide, the spikes are screwed in from underneath this is so after a couple years of gluing the spikes and having half of them falling off after a night at the clubs.
The rest is pretty straight up black spandex, red spandex, white spandex, white vinyl (head and chest). I could list everything I've done with this spawn costume but I am not ready to write a book. you can see it in action www.youtube.com type in infernau (it's all my videos) you'll find spawn or just type in spawn 2 you'll find it easy.
Total Spent: $300