Take a look at these cool homemade Lord of the Ring costumes shared with us by costume enthusiasts from around the world. Along with the great costume ideas here, you'll also find loads of homemade costume ideas and DIY Halloween costume inspiration for your next costume project. Enjoy!
Latest Lord of the Ring Costumes
---
---

---
More Great Costume Ideas
Costume by Casey S., Spanish Fork, UT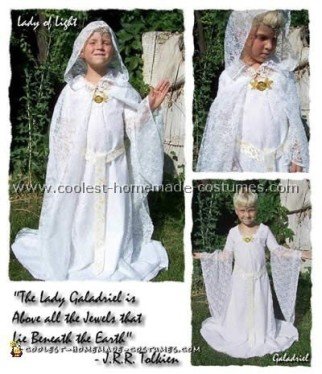 My grandmother left me a basement full of fabric and notions so had this great costume idea which was nearly free to me. It is white cotton over-laid with white lace. The only thing I bought was the gold sequin brooch. The belt is white grosgrain ribbon with white lace over the top (spray adhesive) accented with gold glitter fabric paint. It Velcro's in back.
The cloak really added to the costume it is just white lace with a frog closure. My daughters are addicted to Lord of the Rings.
Total Spent: $3
Costume by Casey S., Spanish Fork, UT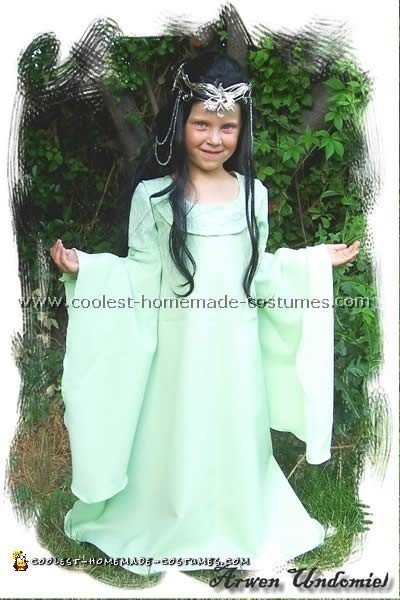 I made this from mint green material purchased for $2.88 a yard, $1.00/yard lace, an eBay-found crown which I re-strung to better fit Arwen's crown, some dimensional fabric paints and a small bag of plastic rhinestones. The dress is a simple A-line dress with a short train and large sleeves. The upper sleeves and collar are over-laid with the lace. I made a Trick-or-Treat bag and a small Coronation banner out of remaining fabric. The banner design was just traced using online images as a guide then painted in with fabric paint and accented with a few rhinestones.
This was a great costume idea which took about four hours total time. I have since made several of these in different colors. It was such a hit my daughters had to have one in every color and then their friends started asking for them.
Total Spent: $15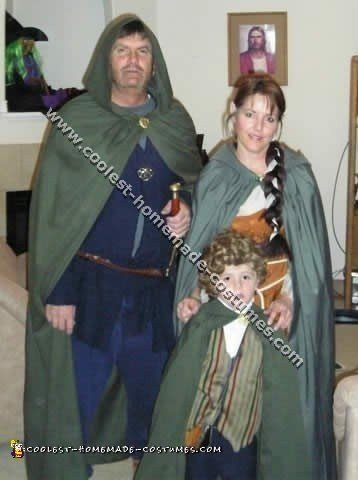 We loved the "Lord of the Rings" Movies so I decided on this great costume idea for Halloween. We were Aragorn Arwen and Samwise. I bought a pattern and made a dress like Arwen with material from Wal-Mart at $1/yd. I put a rope belt around it and had sheer cream colored sleeves. I made three capes with another pattern and again used $1 fabric from Wal-Mart.
I collected brooches over the years and used those to hold the capes closed. The capes were great because we live in Utah and the end of October is usually real cold. I put on earrings and a necklace around my head held in with the clasps of the necklace. The most expensive part of Arwen's outfit was the elf ears bought at party land and put on with theatrical glue. My hair isn't that long, I just bought a braid at a beauty supply store (cheap fake hair$2) and wove some of the cream sheer material through it.
My husband wore jeans with black ski gators on his legs (I really need to invest in some boots for him). It was fine though because we're not real perfectionists when it comes to costumes. If the overall main part of the costume looks good then you just have to add the little details that make it stand out from other costumes. His sword is a real sword that we bought at a Mountain Man Rendezvous. I made a simple gauze vest/coat that he wore.
For the little guy Sam, I made his pants from scraps of material. They are made similar to hospital scrubs. The vest was made from scraps too (he has also used this as a pirate vest). The feet came from party land (they kept slipping all night) and next time I'll glue them to his shoes. A capea Wig and a little leather pouch completed his outfit.
We have a Halloween party every year and usually win a great prize for our costumes., I always come up with a great costume idea!
Total Spent: $35