Take a look at these cool homemade Ghost costumes shared with us by costume enthusiasts from around the world. Along with the costumes here, you'll also find loads of homemade costume ideas and DIY Halloween costume inspiration for your next costume project. Enjoy!
Latest Ghost Costumes
---
---

---
Featured Costumes
I wanted to do a mommy and daughter costume idea and I loved the ghost costume that was already on this site. What a great way for us to share Halloween! Materials for both costumes: Tulle: (amount needed will depend on how full you want the costumes to look), sheet or other material: (rayon/polyester is better than cotton when working with tulle – trust me on this!), glow in the dark fabric paint and face paint.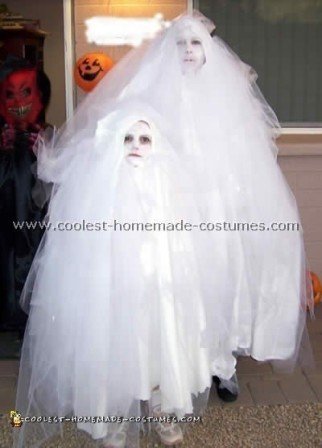 Since I sew I had the end bolt of a white polyester fabric (about 5 yards) for my daughter and I bought a king sized sheet (cotton) for $1 at a thrift store for myself. Tulle was on sale for .77 cents a yard so I purchased the whole bolt (50 yards of the cheapest stuff) but only ended up using about 30 yards or so. (The total cost of the costume was counted with actual yards used).
I then hot glued the tulle in swatches onto the material after I cut out the face. In my case I sewed a swath of Tulle over my face. To top off I painted glow-in-the-dark paint onto the ghost costume which really added a cool aspect but didn't come out in the pictures.
It took about two hours for each costume. These costumes are great for contests but very hard and warm to "trick & treat" in (here in Phoenix it was close to 80 degrees at 7pm Halloween night!).
Total Spent: $40 (created by Jeanine G, Phoenix,AZ)
Dia de Los Muertos Couple Ghost Costume
Costume by Chris P., New Paltz, NY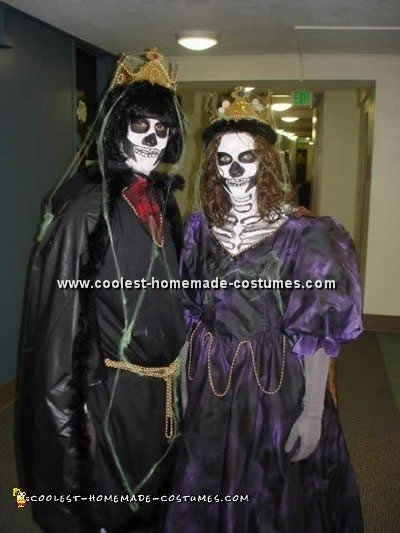 It all started with a dress. My mother wore this bright purple dress to a wedding as a bride's maid in the 80's. She needed a costume and turned it into a queen's dress by adding a cape.
Since then it's sat in our basement until this year when my girl friend and I were looking for costumes. Once we saw the dress we knew we had to use it. We decided we'd be a dead king and queen. What an excellent ghost costume!
This meant however that we would have to change the color of the dress as it was bright purple with a bright yellow cape. We first tried dying it. However this proved to be unsuccessful on the dress. It only gave the cape a creepy cold coloring. We then decided to use spray paint. It worked perfectly.
Next we made a crown, a Burger King crown. We painted it gold and added some beads with a hot glue gun. This along with your typical Halloween makeup came out spookily terrific. We also added some green spider webbing that glows in black light.
As for the king ghost costume, I had to buy a wig for $12 and a cape for $1. We added some feathery trim to the edges of an old priest costume and I purchased a ruffly shirt from Salvation Army for $2. Another burger king crown and make up and we made a great dead couple
Total Spent: $15 queen $20 king
The Grudge Ghost Costume
Costume by June P., Pine Bluff, AR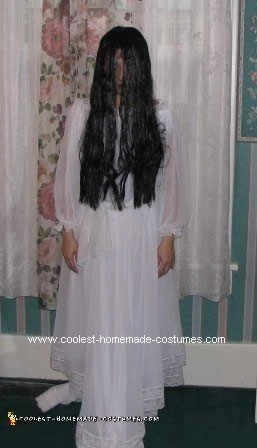 I dressed as "The Grudge" for Halloween – it's sort of a ghost costume. Spooked and scared the kids who knocked on our door. I am fascinated with tales about ghost's folklore. In Asia especially in Malaysia and rural parts of Singapore in the early years people believed that there are Female Ghosts called "Pontianak" Women who died after giving childbirth or women who gave birth to stillborn babies were depressed and committed suicide came back as unhappy or disgruntled ghosts.
They live up in trees, prey on people, kill or scare them in the middle of the night. These female ghosts have very long hair in white, long fingernails and teeth. The features changed after the victim is captured by it. It will disguise itself as a beautiful woman pretending to be a damsel in distress and needed help.
Till this day people believe they exists and often put offerings like food and drinks at the base of the trees to pray and begged that no harm come to them and their families. The "Pontianak" especially loves young children for obvious reasons (longing to have the child that it lost when it was a mortal). The internet has tons of information on "Pontianak" .
Total Spent on Pontianak ghost costume: $89
Creepy Ghost Costume
Costume by Crystal P., Indianapolis, IN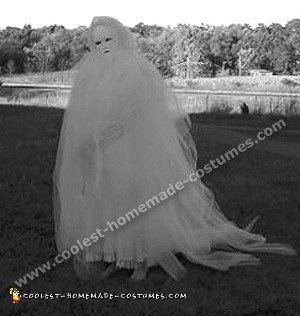 My daughter, husband and I are involved in a lot of fundraisers for our club, the Indiana Ghost Trackers. We do several ghost tours and walks during the month of October.
I put this costume on as night falls and our tours begin. I move about, keeping some distance from the tour groups, weaving in and out of buildings and peering out from behind hiding places. The costume never fails to frighten or spook our guests.
The tulle material moves softy in the wind giving my costume an "unearthly" appearance. I used layers and layers of tulle sewn at the top with a white ribbon (like a cape) and fashioned a hood of tulle connected to the body of material. No need to hem the bottom, the more unraveled and uneven, the more ghostly the costume looks.