I got most of the ideas from this website for a firefighter costume.
First I got a black shirt from Wal-Mart. I got it a size 4-5 even though my son wears a 2T. That way it would fit over his clothes if it was cold on Halloween night. I cut off the shirt tails and "hemmed them with yellow duct tape. I put yellow duct tape on the collar and made the stripes from it as well. Then, I ironed on a flag decal from a craft store.
Downloaded the local fire department logo for his badge and laminated it to stick on his helmet. Used self stick felt letters to spell out fire chief and his last name on the back of the coat.
The pants are black sweat pants with the yellow duct tape. I will use them later for everyday pants, just remove the tape. The boots are his new winter snow boots that I covered the blue color with the yellow duct tape. Should have used iron on letters for the back of the coats and may yet as he uses it to play fireman.
The hat was donated from a fire safety speaker. A girl friend that works at a fire safety company sent us the dog to complete the outfit. Other suggestion would be to use a section of old hose for a fire hose to carry.
He loved the firefighter costume. I loved making it. Easy for the non creative types like me!
Total Spent: $25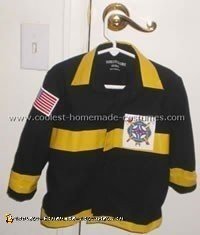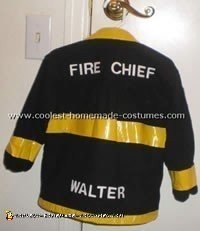 Easy Firefighter Costume
Costume by Alisa S., Alamogordo, NM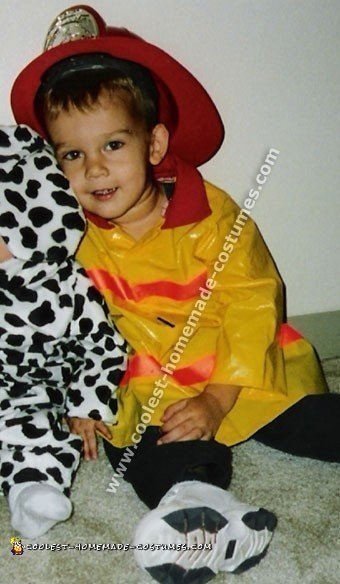 For the firefighter costume I used a yellow cotton fabric which I ironed on our towns Fire Department's logo on the back of the fire jacket. I then laminated the fabric with a fabric laminator and added 3M's reflective tape for safety. The red satin ribbon was used to tie the hat on.
I found the pattern for this firefighter costume at our local fabric store. I just made a few modifications (i.e. reflective tape, iron on transfer)). The only reason I went to all the trouble of laminating the fabric is that I couldn't find any yellow waterproof fabric.
Awesome Homemade Firetruck and Firefighter Costume
Firefighter costume by Vicki I., Orlando, FL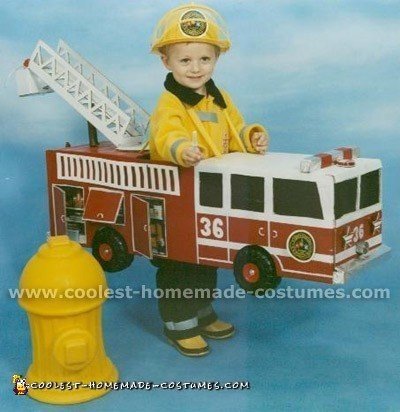 For this firefighter costume I took a weed eater box and painted it. I used pictures from my son's books to get ideas of how to paint it. I built a ladder out of cardboard and put two Fisher Price little people in it. One was a fire Dalmatian dog.
I used plastic tubing as a fire hose that lead up to the ladder. Also, I wound a plastic hose on the back of the truck just like the fire hose that you see sticking out of the back.
For the two ladders that hang on either side, I cut craft foam. I scanned my son's fire truck book, taking the pictures of what was inside the fire truck doors. Then, I enlarged them and placed them behind the 3 fire truck doors so you can open them and see all the tools that they use.
I purchased an enema bag to use the hose and nozzle as his fire hose.
In addition, I got flashing red lights from our local police department and placed those on top, and on the front and back so they would flash like real fire truck lights.
I scanned our local Orlando fire department emblem, ran it off and put it on the side of the fire truck.
Happily, I found a toy fire truck that made noises and said "engine 36, calling engine 36"; I used that as his sound. The wheels came off of a toddler push toy and I fastened them on with a dowel rod and cap nuts.
I then used a little painted paper and tin foil for the lights. I attached a chain to his truck and made myself a Dalmatian costume and I was attached to the chain.
Ready to Roll
Costume by Lisa K., Bonne Terre, MO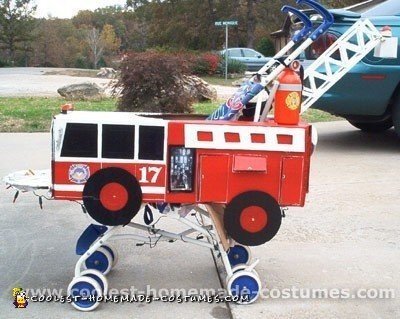 This site inspired me to make this fire truck firefighter costume. I picked up a box 29″x91/2″ at our local Walmart store (they were putting up freight- got this free).
I bought red, black and white paint. Then, I painted the box red (went by the picture here at this site) drew out the detail work on box, used lots of plastic tape to tape off areas for easy painting.
I found that a pencil dipped in paint is great for fine lines. In addition, I went to our local Fire department to get pictures of their trucks and their emblem in which I scanned and put on the fire truck firefighter costume as well as the pictures behind the doors.
I used extra pieces of cardboard to put behind the doors so I could glue on the pictures, cardboard tires and I used 3/4″ paper fasteners to attach them to the fire truck firefighter costume, cardboard ladders, and front bumper. Then, I covered the bumper in foil as well as the side mirrors, which are actually flat Lego pieces.
Firefighting Accessories
Lights on front and on top are made from Lego pieces I glued on. The firefighter's grandma bought his jacket, boot covers, and hat along with a belt that carried a plastic ax.
I put a fire extinguisher on the back. I also put goggles and a push button noise maker that made the sound of a fire truck and said "engine 17".
The ladder has two Fisherprice firemen in it. I used black pipe cleaners for windshield blades. I found some battery-operated Christmas lights and put some red and blue flashing ones in front around the Lego lights and white lights all around the bottom of box and stroller. These light the truck up nicely at night.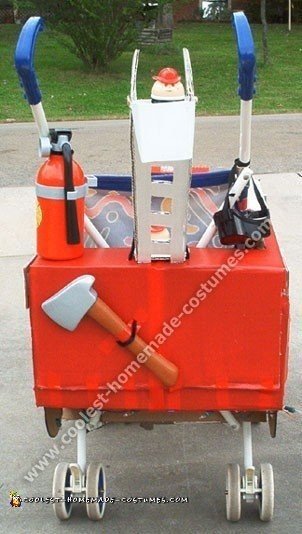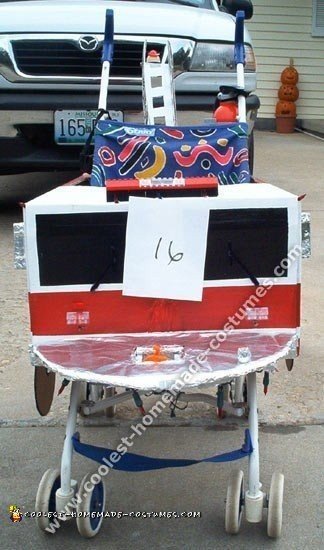 Our little fireman is only 2 so I cut the box out to fit over an umbrella stroller. Thanks to this site and the picture above this entry, in about two days I had made my son a very cool firefighter costume. Thank You All!!
Total Spent: $15
Red Hot Firefighter Costume
Firefighter costume by Jennifer L., Houston, TX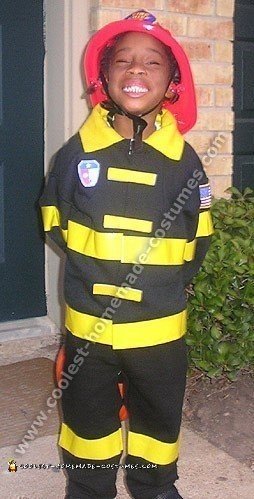 Five days before Halloween my 4-year-old daughter, decided that she passionately wanted to be a firefighter. It was nearly impossible at this late date to find a firefighter costume at the store and when I finally did find a firefighter costume at a Halloween specialty shop it cost $60!
So, I examined the firefighter costume and decided that I could make a similar one myself. I don't really sew, so basically this firefighter costume is made from a black sweat suit and yellow duct tape.
Making the Firefighter Costume
I started with a black sweat shirt a couple of sizes too large and cut it up the middle in the front for the opening of the jacket. Then, I put on two stripes of duct tape all the way around the jacket and one stripe on each sleeve.
Using yellow felt, I cut out a rectangle shape large enough to be the collar for the jacket and stitched it in (I couldn't figure out how to glue it or I probably would have).
Next, I used Velcro strips with adhesive backing, covered them with yellow felt, and stuck them across the opening of the jacket to make "buttons." Just for good measure, I also used little squares of Velcro for buttons on the inside, too.
On the sleeve of the firefighter costume, I stitched an American Flag patch that I got off of an old scout uniform of my husbands (but I'm sure you could find these at a craft store). My husband went to the local fire department's website and printed off a copy of their emblem onto an envelope label and we stuck it on the front of the firefighter costume like a sticker.
On the back of the firefighter costume, I used adhesive foam letters to spell out "fire chief." Top it off with a hat we bought for $1.50 at a local party store. Once materials were gathered it took me about 4 hours to make. Most people asked, "Where did you get that adorable firefighter costume?"
Total Spent: less than $10,