These DIY grape and berry easy Halloween costume ideas are so much fun. What's more, they are cheap, easy and instantly recognizable. It's amazing how a cluster of balloons can effectively look like a bunch of grapes!
Even though most of these costume employ the use of balloons, it's very cool to see everyone's personal twist on the same theme. One costumer chose different shades of purple balloons for her bunch of grapes. Someone else made sure to blow up her balloons in different sizes. As with all homemade costume creations, grape and berry costumes are open to various interpretations.
Of course, this costume is also appealing because of it's relative ease to put together. When you are stuck without a costume, this will come together in a pinch.
Will you try this one? If you do, drop us a line and share your homemade costume with us here. We would love to see it!
Latest Grape and Berry Costumes
---
---

---
Featured Easy Halloween Costume Ideas
Costume by Katie O., Holland, MI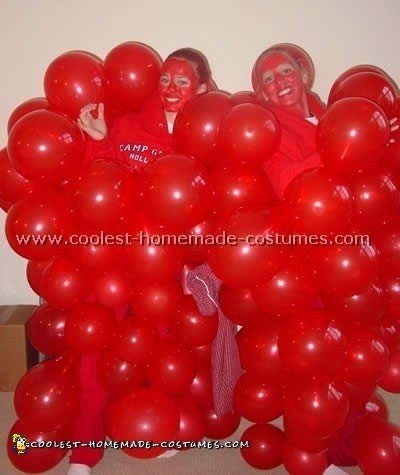 This was an easy Halloween costume that I thought of. My friend and I were raspberries! We wore all red and safety pinned red balloons all over our bodies. Also add in the face paint and you will be looking yummy as can be! This was so much fun. All you need is red balloons. Everyone will want to pop your balloons!
Total Spent: $7
Costume by Gina S., Johnston, RI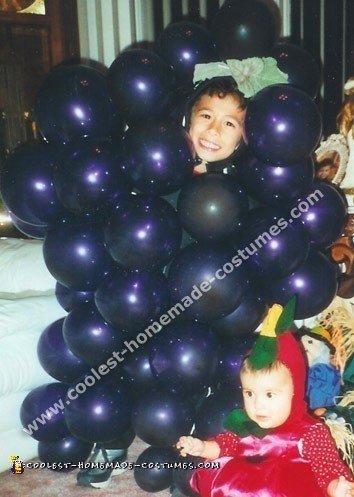 For this costume, I purchased a black sweat suit consisting of a hooded sweatshirt and sweatpants. I hot glued a cording on the front of the sweat suit to look like the vine of the grapes. I purchased a few packages of deep purple balloons – you could also go with a green sweat suit and green balloons if you choose.
I had to blow each one up, then I fastened each balloon through the knot on the top of the balloon with a safety pin to the sweat suit, I put them randomly mainly in the front of the suit, making it possible to sit.
I purchased plastic grape leaves to fasten on the top of the hood; again I used a safety pin to fasten. I purchased a black mask to cover the face a little (but he is not wearing it in this picture).
It is an easy Halloween costume, unique and not too expensive. It was a big hit at the school Halloween party (The strawberry costume was not handmade, it was bought through a catalog).