This is a super easy costume that I assembled 1 hour before we went Trick-or-Treating! I bought two inexpensive baseball hats and cut the brim of one. This I attached to the bottom of the other hat's brim (forming the beak). I used yellow felt to cover the front of the hat and glued two white pom-pom and wiggly eyes.
I added some shredded paper on the top for some extra decoration. I cut out some wings from yellow construction paper (yellow felt would probably work better) and glued them to both arms of a white polo-neck shirt. I glued the tail feathers to a pair of yellow sweat pants. Last I cut out some duck feet from orange paper (again felt would work too) that my son could wear over his shoes.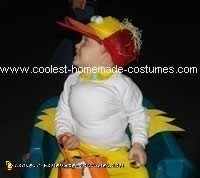 Then we stuffed his front and back with some filling and added a little bow-tie. It was so easy and the end product was fabulous! He loved his "squishy" tummy!
Total Spent: $5