My son told me one night at age 4, that he really wanted to be a hippo for Halloween. I looked everywhere and couldn't find a Hippo costume or any sort of ideas or patterns.
I bought a frog pattern a few years prior on a clearance at a local fabric store thinking that at some point maybe one of my kids would want to be one.
So I started with it, and adapted my own pattern from it, making every piece a little wider and rounder.
It took me a good week to create and a lot of imagination.
But all of a sudden I had created the cutest hippo costume I could ever imagine.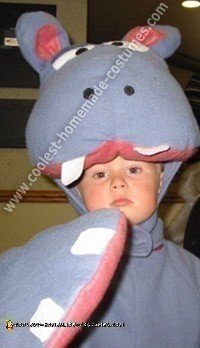 Tyler wore his animal Halloween costume with pride. We made sure to take a trip to Halloween at the zoo for a special look at the real thing while he was wearing his replica.
Total Spent: $25