Congratulations to our 2015 Homemade Costume Contest WINNERS and to ALL those who participated in this year's contest. To say that you are creative would be an understatement. We are blown away by the originality, skill, and care you have invested in your submissions, and it is a HUGE honor to share your incredible talent with our visitors. Whether you won or not, know that we are your biggest fans and that visitors from around the world will be inspired by your ideas and craftsmanship for years to come. In fact, there's a good chance that the media will even find and highlight some of your costumes.
Our judges have been hard at work choosing this year's costume contest winners, pouring over your entries. They have read all your stories and instructions and reviewed each one of your images and videos. After several rounds of narrowing down your submissions, they have chosen this year's winners. The winning entries range from easy to epic, creepy to cute, baby to adult, modern to vintage, and everything in between.
2015 is the first year that we have opted to forego a grand prize. Why? Because there are so many AWESOME costumes submitted each year that we wanted to allow for MORE prize winners. This year's $1525 in prize money has been awarded to 24 costume makers.
Except for 3 VIRAL prizes, our costume contest winners were NOT chosen based on number of "shares" or "likes" on social media platforms. They were chosen based on human judgment and attention to every submission detail from the stories to the pictures, from the originality of the ideas to how well they were executed, and finally, we took into consideration how easily visitors would be able to follow the instructions provided and recreate the costumes. Prizes were awarded to those entries that the judges found to have that extra special something.
Costume Contest Winners – $125 Prizes
We couldn't think of a cuter way for a father and his baby daughter to enjoy a Halloween outing together than with Megan's very UNIQUE father daughter Rapunzel costume. It's original, easy to make, and allows dad to comfortably carry his baby girl with him throughout the night.
The judges raved about this costume and so did our Facebook fans on this post (6070 likes, 780 shares, and 510 comments in a short period of time – and still counting).
In Megan's words, "I wanted to make an original costume that hadn't been done before and because she (my baby) is still so tiny, I wanted to incorporate her dad into her costume. I didn't want him to just carry her. I wanted him to do it with style!"
We think you hit the mark on all counts, Megan!
Over the years we've held this contest and chosen our costume contest winners, Darcy has shared her talent and costume-making enthusiasm over and over again, submitting these 32 Costumes (!!). Mickey Mouse is a fan favorite no matter how he's presented, but Darcy took her childhood dreams and grown up imagination to a whole new level when she brought Disneyland's popular Mickey Mouse topiary to life via her cool costume. She even managed to keep it affordable by recycling a castaway silk plant. You're never too old for Disney!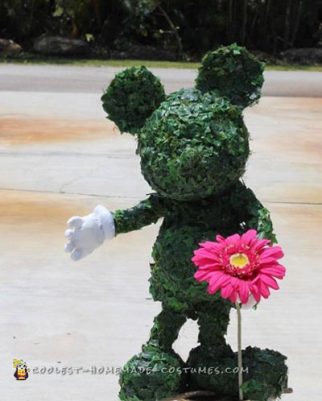 Buzz Lightyear character costumes are popular, but it's rare to find a Mrs. Nesbitt among them. Valerie not only custom designed her own, but the quality and detail of her costume is unlike any Mrs. Nesbitt costume we have ever seen. The two months she invested in bringing this costume to life is obvious. It's a showstopper!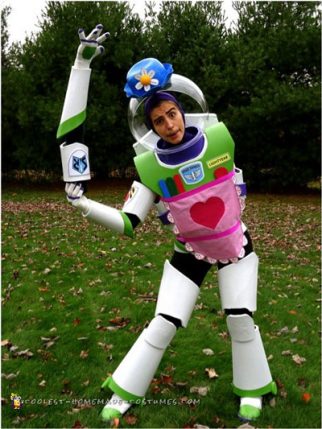 Eric's goal this Halloween was to create an attention grabbing alien costume and boy, did he deliver. Not only is the alien portion of his costume impressive, but he also managed to include a light up UFO for his alien alter ego to travel in. When Eric found himself walking to his destination venue on Halloween night due to wardrobe travel limitations, he caused quite a stir and inadvertently caused one woman who cycled past him to shriek with fright.
Inspired by the movie, Lord of Tears, Andres' Owl Man costume is creepy cool. No wonder he managed to evoke both fear and admiration from passersby when he strolled through the streets and subways of New York City in it. Step by step instructions and video tutorials on how to recreate the costume are included on Andres' submission page. He even captured some reactions to the costume on video. We think it's a HOOT!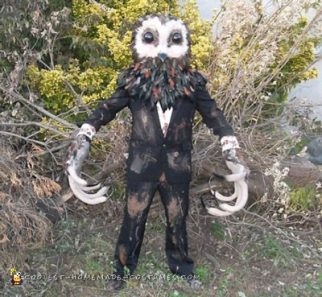 Costume Contest Winners – $75 Prizes
Dan's family played a winning hand when they took inspiration from their love of games to design their winning poker hand family costume. Each playing card costume in the group was crafted with such precision, and now they are yet another item you can add to your list of cool things to make with duct tape. I personally find it hard to take my eyes off of this costume. It is just that AWESOME!
Crabby never lit up a face with smiles so brightly as when Rose wrapped her son in this adorable Oscar the Grouch costume, complete with garbage can and pet worm, Slimey. The costume was so authentic looking that Rose's son became an instant celebrity when he wore the costume in public and he brought out the community "paparazzi" in full force. How often does a 3 year old get their picture taken a gazillion times in one night? Good thing he didn't get CRANKY about it!
Those with a passion for art and history will appreciate our next winning costume. Google Van Gogh and you'll see that Bradley bears a striking resemblance to the artist. Grace accentuated that fact by dressing him up to replicate one of Van Gogh's self-portraits, but the pièce de résistance is Grace, framed as one of Van Gogh's most notable works, Starry Night. This costume is a work of art in and of itself.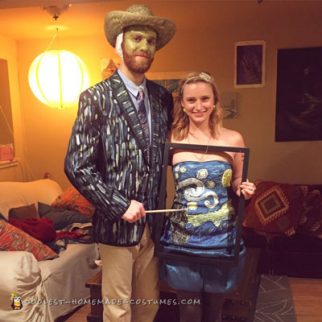 Kevin's Spud Wagon fry truck costume took our breath away. Wow! It's not just an AWESOME costume, but it's every kid and teacher's dream for a learn and play station. Wait till you see all of the incredible extras Kevin included in this costume and what the adorable Spud Wagon Owners, Chips and Buds, use to trick or treat with. The cuteness and creativity of this costume is off the charts. Way to go Dad!
Lauren's jet pack illusion costume is a total BLAST! Her son authentically looks like he's taking off into outer space. The best part? This costume is WOW, but still SUPER EASY to make.
If you're a fan of futuristic robots and aliens, it doesn't get much more epic than Kyle's costume. The sheer size and phenomenal detail of his creation commands attention wherever and whenever he enters a public place dressed in it. We're in AWE of this costume AND of Kyle's creative video skills. He included a very cool "trailer" with his entry. A MUST SEE!
Costume Contest Winners – $50 Prizes
Tom's Lightning McQueen toddler costume revs up the cuteness factor to 10,000+ HP. From the incredibly detailed cardboard race car to the cutie patootey toddler pit crew costume, this entry deserves to take a well-deserved victory lap. The special part is its detailed cardboard race car, which Tom meticulously covered in felt and hand-drawn stickers. WTG Team Tom!
"Ground control to baby bro… I want to put a helmet on!" When Deidre's daughter expressed her desire to be an astronaut for Halloween, she inspired an amazing out of the box… I mean, in the box idea in her mother's imagination. If her daughter was to be an astronaut, then baby brother's costume would need to follow theme. The result? A truly unique, one-of-a-kind baby shuttle costume that's EASY to make. The countdown is on for Deidre to come up with an equally awesome costume for next year's contest.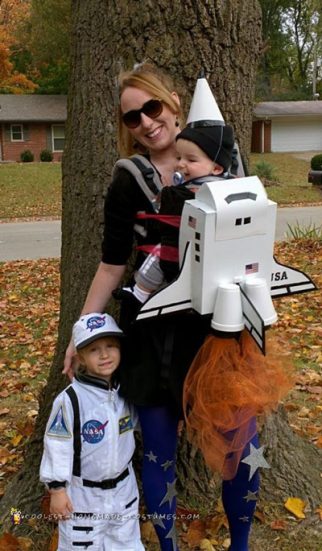 Sara's 2014 contest entry took Facebook by storm this past year. Not only is it uber cute and SIMPLE to make, but her costume struck a nostalgic chord with 80s babies who shared and reminisced about the Cabbage Patch Kids they owned as children when they saw it.
On April 10, 2015, we announced on FB that Sara's Cabbage Patch twins costume was one of our most popular pins of the month and over a period of a few days it quickly racked up 15,795 LIKES, 8846 SHARES and 1,558 comments on this Facebook post.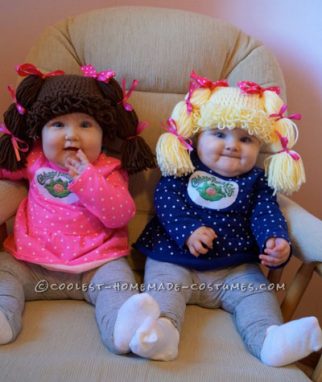 If you've frequented our Pinterest boards then you've likely come across one of Jamie's trending costumes. She has a flair for making easy costumes that stand out from the crowd, which explains the popularity of her ideas. Her latest Curious George couple costume already has almost 4,000 repins and is quickly climbing the ranks to becoming one of our most popular costumes of all time.
NOTE TO JAMIE: You've helped a lot of visitors create EASY last minute costumes with WOW factor 10+ over the years. Thank you on behalf of all of us for your contribution.
Kaytlin's 2013 sexy gumball machine costume proves that you don't have to win in the year you enter your costume to grab the attention of visitors and earn a viral costume prize. Kaytlin's costume is our most popular ever with almost 20,000 repins on Pinterest. No doubt, it has inspired MANY iterations of gumball machine costumes over the last few years.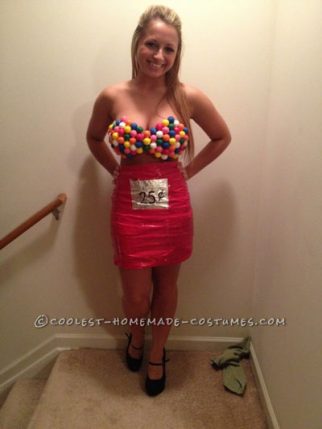 Costume Contest Winners – $25 Prizes
It's not every mom that has to come up with a creative way to dress up 5 one year old babies for Halloween, but Opalyn did it in spades… or rather, TECHNICOLOR! Life is a box of crayons if you're a member of Opalyn's family. She colored the whole family cute this year with heaps of felt, glue, and imagination. The final result of her efforts is the perfect photo op for a Crayola ad. Don't you think?
Patrick took being two faced to a whole new level with his good vs evil costume. Face him forward and he's an evil mastermind decked out in blood, gore, and gruesome attire, but turn him backward and he could rock out Pharrell's popular Happy song. A bald (or shaved head) certainly helps when you want to pull off an authentic looking smiley face character on the opposite side of your hideous Jekyll style persona.
Gabriel has CP and requires a wheelchair or dynamic stander to get around, so you might think that designing a costume that classmates will think is COOL might be a challenge, but not for Cheryl. Somehow she manages to tap in to her creative side and work her magic every year. This year's Dracula costume has got to be one of her coolest ideas EVER! What kid wouldn't be STOKED to get a costume like this to wear for Halloween? We LOVE it even more than Gabriel did and we hear he played up his role to the nth degree!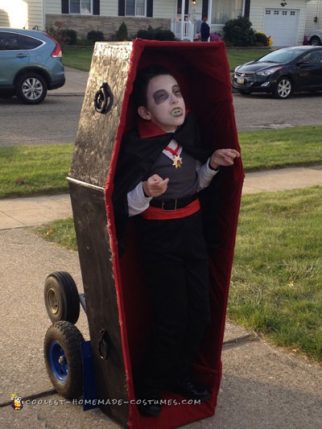 What could be cuter than a pint sized airline pilot and stewardess? Nothing! Well, maybe a complimentary piece of living, breathing international canine luggage. All I can say is that if Sandra took her mini Pan Am crew anywhere on Halloween, they must have been barraged with flashing lights and photo requests. This costume is too ADORABLE and the photo could almost pass for one of famous child photographer Kim Anderson's prints.
With a 15 month old daughter and a local Comic Con looming, what's a dad to do if he wants to attend and not have to carry a baby around for hours? It's obvious, isn't it? Use the FORCE and modify his baby's wagon into a replica of the legendary starship, Millennium Falcon. That shouldn't take more than 38 days, give or take an hour.
They say the devil is in the details, but Ryan's attention to them resulted in a very impressive 4 X 5.6 foot Comic Con showstopper, "flown" by his pretty little Princess Leia. No baby carrying required.
You have to watch the video to get the full impact of Karaline's entry which is definitely not your typical costume. It's a creepy one-of-a kind design, inspired by the four-armed mystics in the movie, Dark Crystal. In the right lighting and location, it's guaranteed to spook the average person.
BONUS: A fantastic 12 minute video tutorial on how the costume was made was included with the submission. Yes, YOU can be creepy too… with a little help from the video.
Kristin's costume caught our eye for more reasons than one. Not only is it a great costume, but imagine the fun a witty couple could have with this. We're laughing out loud just envisioning the possibilities. This costume has the potential for non-stop laugh out loud entertainment all year long! Now, imagine mixing this costume with the ventriloquist skills of a Jeff Dunham or a Terri Fator.
What do you do with your son's passion for drawing food cartoons? If you're Kirsten, you use it as the inspiration for this year's Halloween costume. After flipping through a variety of options together, sushi beat out burgers by a narrow victory. Sushi offered the opportunity to include a variety of interesting details without creating a costume that would be too bulky to shake it on the dance floor or simply reach out and select a piece of candy while trick or treating. "Art imitates life," some say, but in this case "life imitates art." Oscar Wilde would agree.
WTG 2015 costume makers and costume contest winners! You WOWED us, inspired us, surprised us, and even made us laugh out loud a time or two. Together you have contributed in building the largest source of homemade costume ideas online.
Your creativity will influence and motivate millions of visitors to make their own homemade costumes this year, and will inspire many to take their first step into designing original DIY costumes for themselves.
Thank you for being part of this creative community. We look forward to seeing the costume ideas you will share in our 2016 Homemade Costume Contest!